About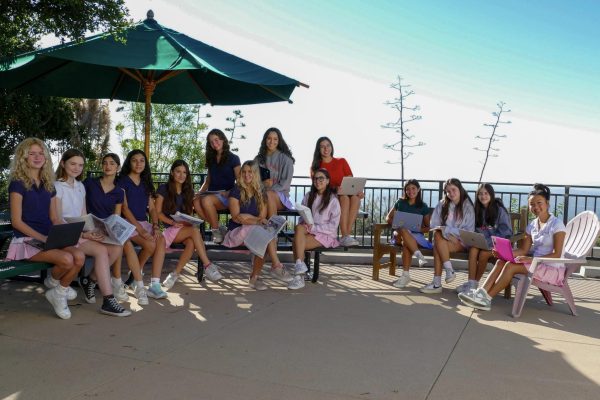 Welcome to the Veritas Shield, the student-run news publication at Flintridge Sacred Heart, an all-girls, Catholic, Dominican, independent, college-preparatory day and boarding high school in La Cañada Flintridge, California.
At the Veritas Shield, we aim to create a space where members of the Flintridge Sacred Heart community can exchange ideas and contribute to the growth and development of the school. As student journalists, we work to provide informative and engaging coverage of the topics and issues that matter to Flintridge Sacred Heart. While we're proud members of the Flintridge Sacred Heart community, the writing here represents our own work, and the opinions expressed are ours alone, not those of the school.
The Veritas Shield publishes primarily on this website, though we also produce two themed print issues per year. The best way to keep up with us and find out about every article we publish is on Instagram (@veritasshield).
Every piece we publish goes through a rigorous editing process. Though we pride ourselves on the diligence we put into our reporting, mistakes do occasionally happen. In the event of an error in our writing, please reach out so that we can research the matter.
CONTACT
Email: veritasshield@fsha.org
Instagram: @veritasshield
Actual Physical Location: 440 St. Katherine Dr., La Cañada Flintridge, CA 91011
AWARDS
November 2022 — Best of SNO, Nyree Aghayan, Consequences of  under-representation: the Armenia and Azerbaijan conflict
October 2022 — Best of SNO, Graciela Tiu, Teaching students social justice remains essential to education
February 2022 — Best of SNO, Graciela Tiu, "How social media affects political polarization"
January 2022 — Gold Medal, Columbia Scholastic Press Association
December 2021 — Best of SNO, Lena Hwang, "Early decision should be abolished"
December 2021 — Best of SNO, Siena Urquiza, "Financial inequity in high school volleyball"
April 2021 — First Class, National Scholastic Press Association
April 2021 — Best of SNO, Ella Kitt, "A look inside St. Francis's Chivalry's Not Dead Club"
March 2021 — Best of SNO, Angelina Arevalos, "New Age spirituality takes off during Covid"
March 2021 — Best of SNO, Gabi Miller, "Behind the front line: The changed reality for the healthcare industry"
February 2021 — Best of SNO, Ella Kitt, "Tolog family survives health issues during pandemic"
January 2021 — Best of SNO, Jessie Mysza, "Covid-19 brings changes to Hollywood filming"
January 2021 — Gold Medal, Columbia Scholastic Press Association
January 2021 — Best of SNO, Sarah McGrory, "Tolog starts quarantine vintage shop"
December 2020 — First Place, American Scholastic Press Association Newspaper Award
November 2020 — Best of SNO, Gabi Miller, "Student mental health in the age of Zoom"
October 2020 — Best of SNO, Michelle St. Denis, "Freshmen find innovative ways to make friends during a start to high school like no other"
September 2020 — Best of SNO, Ella Kitt, "@dear_fsha: The Tolog community reacts"
May 2020 — Best of SNO, Cerys Davies, "Sofia Algorri takes over TikTok"
March 2020 — Best of SNO, Ella Kitt, "'Honey Boy' ain't so sweet: Shia LaBeouf's flawed returned to Hollywood"
February 2020 — Best of SNO, Carisa Joyner, "Will technology revolutionize the world of fitness?"
February 2020 — Best of SNO, Jacqueline Fitzpatrick and Katia Stavropolous, "Looking ahead to joining the workforce"
December 2019 — First Place, American Scholastic Press Association Newspaper Award
December 2019 — Best of SNO, CJ Huston, "Coming to terms with the body positivity movement"
December 2019 — Best of SNO, Julia Yellen, "Comedy gets personal"
November 2019 — Best of SNO, Ella Kitt, "Liberals need to unite"
November 2019 — National Student Media Contest Winner, Cerys Davies, Commentary Writing
September 2019 — First-time Convention Grant Recipient for the National High School Journalism Convention