About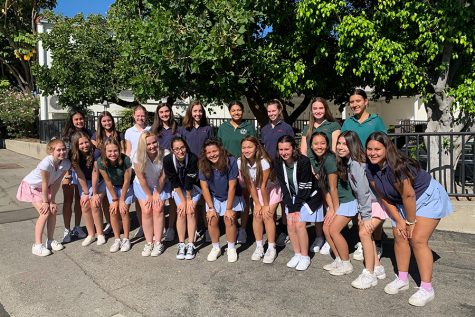 Welcome to the Veritas Shield, the student-run news publication at Flintridge Sacred Heart, an all-girls, Catholic, Dominican, independent, college-preparatory day and boarding high school in La Cañada Flintridge, California.
As student journalists, we work to provide informative and engaging coverage of the topics and issues that matter to Flintridge Sacred Heart. While we're proud members of the Flintridge Sacred Heart community, the writing here represents our own work, and opinions expressed here are ours alone, not those of the school.
While Flintridge Sacred Heart has a long tradition of publishing student work in print, this is our first year of publishing online. We're excited to explore the possibilities available to us in the online format, and we're eager to hear feedback from our readers about what they'd like to see on the website. While we pride ourselves on the diligence we put into our reporting, mistakes do occasionally happen. In the event of an error in our writing, please reach out so that we can research the matter.
To connect with the Veritas Shield, write to the newspaper's editors-in-chief, Cerys Davies (cerysdavies20@fshamail.org) and Nikki Godinez (dominiquegodinez20@fshamail.org), or to newspaper's faculty adviser, Tom Dibblee (tdibblee@fsha.org).
AWARDS
December 2019 — First Place, American Scholastic Press Association Newspaper Award
December 2019 — Best of SNO, CJ Huston, "Coming to terms with the body positivity movement"
December 2019 — Best of SNO, Julia Yellen, "Comedy gets personal"
November 2019 — Best of SNO, Ella Kitt, "Liberals need to unite"
November 2019 — National Student Media Contest Winner, Cerys Davies, Commentary Writing
September 2019 — First-time Convention Grant Recipient for the National High School Journalism Convention