Sofia Algorri takes over TikTok
It was a random day during winter break, an overcast day with a slight breeze, the sun peeking through intermittently. In a big empty home in Sierra Madre, Sofia Algorri '20 had nothing to do. Netflix, YouTube and every other form of entertainment had started to look bleak. She simply couldn't bring herself to watch another episode of "90 Day Fiance."
But then, after a day of drowning in boredom, a sudden urge sparked within her. This sudden urge was to create a TikTok. At this moment in time, Algorri's TikTok account, @sofaloaf, had about 50 followers, mostly close friends and a few random accounts: mutual friends of friends, spam accounts. She had posted just a few videos — various private school checks, a few reaction videos and of course some classic lip syncing — that had an average of around a couple hundred views each.
The TikTok Algorri made on this day starts off as many good things do… with a Daft Punk song. "Harder, Better, Faster, Stronger" plays in the background while she stretches her leg all around her body. Because of her cheer background and natural gift for contorting her body, the movement seems to be easy for her. She is able to stretch her leg in almost a full circle to the beat of the song. Once she finishes twisting her leg in this circular motion, she gets in the ready position to do one of her signature flips.
Having gone to school with Algorri for the past four years, my classmates and I all know about Algorri's famous flip. Personally, I have seen her challenge the laws of aerodynamics on many different occasions. Whether at Catalina, on the field during freshman PE or during the annual performance she does for Spirit Day, the class of 2020 always makes sure to put her in the front of the crowd when singing their class song just to ensure that she does a flip. It really isn't Spirit Day if she doesn't risk her life for the sake of the performance.
In the video, she gets in the ready position to fling her body into the air with her legs bent and arms close to her body. The strength in her legs builds up and powers her body to defy gravity. As her feet leave the ground, the rest of her body follows.
After her powerful take-off, though, it quickly becomes clear to the audience that she isn't going to land it. Next thing you know, she lands face-first in the grass, leaving the audience with the hope that she hasn't knocked her teeth out.
"I tried to do a flip, and I just ate it," Algorri said.
She quite literally face-planted, leaving every viewer shocked and amused. Watching the video, it is almost impossible not to gasp. And, it's almost impossible not to laugh. The video has the perfect amount of shock value and comedy to destine it to go viral, which it did. With the simple urge to make a video of herself in her front yard, showing off her flexibility, she was able to create a viral video that 2 million people have seen and that has gained over 375,000 likes.
…
"This video wasn't supposed to go viral. Honestly, it was in my drafts for a long time before I published it. I thought that if I posted it no one would see it. I mean, I only had like 50 followers," Algorri said.
When Algorri first made a Tik Tok account around two years ago, she had no intention of gaining this much attention.
"I made my TikTok as a joke with some of my friends. It really wasn't even my idea to make it. My account was just blank for a really long time. I had no intention to create TikToks. I just liked to watch them and laugh at them," Algorri said.
Little did she know that in a matter of a few months after posting her face-plant, everything would change.
"It wasn't until some of my friends told me I was on their For You page that I realized my TikTok had gained a lot of views. People were telling me that they were sharing it with their friends, and I kept on getting messages from people I knew asking if that was me. Their reactions were so funny, because this whole thing was an accident," Algorri said.
With two million views and thousands of new followers, the attention on Algorri only seemed to grow. She was posting more content and the virality just kept coming. She put out more videos, and they started to gain traction; most of the videos she's put out since her face-plant have 10,000 to 50,000 views. Her recent content ranges from dance TikToks to cheer POVs to get ready videos.
Because of her emphasis on cheer, many fellow cheerleaders began to follow her, in addition, of course, to a few creepy older men.
And on top of the cheerleaders and old men emerged a new category of follower: companies and brands.
Every Instagram user has received that sketchy DM from an account asking to be their brand ambassador, but that wasn't the case for Algorri. Real brands were reaching out to her because of the following she had gained.
"A tanning company reached out and sent me $200 worth of tanning supplies, and I was able to keep it if I just made a video mentioning the product. But the only reason I said yes to this was because I use the product normally for cheer, so it just worked out," Algorri said.
The sponsored tanning TikTok starts off with a shot of her PR package, which Algorri proceeds to pose with. The rest of the video shows her using a glove to lather her entire body with the dark liquid. She then proceeds to apply the liquid to her face and unveil the end result, which is a completely tan, just-got-back-from-Hawaii Sofia Algorri.
@Nochaser, a verified Instagram account run by MTV, posts videos that are basically adult versions of what a family would watch on "America's Funniest Home Videos." Next thing you know, this account with almost eight million followers is asking Algorri if they can post her video on their account. After @NoChaser posted the TikTok to Instagram, Algorri gained another two million views and over 100,000 likes.
As a result of this renowned Instagram account posting her video, Algorri now had over 6,000 follow requests to her personal, private Instagram. Many fellow Tologs urged her to become a public account with a following that she could build up.
"I never would turn down all those followers. She was literally handed the key to social media fame," Madeline Placido '20 said.
…
Algorri, though, did not accept those Instagram follow requests. Instead, she decided to deny  the golden ticket to becoming the "Insta Baddie" that most 18-year-old girls would die for. Algorri decided against following the modern Hollywood dream: to become an influencer.
"I like keeping my life personal. I don't mind people following me, but I am not trying to live my life online. Doing a flip on TikTok is way different from sharing my every move online. I really just want to keep living my life regularly. I'm not looking for a dramatic change," Algorri said.
Even though she still has over 20,000 followers on TikTok, she doesn't plan on making a career off of this audience. Algorri doesn't want anything to do with the title "influencer" or to become any type of internet personality. She doesn't have a problem with people following her, but she does find it creepy at times. There are many sexual, inappropriate comments on her page that make her uncomfortable, especially when they are left by old men.
"I don't want fame. I want to live a normal life. I just think Tik Tok is funny," Algorri said.
View Comments(1)
About the Writer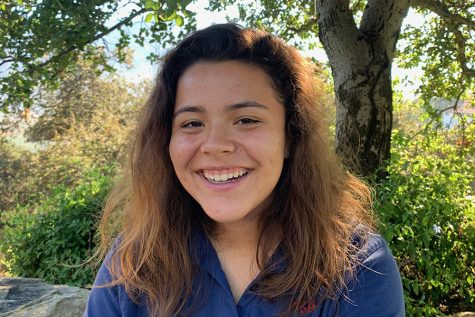 Cerys Davies, Editor-in-Chief
Cerys Davies is the editor-in-chief. She started writing for the Veritas Shield in 2017. Her sophomore year, she was the section editor and advertising...