Comedy gets personal
Ten years ago, Todd Phillips' "The Hangover" raked in $467.5 million at the box office. In 2019, the same director created the dark and violent new portrayal of "The Joker." Why did Phillips transition genres? According to the director's own words: "Go try to be funny nowadays with this woke culture."
Comedy is at a crossroads, and many comedians believe they can't be funny in this politically divided time. Navigating our ever-changing world, comedians must find innovative and respectful ways to keep us entertained that do not rely on the identity humor of the past.
In television and cinema, instead of in-your-face jokes presented by unrealistic characters, the comedy genre is getting more nuanced in terms of what's funny.
The future of comedy on-screen will be defined by the authenticity of unique characters and stories, the situational irony the plots present and the creativity in mixing genres. Todd Phillips is right: times have changed since "The Hangover," and they will keep changing.
To see where comedy is going in the future, the Veritas Shield spoke with Breck Denny, an actor at the Groundlings Theatre in LA; Justin Shipley, the creator of the TBS sitcom "Wrecked"; an anonymous female executive at a major streaming company and two teachers, Ms. Emily Wilkinson and Ms. Kristina Ortega.
"There's just more subtle realism in the comedies we see now. 'Midsommar' has a lot of humor, 'The Square,' the new Korean film 'Parasite.' We are laughing more at darker stuff about people facing real consequences in society, playing very real characters rather than outsized, absurd, broad, big characters…A lot of comedy is jumping genres. We don't just want a comedy show. We want thriller and drama elements, too," Denny said.
Shows like "Atlanta," "Broad City," "Transparent" and "Succession" capture the phenomenon that Denny refers to. The humor in these shows is less about the punchlines and more about the true-to-life situations these shows' characters get themselves into. The blending of genres gives way to extremely real emotions, as shows refuse to put themselves in boxes.
Comedies are pushing the envelope without making jokes at the expense of other people's identities. Shows that aired as recently as the 2000s drew laughs by ridiculing minority characters: think "That '70s Show," where Eric Foreman's basement crew belittled "F.E.S." (the Foreign Exchange Student) at least once every five minutes. But given such cultural evolutions in our society, comedy has had to evolve too, and the butt of the joke is changing.
"People are now asked to be smarter, and for good reason, to be little more nuanced about how we are dealing with culture. We are examining ourselves more, being a little more self-reflective, instead of looking at someone else and saying, 'Isn't it weird that they do this?' We want to see more grounded perspectives…looking inward, what's closest to us, what we know best," Denny said.
Audiences are valuing self-reflection and the portrayal of unique personal perspectives more and more.
"We are watching more shows that have a really singular voice, stemming from a creator's life. I'm thinking of 'Master of None' or 'Fleabag,' shows that are less about generating 100 episodes and more about exploring something that's a little more true life…it's getting personal," Shipley said.
We see this personal connection not just in terms of subject matter but also in the personalization aspect of streaming platforms. TV watching, in general, is getting less and less communal. You don't watch cable with your family on the couch anymore. Now, it's only you and your laptop as you watch Netflix.
The anonymous major online streaming company executive could not be put on the record due to her company's PR rules.
"New platforms are giving comedians opportunities to connect directly with real people without a large network filtering them. Shows are very much pure translations of a comedian's work. They connect to real people in a very organic and relatable way. Audiences are hungry to see themselves reflected and are valuing unique perspectives," the executive said.
Comedians with meaningful and original stories, like Hannah Gadsby, are gaining popularity as they approach taboo in interesting and new ways, instead of prioritizing surface-level relatability.
"Hannah Gadsby is blurring the lines between comedy and memoir," Ortega said. "You're watching her and you want to laugh at this lesbian, autistic woman with ADHD, who also presents very masculine, but it's hard because she has been treated in a truly horrific way. You're like, 'How do I characterize you? Am I crying? Am I laughing? Am I shocked? Am I rooting for you?'"
The streaming executive also sees this new blend of difficult topics and humor.
"Lines between satire and tragedy are blurring, and while comedy is a tool we've always had, it's become increasingly valuable to talk about really hard things. The genre is expanding beyond the typical sitcom and it's giving more opportunities for new voices and styles," the executive said.
In talking about their own unique experiences, comedians are less likely to filter themselves in expressing their truth.
"Ali Wong is hilarious but also horrifying…there are no taboos. Gross, aggressive and raunchy female comedy is pervading the mainstream. We're in a moment in which there is more interest in female comedy and an intersectional interest in non-white perspectives. As an Asian-American woman, she talks a lot about motherhood, pregnancy and marriage in a raw but funny and genuine way…For a very long time, major taboos about the reality of pregnancy and female sexuality seemed very startling, and it's so refreshing to have her talk about things like that out loud," Wilkinson said.
Leave a Comment
About the Writer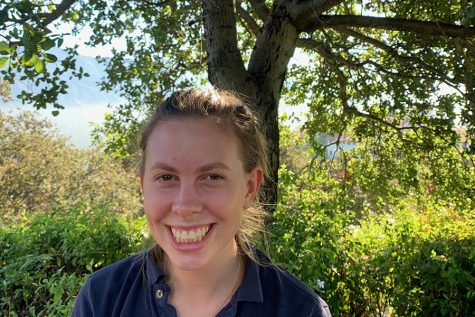 Julia Yellen, Staff Writer
Julia Yellen, a senior at Flintridge Sacred Heart, is new to the Veritas Shield as a staff writer this year but has written freelance for the paper in...