Coming to terms with the body positivity movement
The summer of 2019 was one for the books, and the most memorable part about it was the fact that it was referred to as "Hot Girl Summer." The purpose of hot girl summer, which was started by the rapper Megan Thee Stallion, was to make all different types of girls, of all different shapes and sizes, feel hot. The movement caught on, and its hashtag became popular on social media. The hashtag was meant to encourage girls to embrace their bodies. But, while Hot Girl Summer was a body-positive movement, I found myself left with many questions.
Hot Girl Summer was supposed to be about self-love, but it turned out to be a way for guys to define what the perfect bikini body is by only hyping up the hashtag when it appeared on Insta posts of skinny girls. While the hashtag originally aimed to empower women of different body types to feel confident all summer long, the hashtag had a different effect than expected.
As a member of the no-thigh-gap and non-flat-stomach community, I believe there needs to be more representation of all body types on social media. And I believe that the love that skinny girls receive on their photos in the form of comments and likes should reach those that don't fit into the stereotypical summer body box. Why can't we validate both our skinny and curvy friends? Have you ever walked into a store and immediately felt body-shamed, felt like everyone around you was judging you because someone with your body shape was in the store? Or felt like maybe just maybe the store won't be carrying clothes your size?
When Victoria's Secret finally hired its first plus-sized model, Ali Tate, in October 2019, people were astonished. Only one year before Tate's hiring, Ed Razek, President and Chief Marketing Officer for VS, said in an interview with Vogue that the company would not hire a plus-sized model because of the fantasy behind the VS fashion show.
Victoria's Secret changed its mind, but even after hiring Ali Tate, while the future looks bright, there is still a long way to go.
***
Winter is now upon us, yet I am still coming across bathing suit ads all over my Insta feed. And it's finally not just the super skinny models who immediately make others feel bad about their own bodies. The bodies represented in the ads I see consist of models with different body types.
After seeing all these bodies on social media, my headspace isn't one of lower self-esteem. I am able to stand in the mirror and smile, because I, and many others, felt validated. The other day, as I was scrolling, I came across a curvy model representing a regular clothing brand, not on for plus-sized clothes only. After seeing the ad, I honestly sighed out loud, internally thanking God that some brand finally had some common sense.
Body positivity is clearly accepted at Aerie, a sister brand of American Eagle that caters to a diverse set of body types. Aerie selects plus-sized models because the brand seems to care about people and their self-confidence. And, more importantly, the brand cares about diversity. They are not trying to conceal their plus-sized models in advertisements in order to avoid backlash. They openly have plus-sized models beaming in photos to promote their 40-percent-off bras and bralettes. Also, there is no specific plus-sized section on the online store; one doesn't need to go to a separate part of the website branded "plus-sized" in order to discover clothing that will fit. Everything is incorporated into the regular online store.
According to an article that appeared in June 2018 on CNBC, Aerie began its body positivity campaign in 2014 by discarding the airbrush and posting photos with regular-sized people. The campaign #AerieReal urged consumers to post pictures of themselves with no edits to show the beauty in all of their consumers.
 The internet loved Aerie's campaign.
"I'm completely OBSESSED with this whole #AerieREAL from @Aerie! Let's continue to lift each other up and be PROUD of our bodies!" @sweetsmileSTEPH said via Twitter.
Other brands, like Savage X Fenty and ASOS, a British online fashion retailer, are also a part of the body positivity movement. On ASOS's website, the company facilitates your purchase by making sure the item will be able to fit you. In order to do this, you click "fit size assistant," and the site asks questions to determine your size. After that, the app asks you for your belly size, which uses a virtual body type to help you figure out which one best suits you, deeming your three options as "flatter," "regular" and "curvier." Then you are shown hip shapes. The options here are "straighter," "average," and "wider." After you select a size, you insert your bust size. Next, you enter your age, because ASOS states that age "has an impact on how your weight is distributed." Then you enter if you want the item to be "tighter," "average" or "looser" on your body. Finally, ASOS gives you a size that they think will best fit you along with a satisfaction percentage based on people who have a similar body type and have purchased the same item.
"We're always testing new technology that can make our customers' experience even better. In this case, we're experimenting with AR (augmented reality) to show the product on different size models, so customers can get a better sense of how something might fit their body shape," an ASOS spokersperson told "Today" last year. With their efforts, ASOS is reducing the stigma that certain clothing items like crop tops can only be flawlessly worn by a certain size.
As a consumer, the efforts of ASOS have inspired me to be wiser when I shop. I am not the only one that craves body diversity.
Plus-sized model Robyn Lawley told Cosmo AUS, "It's not about the tiny 19-year-old model with no personality. People want to see curvier girls."
Social media makes it all the more important to women that the body positivity movement is happening right now.
In a 2017 study done at the University of West England, 160 female undergrads looked at fitness accounts, self-love quotes or both, and those who exclusively viewed the fitness accounts ended up scoring lower on self-love. The results revealed that women tend to focus on the beauty on the outside than on the inside.
Dr. Jasmine Fardouly's 2015 study at Macquarie University explored how and if social media — specifically, Facebook — affected women and how they see themselves. According to the study's abstract, the participants were shown thin-ideal, body-positive and appearance-neutral posts on Instagram. Those shown body-positive posts experienced a boost in mood, satisfaction and appreciation for their bodies. But, viewing thin-ideal posts led to heightened self-objectification. Further studies would need to be made in order to conclude why this occurs.
***
One underlying problem when it comes to hiring plus-sized models is the fact that plus-sized models may not always present the realness of body diversity. Plus-sized models do not accurately represent all body types. Plus-sized models may be larger than traditional models, but they still have a way of looking flawless. Now is an empowering moment for those of us who are not stick figures, but we don't look like flawless plus-sized models, either. There are a vast amount of body types that exist today. These body types consist of straight, pear, spoon, hourglass, top hourglass, inverted triangle, oval, diamond and more. Plus-sized models may look curvy, but only in the exact right sorts of ways.
Lawley craves for the term plus-sized to be banned from the fashion industry vocabulary. She thinks that clothes should just be made to best fit people, which was the aim of her swim line, Robyn Lawley, which is available on bikini.com.
While models like Robyn Lawley are paving the way for people in the plus-sized community, the future for body diversity remains unknown yet looking positive. While advancements such as representation in ASOS's online store and many others have been used to increase confidence for people while on their shopping excursions, more brands will need to contribute to the cause for there to be an even bigger impact.
Therefore, the future of body-positive brands lies in our hands, the consumers. If we do not take the time to research if brands create a body-positive environment, then we are not doing our part on the inclusivity train. In order to protect our curvy friends and their representation and options in the fashion world, we must become consumers of brands that are fighting for the same cause.
Leave a Comment
About the Writer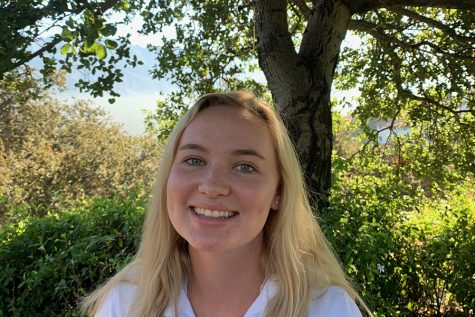 CJ Huston, Arts and Culture Editor
CJ Huston is the arts and culture editor for the Veritas Shield. She began writing for the paper as a junior in 2018. CJ serves as the president of the...