Consequences of under-representation: the Armenia and Azerbaijan conflict
Since September 12, 2022, neighboring countries Armenia and Azerbaijan have been in a violent conflict, resulting in approximately 300 deaths and displacing about 7,600 people. The first Armenia-Azerbaijan war broke out in 1988, continuing on to the full-scale war of 2020 and now, the 2022 disputes. 
You'd think a conflict this impactful and long-lasting would be in the news every day. However, this isn't the case at all.
If you look at the New York Times, the Wall Street Journal and Al Jazeera, three top news sources, you'll find very little coverage of this conflict. Since its start on September 12th, the clash has received two reports in The New York Times, five in The Wall Street Journal and only 13 in Al Jazeera, despite this news channel's global focus. Most of these articles were published within the first week of the conflict.
"When I'm usually looking for global news I'll look at the BBC, I'll look at The New York Times, I'll look at Al-Jazeera, I'll look at the Wall Street Journal and I'll look at their world politics section. And I have to tell you, they're not publishing a lot of stories on this," FSH's librarian, Ms. Nora Murphy said. "I scrolled, and scrolled and scrolled to see if I could find something and it just wasn't there."
Like many other Armenian conflicts, the current Armenia-Azerbaijan clashes have been brought to many people's attention through social media outlets such as Instagram and Facebook. This, for the most part, is a poor form of spreading information. Social media is an easy way to get people's attention on certain issues, but these matters don't stay in the spotlight for long and are tossed to the side like trends.  
"I think part of the lack of reports is that newspapers are businesses and they're selling a product and they're gauging what their readers want to read about. If they don't think their readership is connected to this issue then they're going to be less likely to assign journalists to cover it… they're making decisions based on profit," said Ms. Murphy.
This issue's absence in the news has major consequences, one of them being that history continues to repeat itself. Due to a lack of international attention on Armenia, these disputes will likely escalate in severity over time.
 "I'm very hurt by it, but I'm also not surprised that something like this is happening," said Nairi Keshishian 24', co-president of FSH's Armenian Student Association. "We saw the Armenian genocide in 1915 where 1.5 million innocent Armenians were brutally murdered, taken out of their homes, and then again in September of 2020 this happened, mainly in Artsakh where the land was taken from us. It's just happening again two years later." 
There is also a great impact on the mental health of Armenians around the world who are physically separated from everything that's going on.
"Personally, I feel hopeless. Hopeless is the only word I can use to describe it, which sounds very depressing but there's no other way to describe this entire conflict and its impact… Just watching from America and seeing all of this go on, not being able to help with anything major is very draining and takes a toll on your mental health," Juno Kirakosian 24' said.
Armenia's under-representation in the media is a pressing matter which calls upon us to act. Within our small communities and our Tolog community, we can contribute to Armenia's cause by educating ourselves and spreading awareness. As we live among one of the largest Armenian populations outside of Armenia, we have a responsibility to advocate for this community's cause. 
"The number one way anyone can support the Armenian community is basic. On social media, repost anything that you see, definitely take steps into reading and understanding what's happening especially if you have Armenian friends or Armenians around you," Kirakosian  said "Just learning about it and spreading awareness means the world to every Armenian."
View Comments(1)
About the Writer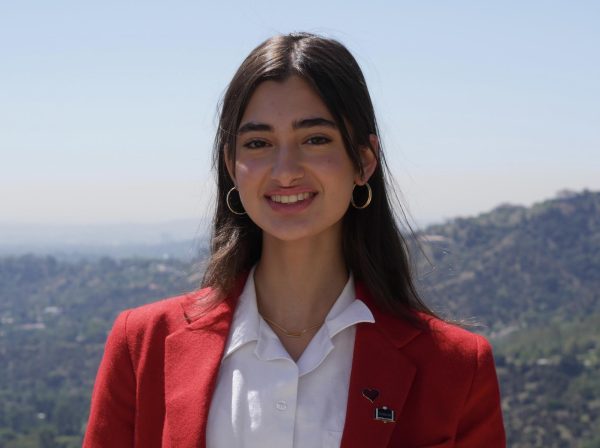 Nyree Aghayan, Multi-Media Manager
Senior Nyree Aghayan returns to the Veritas Shield as Multi-Media Manager. Since joining journalism as a junior, her passions for reading and writing have...