Covid-19 brings changes to Hollywood filming
Lights, camera, now take off your masks! Film is a large part of Los Angeles and Hollywood. These cities are home to many studios, including Universal, Warner Bros. and Disney. During the pandemic, though, the film industry has had to adjust. 
Kit Hoover, mother of Hayes Sullivan '21, is a co-host on multiple television shows, including "Access Hollywood," "Access Daily" and "All Access," each of which appears on NBC. 
When the pandemic started, NBC had to act quickly and figure out how to produce these shows from home.
"When Covid first hit, [NBC] told us all to stay home the next day. After a week of just showing reruns, they had us tape things on our phones. I was in the backyard with my daughter, taking a video of me memorizing a standup and sending it back to the studio so they could put it on the show. The quality looked bad, and it was crazy," Hoover said.
After a hectic few weeks, Hoover was able to get into the swing of things.
"Once we realized this was going to go on, they sent us ring lights and microphones. We taped at home for about six months, and now we're back in the studio," Hoover said.
While it was fun to do the show from home, Hoover is happy to be back on set.
"At first, I liked it. I could have my pajama pants on, and there was something fun about doing a cooking segment in my own kitchen. My kids would be in the kitchen getting coffee and crashing my interview, which was kind of fun. But then, it got old," Hoover said.
Even though she's back in the studio, filming is not the same as it was before.
"We have to stand ten feet apart, and everyone wears a mask and shield except for when getting their makeup done or when on the air," Hoover said.
One of the main reasons Hoover is happy to be back in the studio is the access the studio provides her to professional makeup.
"Right when Covid hit, they told me to just film in the backyard and make it work. I did my makeup and got ready for about a week with Hayes filming me, and then somebody called me from Glamour Magazine. They said I was so brave to go on camera with no makeup looking the way I do, and I put a lot of effort into [doing my own makeup], but clearly, I wasn't TV ready. I had a great chuckle about that. I really never cared about my hair and makeup; I just wanted to get the best story or the best interview," Hoover said.
While Hoover's work turned upside down, Peter Knight, father of Becket Knight '22 and a television writer and producer who has worked on shows such as "BoJack Horseman" and "Big Wolf on Campus," had an easy adjustment. Knight is currently working on a show called "Fairfax."
"What I've been doing during Covid is develop the stories for the episodes of 'Fairfax.' I was on Zoom the whole time with eight writers and a writer's assistant. It was shockingly smooth and not disruptive to the flow," Knight said. "A writer's room thrives on comaraderie and in-room jokes that arise. We were able to get that and had lots of inside jokes."
Knight and his team of writers have been doing their best to make the most out of working on Zoom.
"One of our writers had reached out to another writer, and they coordinated what they were wearing every day in secret. Organically, we started to have a theme every day. We would dress as the future or tennis, and it was this thing that brightened everything up," Knight said.
Similar to Knight, Rebecca Kitt, mother of Ella Kitt '21 (renowned editor-in-chief of the Shield) and Ava Kitt '24, has been able to adapt to the changes that the pandemic has brought on as well.
Kitt is an acting coach and a manager. She coaches actors for their auditions and on projects they get. 
During Covid, her job has not changed drastically because she's always Skyped or FaceTimed her clients, since they were located all over the United States. Even before Covid, it was rare that she had a client in Los Angeles.
One point Kitt noted, however, was that Covid could have the potential to change the nature of filming. Before Covid, film sets had started to become increasingly crowded. 
"It had gotten to the point where a lot of people were on set. All the executives would come and it wouldn't feel as intimate for the actors. I hope people will realize that [set] is not a playground or social event but that it is a vulnerable place to work," Kitt said.
Kitt works with a variety of people, some famous and others just starting out, but she has seen one commonality between everyone during the pandemic.
"I notice that I'm dealing with a lot of appreciative people who are just happy that they're working," Kitt said.
Leave a Comment
About the Writer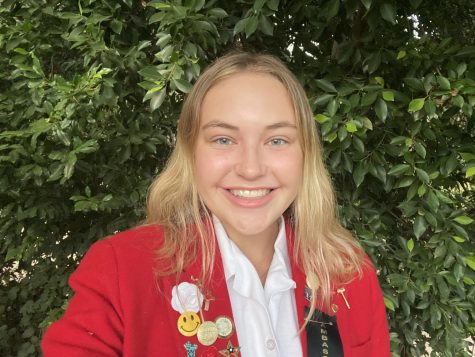 Jessie Mysza, Managing Editor
Jessie Mysza is the managing editor for the Vertias Shield. She started writing for the Shield her sophomore year and served as an associate editor her...