@dear_fsha: The Tolog community reacts
Spurred by the fervor of the Black Lives Matter protests that swept the nation starting in May, activists have taken to social media to continue to raise awareness for their causes. 
As a result of this wave of activist zeal, advocacy-themed social media accounts have surged in popularity. One such account, @dear_fsha on Instagram, publishes anonymous messages from FSH students and alums about incidents of discrimination that have occurred on campus. The feed has drawn a wide range of responses from the community. 
"In light of the death of George Floyd, I felt that race conversations were happening like they were never happening before," Maya Richard-Craven, the alumna from the class of 2012 who runs @dear_fsha, said. "I felt it was more timely than ever to create a space where marginalized groups could talk about their experiences on the Hill."
@dear_fsha, which describes itself as "a different kind of love letter," is a collection of experiences told in the first person by marginalized students. In keeping with the school's colors, each post is typed in red lettering with a simple white background.
In addition to giving students a platform to share their experiences, the Instagram account has garnered the attention of the administration (and the LA Times). 
"Perhaps you have seen the Instagram post @dear_fsha," Sister Carolyn McCormick, the president of the school, said in a school-wide Zoom meeting on the first day of school. "Our first work will be to respond to the Instagram post, thank them for the sharing of their experiences and invite them to work with us as we address issues of concern they have raised."
In response to the account, the administration appointed Richard-Craven and DeShawn Samad '11, who is not involved with the feed but reached out to the school directly, to be Diversity, Equity and Inclusion co-chairs on the alumnae board. Members of the administration have said that they are eager to start making changes to address the issues brought up by @dear_fsha. 
"Any time a student is hurting, that's something that you take home with you," Assistant Principal for Student Life Ms. Rosemary Johnston said. "I want to reach out and make it all better, but this isn't something that's that shallow. It's a hurt that's much deeper. I can't just wave my magic wand and say it's okay, but I'm willing to do whatever it takes to make it better." 
The administration's first step will be to gather input from all sides of the community by putting together a group of students, parents, teachers, administrators, staff members and alumnae to provide feedback through a new diversity, equity and inclusion team. The school hired a diversity, equity and inclusion consultant, Dr. Christina Hale-Elliot, who also works with the La Cañada Unified School District, to help coordinate this effort.
"We have to address the Black Lives Matter issue, the diversity, equity and inclusion, the LGBTQ+. There's a lot on our plates. So, I want to be very thoughtful, and we want to hear the voices of the students," Principal Sister Celeste Botello said. "I don't want any other young woman to feel that this was not a safe place for her." 
Students and teachers alike have expressed that they are glad the account has brought conversations about discrimination to the surface. 
"The biggest change is visibility. Our consciousness, our collective consciousness, has been raised," religion teacher Ms. Kristina Ortega said. "If nothing else, at least there's that, that more people are talking." 
Some, however, have expressed concern about the fallibility of social media activism. While the civil rights movement evokes images of Martin Luther King Jr. and Malcolm X gesticulating before crowds, the contemporary civil rights movement is comparatively faceless. Although the school has welcomed the conversation that the account has ignited, some take issue with social media activism's embrace of anonymity. 
"I think if you have a problem with someone, airing that grievance from behind a mask in public is cowardly and disrespectful and not the way that we ought to deal with our problems," English teacher Ms. Emily Wilkinson said. 
While the anonymity social media provides can empower people to speak out without fear of retribution, the fact that these stories are anonymous makes it difficult to fact-check them and makes possible the spread of false allegations and misconstrued statements. 
"Unfortunately, there is no way to verify submissions," Richard-Craven said.
Richard-Craven assesses submissions based on a subjective set of criteria. 
"There is kind of a filtering process that I go through in my mind. Is this part of the movement? Does this have to do with being in a marginalized group? Or is this person just young and angry?" Richard-Craven said. "Is this person trying to use me as someone to speak to about their problems, or are they trying to make FSHA a safer place by telling their story?" 
While the anonymity of @dear_fsha has been contentious, some maintain that it is essential to students being able to express themselves freely. 
"I don't believe people's identities should be revealed," math teacher Mr. Jim Lau said. "In my culture, I was brought up communist. We stayed quiet. So being anonymous, I think it is something crucial that in my culture I would love to have, because I don't want the government knocking down my door."
In addition to issues with fact-checking and anonymity, some students have expressed concern about the feed's tone. 
"I think an account like this at first was awesome to have, and now it's just dividing," Black Student Union president Bridget Byrne '21 said. "People that are conservative who go to our school or don't know a lot about the Black Lives Matter movement or don't want to listen to it are not going to listen to an account that's attacking people. That's not how we're going to get our voices heard. We need to be relatable. We need to educate people instead of yelling at them."
Ms. Holly Hunnewell, the chair of the English department, notes the limitations of tackling issues as complex as race on a platform as limited as Instagram.
"I think the problem with social media is that people get a very partial view of who someone is," Ms. Hunnewell said. "So, for someone from the outside world who read the LA Times article and connected me being quoted [on @dear_fsha] to being the chairman of the English department, one might assume that I was a pretty unfeeling, unsympathetic individual, and I feel like in my life and in my teaching, I'm the opposite. I have done my best from the perspective of a non-Black person, from the perspective of a non-LGBTQ+ person and from the perspective of a woman to champion, to listen to, to provide a safe space for the marginalized in any way." 
Though the management of @dear_fsha remains a polarizing issue, many members of the community appreciate the opportunity the account has provided for reflection. 
"We have to be willing to suffer with the discomfort of these conversations. It's not going to be easy," Director of Adult Mission Formation Sister Colleen Mary Mallon, who coordinates the efforts of the new diversity, equity and inclusion team, said. "I really just pray that in a world where there is a lot of accusation and a lot of broken relationships that we can model the capacity to grieve wrongdoing, to apologize and then to go beyond that." 
View Comments (6)
About the Writer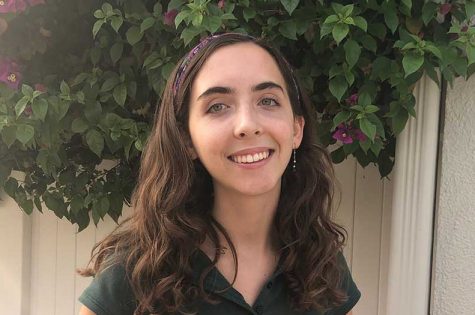 Ella Kitt, Editor-in-Chief
Ella Kitt is the editor-in-chief. She joined the Veritas Shield writing staff as a sophomore in 2018 and served as the managing editor her junior year....