A phenomenal season for varsity water polo
Reese Artura '25 seizes the ball during a tense sudden death match against the Notre Dame girls' varsity water polo team. All eyes are on her as she raises her arm to shoot the ball into the goal. The ball seems to be traveling in slow motion before smacking the net with a satisfying force. WOOSH. The crowd goes wild at the sound of the whistle. With big smiles all around, the Flintridge Sacred Heart varsity water polo team dives into the water to celebrate their amazing victory. 
So far the team has only lost games at tournaments. They were undefeated for 12 games before losing to two Division II teams in the Oxnard tournament. During their most recent tournament at the Lady Warrior Classic, they lost both games by one point to a Division III team and a Division IV team, bringing their overall record to 18-4. Unfortunately, one of their strongest players, Marisol Cowles '25, had to sit out for this tournament because she got hit in the nose during the game.
Half of the team's players are returning from last year. This year, FSH water polo cut down their team to only varsity members. 
"We have a lot of subs and so we get a lot of rest time, which allows the players to take a break. When they get back in the game, they're stronger instead of playing the whole game and getting tired," Audrey Lawlor '23 said. 
The team has a solid understanding of their game and what they need to do to win. They are well-rounded in all aspects of the game, having improved drastically in their defense and being unafraid to shoot on goal when the chance presents itself.
"We all understand each other's skill level, so we're able to work well with one another since we know who to pass [the ball] to and where to go," Katherine Dolan '25 said. "That's really important to our team because we're not competing with each other. Instead, we're very cohesive."
The team's tremendous success this season has also been attributed to its tight-knit team dynamic. The water polo team is closer than ever this year, strengthening their bonds through activities such as Christmas parties and post-game dinners.
"We're all very close friends," Guinevere Andrews '24 said. "We consider each other as family. Everyone's super supportive, and there is no gap between the upperclassmen and the underclassmen."
The more experienced players did an outstanding job of integrating the newcomers into the team. At the same time, the first-year players have also proven themselves to be great assets.
"Reese Artura has been really good this year," co-captain Audrey Lawlor '23 said. "She's a defensive first-year player who has a great arm. She has gotten a lot better at pool vision. She just looks around, sees what needs to be helped and goes at it."
Effective teamwork in water polo is essential to succeed.
"If your team can't pass you the ball you can't win. If you don't have good defense then you can't win," Cowles said.
During an exciting game against Notre Dame, the varsity girls fought in a heated tiebreak, which required great mental strength.
"At first, I was confident that we were gonna win," Kaitlyn Beltz '23 said. "But once we got there it was back and forth which was pretty stressful. It could've been anyone's game, really."
These water polo players persevered the entire time, effectively communicating with one another and treading water. 
"I think the hardest thing about water polo is the endurance you have to have," Andrews said. "You're swimming back and forth between the pool as fast as you can, and even though you wanna give up and go slower, you just have to keep going to get to that next level." 
Water polo is a physical sport. Even though viewers watching the game may not be able to see what's happening below the water, players can easily scratch, bite, kick or punch their opponents.
"Defending really aggressive, offensive players is pretty hard in the water," Lawlor said. "But it's always important to give your 100 percent." 
By never getting up, the team won the exciting league opener against Notre Dame 13-12 in sudden death. 
"Beating Notre Dame was a huge accomplishment for us because we lost to them by a lot last year," Andrews said. 
Wins for the water polo team, however, are not guaranteed. They work extremely hard, training five to six days a week since the beginning of September, sometimes in the pouring rain and during breaks. 
"Our practices are usually two hours," Andrews said. "We do 'dryland,' which is just workouts and conditioning. We also do some swimming, and when we do work on water polo, which is most of the time, we do shooting, drills, 1v1's and scrimmages."
The team loves Coach Carlos, who pushes them to improve as players every practice.
"By pushing us in practice, [Coach Carlos] helps us prepare for games," Cowles said. "Even though games can be stressful at times, we just have to remember to go back to the basics we learned in practice."
Coach Carlos is relatable to his players for the most part, despite the fact that he yells at them in the pool.
"I like that he is strict but also close with all of the girls. He knows all of us personally, but he can also critique us. He pushes us a good amount and that ultimately makes us better," Andrews said. 
Coach Carlos cares about each of his players on a personal level as well as the development of their skill sets.
"He's one of my favorite coaches I've had in all sports in general," Dolan said. "I think that he really helps you individually get better since he focuses on your own strengths as opposed to how the team works in general."
In addition to being instructed by Coach Carlos, players on the team can also learn from more experienced players who play club. 
"I've known Lilly Waggoner and Marisol Cowles for a long time since they're a part of my club team," Dolan said. "It's such a nice opportunity to have them play on a team with me at school because we work well together and we're able to teach everyone on the team important skill sets they could learn from us."
Cowles, Waggoner and Dolan play club at Rose Bowl Water Polo. Their teammates say that they are the strongest players on the team. 
"Mari [Cowles] can shoot from anywhere. She just knows what to do and is a really strong all-around player," Beltz said. "Lilly is a sophomore, but she's really good. She can shoot from anywhere too and can defend really well. Kate [Dolan] is a left-hand player, so she's on the weak side and she can just spin [the opponent] and then score right away." 
Cowles is an incredibly talented athlete who is extremely motivated. She was just 16 months old when she learned to swim. If you're curious to learn more about her, visit this link to read an article written by our current Editor-in-Chief, Siena Urquiza '23. 
"She has always been our number one player since last year," Andrews said. "She scores the majority of our goals and is a very good asset to our team. She is a sophomore, but she is pretty much a leader for our whole team." 
Cowles tries her best to push and inspire her teammates to grow and never give up. Her goal is to either play Division I water polo in college or play professionally in Europe. 
The team as a whole aims to combine its strengths and do exceptionally well in the league. They want to win as many games as they can and ultimately win CIF this year. Currently, they are in Division IV. 
"Especially after Notre Dame, I think we can move up a division, I really wanna try and do that," Cowles said. 
The team has had a brilliant season. Although they are no longer undefeated, one thing is certain: nothing can compare to the strong bonds the girls have developed. Most importantly, they've had fun this season and exhibit a strong desire to win their remaining games.
Leave a Comment
About the Writer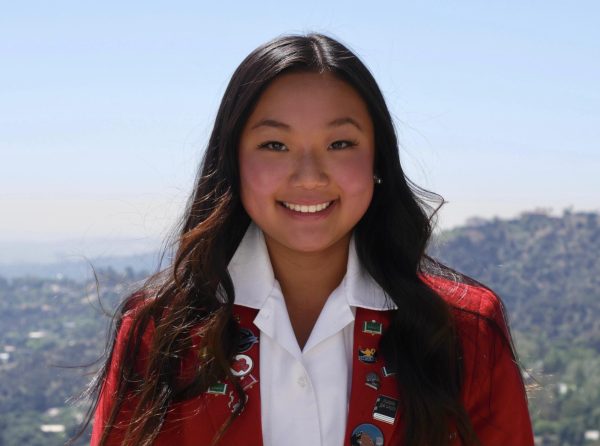 Madison Wuu, Editor-in-Chief
From her role as editor-in-chief to her creative pursuits on our YouTube channel, Madison Wuu is always exploring new ways to express herself and share...