@dear_fsha sparks diversity and inclusivity changes on campus
A number of changes are in motion at Flintridge Sacred Heart in order for the school to become a more diverse and inclusive place. The school has hired a new diversity, equity and inclusion consultant, Dr. Christina Hale-Elliot. Allyship is raging across our virtual campus. And the school now has multiple venues for marginalized students to express themselves. In addition to the Instagram feed @dear_fsha, Flintridge Sacred Heart will host Voices for Veritas, a webinar where school administrators will listen to stories from students of color and other marginalized students about their experiences on the Hill. 
That's a lot of changes. But how did all of this start? Over the summer, the aforementioned Instagram account, @dear_fsha, began publishing anonymous stories from students and alums about instances of racism, homophobia and other forms of discrimination on campus. The account, which was created by alum Maya Richard-Craven '12, followed the model of other Instagram feeds associated with both private and public high schools that provide platforms for minorities and LGBTQ+ students. 
"In creating @dear_fsha, I hoped that students and alumnae from marginalized groups would get a chance to be seen and heard," Richard-Craven said.
The account has drawn a wide range of reactions. The main criticisms of the account have been that it promotes only the negative side of the school and that, by publishing stories anonymously and without dates, the account's stories cannot be verified for accuracy. The account has certainly prompted mixed emotions (see the Shield's story by Ella Kitt '21), but the feed deserves credit for inspiring a number of positive changes within the school community. 
"The account isn't perfect. And the administration has more work to do. But they're off to a good start, and @dear_fsha deserves credit for setting changes in motion," Bridget Byrne '21, the co-president of the Black Student Union, said. 
Change # 1 — Dr. Christina Hale-Elliot 
In August, the school hired Hale-Elliott to work on diversity, equity and inclusion. Hale-Elliott has worked at other schools, including La Cañada High School. Along with Sister Colleen Mary Mallon, the school's director of adult mission formation, Hale-Elliott has formed a working group of administrators that call themselves the Dominican Justice Community (DJC). The point of the group is to put the school on a path towards reconciliation and make FSH more anti-racist and anti-bias. 
"Our faculty and staff are receiving training in diversity, equity and inclusion and how to translate this training into the classroom, resident life and co-curricular experiences, such as sports teams and clubs," Sister Colleen Mary Mallon told me in an email. "Our faculty and staff are attending a variety of in-services in equity education."
Along with providing training to faculty and staff, the DJC is making its public debut in an online seminar called Voices for Veritas on October 30. During this webinar, administrators will listen to stories from students, apologize for past mistakes, pray and start the reconciliation process. 
Voices for Veritas builds on the process that @dear_fsha started this summer, when the account provided a venue for dialogue about the school's relationship with students of color, the LGBTQ+ community and students from other marginalized groups. Richard-Craven, in fact, is helping the school find speakers for the event by reaching out to girls who have sent in stories to the account. 
Change #2 — An increase in allyship
Along with opening the dialogue between marginalized students and the administration, another big change on campus has been an increase in allyship, which is the process of privileged individuals working to develop empathy for those who are marginalized in order to help them feel heard and supported. Allies understand the importance of fighting for something or someone even when the issue doesn't directly affect them. 
 "I have noticed that our community is both more vocal about issues and more comfortable in hearing everyone's stories," Giuliana Casciani '21 said. "I'm seeing the majority of FSH girls that I follow [on Instagram] re-posting stories from @dear_fsha along with news about Black Lives Matter and racial injustice." 
You can see Tologs being allies on their personal Instagram accounts along with on the @dear_fsha account, where they leave encouraging comments. Instagram Stories are flooding with posts about the Black Lives Matter movement, the death of Breonna Taylor and other racial topics. The fear of being judged for sharing individual views online seems to have melted away as the importance of fighting for social justice has become more prominent. 
"I think something really changed this year. People aren't as afraid to talk about serious topics like race and politics anymore. They're too important to keep silent about," Kiona Baltazar '21 said. 
@dear_fsha helped to erase the stigma of speaking up about racial injustice and politics online, giving students the confidence to speak up. 
"I myself feel a lot more comfortable talking about racial issues without fear of retaliation. I'm just hoping we see real change," Zoe Grace '21, the co-president of the Black Student Union, said
Change #3 — Outlets for marginalized students
@dear_fsha functions as an outlet where marginalized students can express themselves. To find out how @dear_fsha is serving students who have submitted, I reached out to two girls that I know have sent in stories, and they told me how being able to submit to the account has impacted them. 
The students I reached out to expressed that they were never comfortable sharing their stories to anyone that could make a change, like teachers or administrators, because of their fear of conflict. In @dear_fsha, they finally had an outlet where they were comfortable sharing their experiences in hopes of gaining traction and enacting some change at their school. 
Here's what one of the girls I spoke with told me:
"I've never felt comfortable enough to speak up about some of my experiences unless it's to my close friends. Having an account like @dear_fsha is extremely important so that I, along with my classmates, can get my stories out there without worrying about judgment or repercussions from the administration." 
Here's what another girl said:  
"I felt like there was a weight lifted off of my chest kind of. Every story I was keeping to myself was finally out there on social media for everyone to see, and I thought that meant some type of change had to come from it, whether the school liked it or not."
Tomorrow's Voices for Veritas webinar is sure to build on @dear_fsha's momentum by providing a venue where students can express themselves directly to administrators, without having to go through social media.
@dear_fsha isn't perfect. It publishes anonymously, it doesn't date posts and it has been pretty negative towards the school in some ways that I have found unfair. However, look at all the changes @dear_fsha has caused. The purpose of this account is to improve campus culture for people who have been silenced in the past. Improvement does not happen without criticism. The student voices brought on by the account show courage that didn't seem as present in previous years. 
This year on campus, I see a constant yearning to progress and make the changes necessary to guarantee a campus all students can enjoy. Whether the steps towards a safe, kind and welcoming campus culture include creating a working group of administrators or facilitating acceptance of the LGBTQ+ community, Tologs want to see change. @dear_fsha has helped spur this process, and the changes that have resulted will continue to benefit the school for years to come. 
Leave a Comment
About the Writer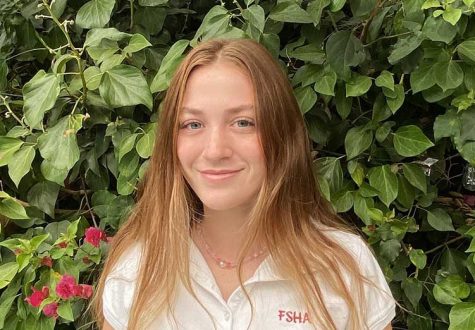 Sarah McGrory, Staff Writer
Sarah McGrory joined the Veritas Shield her senior year as a staff writer. In her free time, she enjoys going to concerts and listening to music. She also...