Kaldi Coffee lives up to the hype
In the center of South Pasadena, Kaldi Coffee sits on the corner of a tree-lined section of El Centro Street, just south of Mission. South Pasadena locals surround the cafe, many relaxing on the lawn of the public library across the street or sipping espresso on the sidewalk tables.
Kaldi Coffee was recommended to me by a number of different FSHA students who all said the same thing: "Lady Bird was filmed there," and, "The place just has a good atmosphere." 
Upon my arrival at Kaldi, I walked into an open and inviting space. Most of the old and beat-up couches had been claimed, and the cafe was crowded for 1 p.m. on a Monday that happened to be Labor Day.
I walked up to the cash register and decided to get a turkey sandwich. After asking for no cheese, the 20-something barista/chef, who was wearing what I would describe as a black cloak asked, "Are you a vegan? Because I could make it without mayo if you are."
I laughed a little and said, "Nooo, I'm not vegan… I ordered a turkey sandwich." Cloak girl stared at me and caught herself: "Yeah, that makes sense. Of course, you're not a vegan!"
To be honest, my turkey sandwich was underwhelming. It was pretty small and tasted like something I would have gotten in my lunch in the second grade. 
During my hour stay at Kaldi, cloak girl, after aggressively sweeping the floors of the cafe, picked up the tip jar and vigorously shook it, staring the customers down and shouting, "You think people would be more generous with  their tips on Labor Day." 
Feeling very guilty, I got up and bought a water bottle so that I could drop another dollar bill into the "Feeling Tipsy" container before I walked out the door laughing. 
The next morning, I came back to get a latte. I had already had a latte from my favorite coffee shop, Revolution Roasters in Oceanside, and I wanted to be able to fairly assess Kaldi's. 
Much to my dismay, cloak girl was not working. The cafe was filled mainly with South Pasadena students finishing up homework and middle-aged adults getting black coffees. Unlike the atmosphere of a Starbucks, the pace was slow and relaxed. The customers were there to enjoy their mornings, not to gulp a coffee down before heading to work. 
 I ordered an iced latte with almond milk from a much less exciting barista than cloak girl. I swirled the latte three times before taking a sip, and I have to say, my latte was pretty good.
I enjoy oat milk much more than almond, but the almond milk seemed to be of pretty high quality, and the drink overall was correctly proportioned. They used plastic straws and cups, which is environmentally reckless, but I prefer to drink out of plastic anyway, so I didn't mind. The latte was creamy, rich and strong and compared to other South Pasadena lattes, it was pretty delicious.  
When I first heard about Kaldi Coffee I assumed it would be the typical "hipsters paradise": a mediocre cafe that is overly hyped by edgy Tologs and other teenagers. But, Kaldi is a unique cafe that draws a diverse customer base: families enjoying a day at the library, aged locals who want to sit and read the newspaper and teenagers who want to imagine that Timothée Chalamet, not cloak girl, is serving them their latte. If you want to enjoy a solid latte on a small tree-lined sidewalk served by the most memorable barista I have ever encountered, I would highly recommend Kaldi. 
Leave a Comment
About the Writer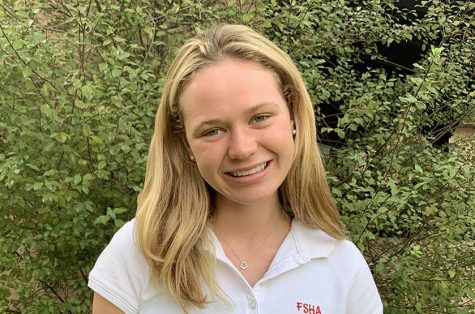 Claire McDonald, Managing Editor
Claire McDonald is the managing editor this year for the Veritas Shield. She started writing for the Shield her sophomore year and served as news editor...