CJ reveals the truth behind man buns and athleisure
Imagine walking into a 105-degree-or-above room and doing yoga for an hour. Sound fun? If yes, hot yoga is something you should consider. Hot yoga, also known as Bikram yoga, takes place in a hot and humid room, typically including a ton of perspiring shirtless people and a male instructor rocking a sweaty man bun.
Hot yoga is getting more and more popular nowadays, and with bathing suit season coming up, I decided to give it a go. Quin Van de Voorde '20 recommended Hot8Yoga to me while we were talking about weight loss. Hot yoga was not something I had considered when I decided I should shed a few pounds for the upcoming summer. I just thought I would go down to the gym three times a week and that would be it. Then, I was dragged into a last minute yoga class and let me tell you, I almost died.
I found myself nonstop sweating and short of breath, making me feel like I was losing a lot of weight. Meanwhile, the instructor must have thought I was going to lose my consciousness, because she politely asked me to leave the class, which is something they never ask of people. Let's be honest, though: I was going to pass out sooner rather than later if I didn't step outside.
Through this experience, I discovered how much fun hot yoga can be. The moment you walk out of class is one of the most relief-filled moments of your life.
After realizing the relief and pride you have when you walk out of the incredibly humid room into nice cold air, Quin convinced me to go back the next day, even though I began to regret my decision when I stepped foot in the class again. I mean, I almost passed out, and after my first class, I felt odd walking in appearing to be heavier than the 40-something-year-olds in the same room.
After the second class, which I was actually able to participate in with a minimal amount of breaks, I asked Quin why she thought hot yoga would be good for me, or if she just wanted someone to go with her.
Quin talked about how her dad had lost a bunch of weight doing hot yoga and he just seemed to be more healthy, which is a lifestyle I am trying to achieve. Quin's father, James Van de Voorde, agreed to answer some of my questions about how hot yoga has worked for him.
"It's been about seven years since I have been doing hot yoga. I was looking for things that I could do for myself that were healthy that would make me feel better about myself," said Van de Voorde.
Van de Voorde ended up losing about 50 pounds through three years of hot yoga. However, he said that yoga alone was not what caused him to drop the weight. He said that to achieve a healthy lifestyle, along with hot yoga, dieting is key.
"I became totally addicted to this incredible practice of 90 minutes of sweating profusely. I go four to five days a week," said Van de Voorde.
The only problem is, I am in love with junk food, and the marriage I have with junk food is a bond that will never be broken. So, I cannot confirm that hot yoga works for weight loss, since I did not shed many pounds. But, if you feel like you could put in the work and avoid those McGriddles, then hot yoga is something you should try. Just go to a place that offers a free week, because who doesn't like free stuff?
Leave a Comment
About the Writer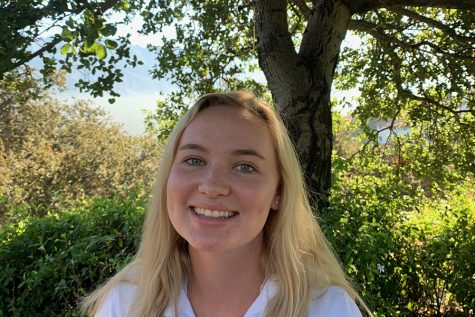 CJ Huston, Arts and Culture Editor
CJ Huston is the arts and culture editor for the Veritas Shield. She began writing for the paper as a junior in 2018. CJ serves as the president of the...