Coachella: More than an experience… I swear
Some may say Coachella is my writing area of expertise. Having written about the festival twice in this fine publication and experienced this three-day desert excursion first hand, I can say that I know a lot about the happenings of Coachella. So, when Mr. Dibblee even briefly mentioned potentially doing an interview about festivals with Mr. Peter Casciani, the CFO of Ticketmaster and FSHA parent, I seized the opportunity.
Mr. Casciani and I emailed back and forth and spoke on the phone about the possibility of interviewing someone that is knowlegeble about Coachella. Next thing you know, there I am on Hollywood Boulevard, sitting in a conference room with Ben Taylor, the Chief Operating Officer at Front Gate Tickets, a subsidiary of Ticketmaster. Taylor worked for Coachella as the festival's lead ticketing rep for four years.
When I sat down with Taylor, I inquired about how competitors view Coachella and what direction festivals are heading in. Usually, around this time of year, the Hill is filled with talk about Tologs heading to the desert to see their favorite artists, but this year, chatter about Coachella had been relatively quiet. I wanted to know what the cause was.
I expected Taylor to say that Coachella would soon fall from success. He instead spoke about how Coachella was an unbeatable competitor that could never be replaced.
"The only way anything could ever rival Coachella would be if Goldenvoice [the company that organizes Coachella] wanted something to rival it. They continue to do a lot of cutting-edge stuff with Coachella. And they are always looking for bigger, better ways to make the experience of Coachella better. That's why no one except themselves can rival it," Taylor said.
True, when people think of music festivals they think of Coachella, but something will eventually come around to take its place. All good things come to an end, and Coachella cannot avoid the inevitable. Even within our own senior class, there seemed to be fewer attendees this year than in previous years. It is almost an unspoken FSHA tradition that a large portion of the senior class makes the trip to the Coachella Valley, and that just didn't seem to happen this year.
"My freshman year, so many girls went to Coachella that there were donuts for the twenty girls that showed up to school the following Monday," Mila Mendoza '19 said.
Overall, Coachella garnered less hype and chatter this year. This could have been due to the lineup or just because people are tired of hearing about the same event year after year.
Because Coachella comes with a certain "experience," what people wear and which celebrities attend receive a significant amount of attention, and this year was no exception, though the buzz about festival season this year felt different.
"I think that the lineup this year wasn't that appealing. I mean, who was even playing? The attention has definitely shifted from music to fashion," Caroline Chase said '20.
Many festivals this year, including Loll a p a l o o z a , have the same headliners. Ariana Grande, Childish Gambino and Tame Impala, the three Coachella headliners, are also headlining Lollapalooza. Having the same headliners makes festival season bland, defeating the point of having different festivals to showcase various artists. If other festivals are headed in the direction of copying Coachella, there will be no point in having other festivals.
Since the emphasis of the festival has shifted away from headliners, the "experience" of the festival has become more important.
"The acts are obviously important and a big part of the draw, but it is the experience that people go for," said Taylor. "The fact that Coachella is a culture helps all festivals because when you've got a year where the talent isn't that strong, people would still want to come for the experience."
For some seniors on the Hill, though, the experience was enough.
"My friend group went primarily for the experience because we always saw it as, 'We're seniors, so let's go to Coachella.' I know that a lot of seniors didn't want to go because of the lineup, but my group was going to go regardless of the lineup," Marta Maynes said '19.
I understand the whole "go for the experience" attitude, but if you are going you should care about the music. Coachella in itself is an experience, but an experience revolving around music.
"Coachella has become more of a brand than a music festival. When you launch a festival, you want it to become a brand, and that's what Coachella did," said Taylor.
Coachella has evolved into a place where people go to publicize their experience on social media, and this is good from a marketing perspective, but not for hardcore music fans.
The music has taken a backseat to the Coachella experience. Honestly, it was sad for me to watch the livestream of The 1975's set and see the lack of crowd involvement. The crowd was dead and it just disappointed me, because I know they are great performers.
Coachella needs to regain its reputation as a place where music lovers find refuge instead of a place where beauty gurus go to take Instagram pictures.
Leave a Comment
About the Writer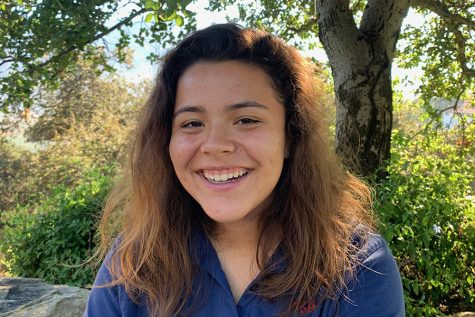 Cerys Davies, Editor-in-Chief
Cerys Davies is the editor-in-chief. She started writing for the Veritas Shield in 2017. Her sophomore year, she was the section editor and advertising...