JRP and SRP to change for next year
Next year will be very different for rising juniors and seniors. The curriculum board has shortened the JRP and incorporated it into the second semester of religion and has embedded the SRP into a series of senior seminars.
The changes will give juniors and seniors more scheduled course time and structure within which to complete the projects.
The purpose of these changes is to address the increasing stress of students surrounding the JRP and SRP and to incorporate Catholic social teaching into the projects.
"SRP changes have been in the works for years. We want to embed interdisciplinary thinking, service learning and research in senior seminar courses. Every senior will take a research class next year, whether that be psych, engineering, gender studies or a class in the religion department," Ms. Sherrie Singer said.
Existing senior seminars such as Honors Psychology, Gender Studies and Engineering will now house the SRP. Students not taking those seminars will complete the SRP in research-focused religion classes.
The JRP for the 2019-2020 school year will exist within the religion department as well.
"In the past few months, the curriculum board has worked as a group to make the JRP a more manageable and a more enriching experience, while still giving research skills to the girls. We scaled it back a bit," Murphy said.
Allowing the JRP to mostly exist within the latter half of religion will make it so the research project won't be seen as a separate class from the other classes Tologs take each day.
While many flex blocks will still be dedicated to JRP and SRP work time, the flex blocks will function as additional time to work on the projects, because most writing and planning would be done within the research courses themselves.
Teachers of the research classes will be the primary advisors for students.
In addition to scheduling changes, placing the senior and junior research projects into religion classes will align the mission of FSHA with its Catholicism.
"The JRP will be guided by Catholic social teaching, which is a really powerful way of doing topic selection. The religion class will be a focal point for juniors and to have religion, the heart of the school, and to have the research program, a hallmark of our academic program, housed in that same space makes both the religion and research programs become a focal point," Singer said.
While minor logistics still need to be straightened out, Ms. Singer and the Curriculum Board are hopeful the changes to the programs will make for better classes.
"I am so excited to do the JRP, especially because the process will be so much smoother," Abbie Toth '21 said.
Leave a Comment
About the Writer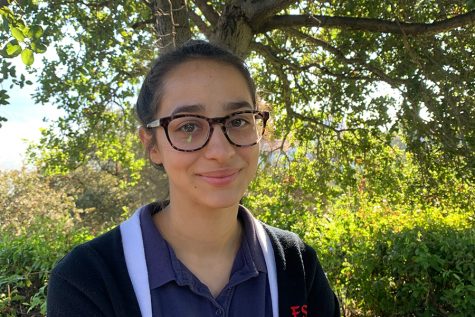 Nikki Godinez, Editor-in-Chief
Nikki is the editor-in-chief of the Veritas Shield. Her sophomore year, she was a section editor, and she served as managing editor during her junior year....