AP Lang students spit fire in Eisenstein rap class
You stand up, walk to the front of the classroom, heart pounding like a hammer against your ribs, sweat gleaming on your forehead. You look out into the crowd of twelve expectant faces, trying to maintain your rapper swagger. Not too far in front of you, your teacher, Mr. Drew Eisenstein, pulls out his Google Pixel and holds it up between both hands, waiting for you to start. You think you're going to faint, but then the beat blares out from the SMART Board ™ speaker, and you begin spitting bars. You are no longer just a FSHA student, but an artist, a lyricist, a poet.
"As a joke, I told [my students] that if they could rap an argument in class I would take the rap as an alternate assignment to an essay, and a bunch of them agreed to do it," Mr. Eisenstein, teacher and rap connoiseur, said.
The actual assignment was far from a joke. Mr. Eisenstein had high expectations for the technical aspects of students' pieces. The rhyme, the rhythm, the meter, the idea and especially the flow all had to be on point.
"I didn't go into it thinking, 'Okay, you can go up there and say a few rhyming lines.' If it's going to take the place of an essay, it needs to be of the same calibre of thought and work that an essay would take."
Students wrote about causes important to them, discussing topics ranging from climate change to racial identity. Many found rap to be a new and useful medium to express their ideas.
Tayvans Zhang '21, wearing a knitted Gucci headband and Off-White shoes, used her lyrics to direct her classmates' attention to her designer attire:
Gucci on top, stepping on Off-White/ Study? Hell no, we don't really mind/ We game, have fun, dancing all the night
At first glance, the verse seems like braggadocio, but Zhang was actually using the boastful rapper style to convey a deeper message.
Zhang, along with students Jenny Wang and Alice Wong, told the class about their experiences encountering these stereotypes in their piece "Made in China."
After school for us is not party time / Skyping my family and telling them I'm fine / Want to see my friends but they ain't have time
"I feel like there are a lot of stereotypes in the United States about students from China. People think we're super rich and we don't study, we just spend our parents' money buying Gucci and Off-White. But I think that's a generalization. We care about our studies and we care about assimilation," Zhang said.
"We all know about the discrepancies between boarding and day students, but to hear the boarding student's perspective laid out in a powerful performance helps day students empathize in a different way," Sam Godinez '21 said.
Other students focused on issues important to them as well.
"I wrote about girls becoming young women and struggling with the idea of having to act in a way that is considered perfect," Emilie Risha '20 said.
If I be kind If I be good can I stop chasing/ These morals and these standards that will smash my face in/ I am not the ideal I don't set my pace in/ Something I should follow like the lunar phases
Not only did Risha highlight a pressing issue in her piece, but she also worked hard to master the technical aspects of her performance. Risha's classmates and teacher praised her style, her moves and her flow.
"I really enjoyed Emily Risha's rap," Mr. Eisenstein said. "The flow was definitely solid."
Students had fun with their classmates, learned about rap and delved into some of today's vital questions, all while showing off their fresh beats and funky flows.
In the end, students hit the mark, surprising Mr. Eisenstein with their finesse in the rap game.
"I was actually impressed. A couple of students actually knocked it out of the park."
It's not easy to write rap songs, much less to perform them in front of Mr. Eisenstein, but despite his students' initial trepidations, the hip hop enthusiast was able to bring out the best in his class.
Leave a Comment
About the Writer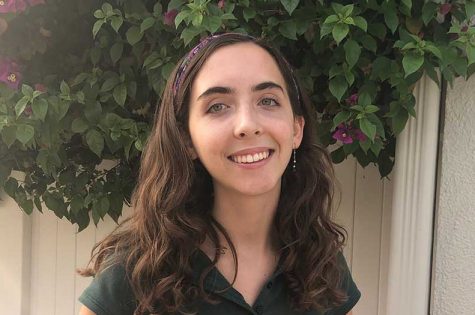 Ella Kitt, Editor-in-Chief
Ella Kitt is the editor-in-chief. She joined the Veritas Shield writing staff as a sophomore in 2018 and served as the managing editor her junior year....