A look into the athlete college commitment process
The college application process is dreaded by most students in high school. With hours spent on college essays, counseling, volunteering and touring schools, the process is tedious and time consuming. But what if your athletic expertise could do all the work for you? Though the process of committing to a college may seem like an easy way out of senioritis, it is not so simple.
Recently this year, two Flintridge Sacred Heart seniors have committed to colleges for athletics. Marie Milton '23 signed to Pomona College for softball, and Izzy Mozilo '23 signed to Babson College for track. While at first glance it may seem that a sports commitment is easy to achieve, years of work have contributed to this success.
"I've been playing softball since I was nine. I was on varsity for all four years of high school," Milton said.
Even though Covid took up one year of these Tologs' high school experiences, it didn't stop them from pursuing the sports that they loved.
"During Covid I started running everyday and I started to really love it. It was one of the only things that kept me sane," Mozilo said.
Even if she hadn't joined track, Mozilo still would've continued running in her own time because it was something she loved doing.
"I decided to pursue track in college because running became such a big part of my life and I didn't really see myself anywhere without running," Mozilo said.
The first step in the commitment process took place when Marie and Izzy began to show interest in certain schools and reach out to them and their coaches.
"I started talking to coaches myself and then from there the coaches started reaching out to me," Mozilo said.
After communication had been established between the schools, the recruiting process began to take off.
"They [the coaches)] also went to a lot of my games. They also came to my tournaments," Milton said.
The final step of the process was a verbal commitment and signing. With the dread of college applications lifted off their shoulders, these two seniors were able to enjoy the rest of their time at school and not worry about the application process.
"I think trying to maintain good grades and still worrying about where you're going to college is so stressful," Mozilo said. "Already knowing where I'm going takes a whole load off of me, and now I'm just riding through 'til the end of the year."
Leave a Comment
About the Writer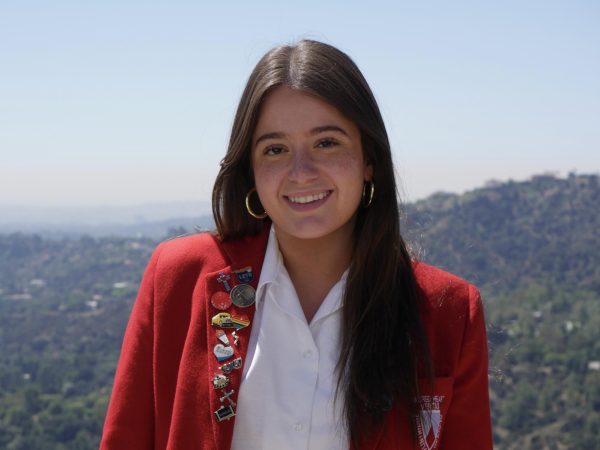 Maria Boutros, Social Media Manager
Maria Boutros is the social media manager for the Veritas Shield and a senior on The Hill this year. She started working for the paper her junior year...