Why I'm continuing my all-female education in college
When I first told people that I am going to attend Wellesley College, a women's liberal art institution, after attending my all-girls high school, I was confronted with some sharp questions. 
"Do you hate boys?" 
"How can you date boys if you are surrounded only by women?" 
"Won't you feel a lack of male voices in your class?"
"How are you going to survive in a mixed-gender society?"
Before answering these thought-provoking questions, let me first take a moment to reflect on the all-girl education I received here at Flintridge Sacred Heart.
What I first learned from the FSH Speech & Debate team was not any speaking technique, but to "never apologize." I used to apologize every time I made a mistake in a speech, but my speech coach, Mrs. Leilani McHugh, would always remind me to "never say you're sorry." So I'd cover my stumble with a little pause and a confident smile. Yes, I may have forgotten what's next, but is that a big deal? 
There are times when we, as female speakers and debaters, receive criticism from judges on our behavior, appearance and things above and beyond the words we actually say. However, having team discussions after each tournament helped build my confidence by making me realize that not all criticism helps us improve our speaking and that we are going to get through any obstacles together. Speaking up on stage as a female is hard because we carry unrealistic expectations from the audience to be perfect — sweet smile, neat suit, and passionate but never too emotional. We are changing that stereotype the more we continue to speak up.
The supportive atmosphere in the Speech & Debate is cultivated by the team's sense of community, a word I didn't truly understand until I started living at FSH Residential Life. I was instantly amazed at all of the unconditional love and care I received from Res Life — the kindness from the sisters and the laughter from cooking together and more. Witnessing this profound sense of community has motivated me to reciprocate that same level of love and care to the rest of my peers and faculty. For example, I often encourage students to participate in Res Life activities as I want them too to enjoy the beautiful decorations the staff put up in the dining hall. Furthermore, I strive to be the one that others can depend on because Dr. James and Ms. Sam always respond to my concerns patiently and thoughtfully. FSH is a true community not only because it's relatively small or because it's an all-girls school, but because everyone here wants to make FSH a big family.
Apart from being inspired by FSH's tight-knit community, I was also inspired academically. I remember in AP English Language and Composition class my junior year, we talked about the intersectionality of race, gender and class, making me realize the oppression women of minority races and low economic class historically bore. I remembered how enlightened I was after reading about Edward Said's Orientalism theories and then deciding to focus on the Asian female image in American movies for my Junior Research Project. During a religion class right after the war in Ukraine broke out, I remember our entire class sitting on the grass, discussing Just War Theory and the proverb "live by the sword, die by the sword" in the Bible. Ultimately, all of these moments at FSH led me to decide what I want to study in the future: Anthropology, the study of the origin and development of human societies and cultures.
FSH students inspire me as well. I am proud to say that every Tolog is a feminist. It doesn't mean that everyone on campus has read the famous The Second Sex, by Simone de Beauvoir, or is knowledgeable about all the feminist theories. We're feminists because we're not afraid to say so; we're feminists because we can be all kinds of women, regardless of a society's rigid definition of a good woman; we're feminists because we strive to help each other be the best version of ourselves.
Now going back to all the questions people asked. First, "Do you hate boys?" No, I do not hate boys, but it's important to point out that there is misogyny, hatred towards women, among males and females. However, as ridiculous as misogyny is, misandry, hatred towards boys, is also very thoughtless. Stereotypes, sexual harassment and domestic violence towards women reveal to us how easily men can abuse the power they've gained from the male dominant world. Instead of blaming a single gender for all the bad things that have happened, however, I always believe that analyzing the systematic reasons behind and seeing the full picture is more effective to solve the essential problem. 
Second, "How can you date boys if you are surrounded only by women?"As mentioned in an article my fellow Shielf staff Nyree Aghayan '24 recently wrote, the average woman finds her lifelong partner at 25, so why should I stress myself to balance a romantic relationship when I have all the time to realize my dream and explore the world? Surveys also indicate that 67% of Americans say they met their current partner through a dating app, so maybe we should have more confidence in online dating in the future.
Third, "Will you ever feel a lack of male's voice in your class?" No, so far I haven't felt the need for more variety in the opinions I've heard in class discussion. I'm very active on my social media account and I read news pieces by male editors almost every day. It would be weird if anyone longed for a male classmate to inspire them academically, right?
Last but not least, "Are you going to survive in a mixed-gender society?" Yes, and here's why: I believe that an all-women institution is not about disciplining women, but liberating them. When women graduate from a women's college, they are ready to find their place and create a meaningful legacy in the world.  
Once again, I don't "apologize" for any of my decisions. I can't wait to start my new journey in college, and no matter where you go, I hope you do too.
Leave a Comment
About the Writer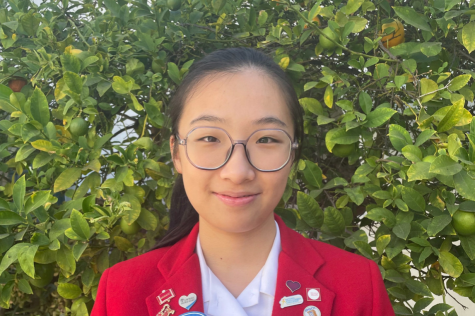 Wen Dian Wang, Staff Writer
Wendy Wang is a staff writer, and is new to Veritas Shield this year as a senior. Before, she worked in the school Yearbook and had many experiences with...