Why physics is the ultimate senior year class
For Flintridge Sacred Heart's class of 2023,  physics has gone from something daunting to something students love and appreciate, whether it be through lessons, funny moments or big projects.
"The labs and hands-on activities help build a lot of students' love for physics," Skylar Medina '23 said. "In the classes themselves, everybody's very talkative and loves to get to know one another. With our teacher's help, it's a whole engaging environment, and everybody wants to contribute."
The discussion-based lessons and collaborative assignments help promote a safe and fun learning environment.
"A lot of our projects are group-based, so it helps to get to know your class a lot better," Kaitlyn Huang '23 said. "The lectures are all discussion-based, so everyone kind of chimes in if they know the answer, and if someone needs help they just ask for help. It's not like you have to raise your hand, you can just talk."
The teachers, Mr. Ty Buxman and Ms. Siera Kozakar, are what really set physics apart from other classes.
"Ms. Kozakar and Mr. Buxman are both very interactive people," Medina said. "They like cracking jokes at some points, and also just having personal moments with each student to get to know them. It helps build the whole class's relationship as a whole."
Students love Ms. Kozakar due to her humorous nature and helpful teaching style.
"I think she's probably my favorite teacher I've had this year; she really helps you understand the material," Huang said. "She knows how to teach it in a way you understand, even if it takes multiple tries or you have to meet her after school. She's so funny and so sassy, and she kind of teases you so it makes it fun, but it doesn't make me feel dumb or scared to ask questions."
Mr. Buxman's students appreciate the fun moments of his class in particular.
"Mr. Buxman is so funny and erratic. Last class, he stole a student's shoes and hid them in the most random places. He literally put one on the top of the door, and she was looking for it for the majority of class," Medina said. "Overall, he's just a really good teacher and he's helped my love for physics grow and develop."
Physics class comes with lectures, labs and scientific writing homework assignments, but the most memorable parts for many seniors are the projects. One of them, the arcade game, involves building a game from scratch using knowledge of circuits and electrodynamics.
"The arcade game was my favorite project because it was based on my cat, Slipper, and I did it with my friend Shannon. Overall it was more of a personal project, and we could go in any direction we wanted to, so I really enjoyed that," Medina said.
The excitement involved in getting these projects done also contributes to the bond seniors feel from physics class.
"There were a lot of people in the physics room finishing up that arcade project. Just feeling everyone's energy was a nice feeling," Emily Manookian '23 said.
Another big project, the rocket launch, involved building a miniature rocket and using an understanding of physics concepts to try and build one that launched the farthest or the highest.
"The rocket launch was my favorite project. I thought it was fun because I didn't realize you could actually make the rocket go up that high," Huang said. "I understood the physics principles a lot better after doing the rocket [launch]. It was a competition too, to see whose went up higher, so that made it fun."
For freshmen, sophomores and juniors, physics can seem like a difficult class with intimidating math and seemingly impossible building projects. For many seniors, however, their experience with physics was different than they expected.
"When I was a junior going into senior year, I was very intimidated by physics as a whole, especially since the seniors above me were making it seem scary. I wasn't looking forward to it, but I went into physics with an open mind, and I'm very glad I did because I turned out to really enjoy the class," Medina said.
With seniors nearing the end of their time at FSH, knowing that they've gotten through this class gives them a sense of accomplishment.
"I think it's probably one of the hardest classes I've taken, so just being able to get through it is validating," Manookian said.
Medina had some words of wisdom to share with her fellow Tologs on the Hill.
"My advice for students going into physics: have an open mind, because you might end up enjoying it like I did."
Leave a Comment
About the Writer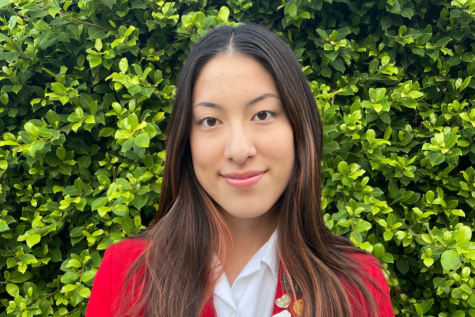 Graciela Tiu, Associate Editor
Graciela Tiu is a senior and an associate editor for the Veritas Shield. She began working for the paper in her junior year, and she plans to continue...