What will college life look like for '23?
When it comes to extracurricular activities, college is the land of opportunity. With the backdrop of academic and social freedom, many young adults have the chance to explore their identity and what they love to do. Like many before them, the class of 2023 is curious about a wide range of academic fields of study. 
Sophia Islas '23 is interested in majoring in public policy. 
"I want to create an impact on the world through our policy making system. Right now, I am interested in healthcare and economic policy. I've always been drawn to governmental policy and political topics. I also did an internship for a congressional member before senior year, and that affirmed my interest in the field of policy making," Islas said. 
Blue Nydam '23 is planning to major in psychology and double minor in environmental science and studio art. 
"I don't think I'd stay sane without art, it's just what I do with all my time. Psychology has always been a passion of mine, because when I was young I was diagnosed with ADHD. Ms. Toogood got me really into environmental science and I realized how much we affect the world around us, so I want to know how I can make a change with that," Nydam said. 
TC Daniels '23 wants to major in communications in college. 
"I want to do real estate later on in life, so I feel like communications would be a good tool for a career like that," Daniels said. 
Like Nydam, Kate Mann '23 hopes to major in psychology in college. 
"Personally, I am interested in being a psychiatrist. I'm excited to get some internships in the mental health sector, like maybe as an assistant to a psychiatrist," Mann said. 
Carrying on with the STEM theme for the class of 2023, Sarah Choi '23 plans on majoring in engineering. 
"I've always been interested in engineering, it's kind of the path that I've always resonated with," Choi said. 
With such a wide variety of majors, it makes sense that Tologs would also have a diverse selection of hobbies that they are looking to pursue as well. So what kinds of activities — both academic and social — are our seniors interested in participating in? 
In addition to engineering, Choi is interested in exploring business and entrepreneurship. 
"I want to continue sewing, but maybe take it to the next level — like making my own clothes and possibly selling them, because then I get the entrepreneurship side of it," Choi said. 
Nydam is hoping to explore their interests through their living situation. 
"One of my college options has different 'colleges' with different initiatives and special dorms. I would want to get into the social and diversity one so that I could keep doing what I've been doing here [at FSH] with my involvement in BSU [Black Student Union] and DREAM [Disability Rights, Education, Action and Mentoring]," Nydam said. 
Islas is also hoping to carry over her involvement in FSH clubs into her college experience. 
"I want to join the Latino Student Alliance club, and follow in my LUA [Latinas United in Action] footsteps at the collegiate level," Islas said. 
Many Tologs want to continue participating in the sports they played in high school. 
"I've played soccer all my life, so I'm hoping to do intramural or club soccer. I want to keep that part of my life," Daniels said. 
Some Tologs are spending time abroad for their first few months of college life. Mann will be spending a semester in Switzerland. 
"I'm really excited to learn more about Europe because I've never been there. In the place in Switzerland where I'm going, they speak Italian, which will be a little bit difficult, but I'm still excited," Mann said. 
Daniels will also be spending time in Europe, and will complete her first year of college in Rome, Italy. 
"I'm going to Rome with people who are in my major, so I'm excited to get to know people while living in such a beautiful city," Daniels said.
Islas is interested in taking advantage of her college's study abroad program as well.  
"I am interested in doing a semester in DC and interning, while also taking classes at the same time for a semester. I also want to go abroad to Spain," Islas said. 
While some Tologs may be learning about other global cultures, others are interested in reconnecting with their own. 
"I want to connect more to my culture, because I haven't been able to do that throughout my life and I feel like college is the perfect time to do that, considering how big the classes are," Choi said. 
Almost everyone we spoke to here at the Veritas Shield is interested in participating in research as well. 
"I'm definitely interested in research. There are a few academic clubs where you partner with an advisor or a professor and do studies with them at the college I'm going to," Nydam said. 
Overall, the freedom that the college environment inherently has is something that many Tologs are looking forward to experience over the next few years.
"In general, I'm just looking forward to trying new things that I've always wanted to do in high school," Daniels said. 
Leave a Comment
About the Writer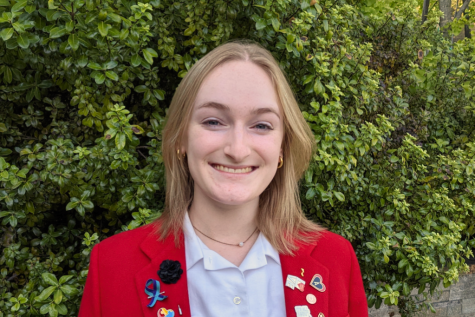 Julia Krider, Managing Editor
Julia Krider is a senior at Flintridge Sacred Heart, and is the Shield's managing editor this year. She has been part of the paper since sophomore year,...