FSH Alumni provide a sneak peek into future college life
From transportation to dining to groceries, to entertainment and most importantly, safety, there are many factors that can affect college life. In December 2022, academic workers at the University of California were protesting due to low wages and soaring housing prices near campus. Three FSH alumni shed light on life at their UC schools. 
Maia Driz Diaz '22 lives on UCLA's campus. Although Driz Diaz recognizes the downsides of her dorm — it's the smallest one on campus with no air conditioner or heater, it only has a communal bathroom and it's the furthest away from campus —  her two roommates, who are now also her best friends, make those living conditions more than bearable. 
Ella Minton '22, a freshman at UC Berkeley, originally lived in a triple room and then appealed to move into one of the school's newest double rooms. 
Past Co-Editor-in-Chief Claire McDonald '21 is a sophomore at UC Berkeley, and she lives in a sorority house that is two minutes away from campus. Below are the living experiences shared by these three alumni. 
Transportation
"The Bay Area has really good public transport. The buses are free and they run all around Berkeley. There are also BART (Bay Area Rapid Transport) trains that go into San Francisco. Not a lot of my friends have cars but it's not an issue because Berkeley is super walkable and 'busable.' I also have a bike," Minton said. 
However, transportation at UCLA is more difficult, according to Driz Diaz. 
"Transportation is a bit difficult because I don't have my car on campus so we usually use Uber to go to places, which isn't the best for my wallet. We also take the bus sometimes if it's a doable trip, but LA public transport isn't the best," Driz Diaz said. "Another alternative for transportation is renting a zip car for the day and splitting the price, which is probably the most cost-effective and beneficial mode of transportation there is. It's just a bit expensive, so [my friends and I] only use it on days where we really want to explore LA."
Dining 
Minton and Driz Diaz have completely opposite attitudes toward campus dining. 
"Dining isn't the best. I don't really eat at the dining halls very much because the food is really bad and I am a pretty picky eater. The food around Berkeley is so good and there are a lot of options and everything is close by," Minton said.
"UCLA dining is impeccable! Number one dining in the nation– they don't lie," Driz Diaz said.
Entertainment 
"The social life at UCLA is wonderful. On weekends we like to take the bus somewhere and explore parts of LA. I'm planning on heading to the Getty Museum with some friends for sunset one of these nights," Driz Diaz said. "I [also] love house concerts around UCLA at the houses nearby. They're put on by UCLA students and you usually have to pay about $5 to get in. It's a chill way to go out and experience nightlife. I also like how you're able to talk to people around you and meet new people at these concerts. For the most part, though, my roommates and I just watch Youtube, a TV show or movies together on our computers. Right now we're rewatching Glee." 
Minton agrees and finds that the clubs at UC Berkeley provide a great structure to her social life as well. 
"There's usually things going on put on by the dorms or by the schools, like painting nights, silent discos or movie nights. There are a lot of clubs that host cool events and screenings. I've gone to a Lana Del Rey club, museums, dinner spots and plays," Minton said. "Also, there's so much beautiful nature in the Bay Area. I hike a lot in the Berkeley hills, and there are also beaches farther away. I am really into rock climbing right now and there's a bouldering gym right by my dorm."
Groceries
Grocery stores are very accessible at both UCLA and UC Berkeley, according to Driz Diaz and McDonald. Westwood is the area of Los Angeles that UCLA is located in. 
"The walk down to Westwood from my dorm isn't ideal because of how hilly it is here, but it's definitely doable. It's nice that there are so many stores just outside of campus," Driz Diaz said.
"I live in a sorority house so we have meals made for us here. Berkeley is overall very easy to get around so I can take the bus to Trader Joe's for extra snacks and groceries I need, but overall, most of the stuff I need is at my sorority," McDonald said.
Safety
"It's been pretty safe from my experiences. There are a lot of homeless people down in Westwood Village. However, being an LA native, I'm pretty used to it. They also don't tend to bother me or my friends when we walk by, which is different from other parts of LA; I haven't had many bad experiences with people in public," Driz Diaz said. 
"I wouldn't say Berkeley is the safest college town. There is a lot of theft. In addition, there is a large population of unhoused individuals. I have been fortunate enough to be safe here but I always recommend being alert around Berkeley," McDonald said. 
Recently, UCLA extends SafeRide hours between 7 p.m. to 2 a.m. during finals to increase student safety. In February this year, Yogananda Pittman, the former interim chief of the U.S. Capitol Police, was sworn in to be UC Berkeley's new police chief. 
Suggestions for their Universities 
Minton's main concern is regarding the homeless crisis around the Berkeley campus. 
"I think Berkeley should address the homelessness issue, but there is a lot of drama regarding the situation. There's a park right by campus called People's Park, where a large number of homeless people live. Over the summer, UC Berkeley attempted to start construction on the park to build new housing for students. There was a lot of backlash and protesting by students and inhabitants of the park, and the university has stopped construction for now," Minton said. "I think Berkeley, like many places, needs a sustainable plan for housing for the homeless. They can't just kick people out of the park with no plan for where they are supposed to go."
McDonald agrees, but undeniably, she enjoys her life at Berkeley.
"I think the university overall could do a better job monitoring campus. There are incidents of dorm break-ins and violent crimes around campus that I think could be prevented if there was more monitoring happening at the dorms and on campus. But, Berkeley is a beautiful campus and a great place to go to school," McDonald said. 
Driz Diaz has mixed feelings about the number of hills at UCLA's campus. 
"Not a suggestion really because there isn't much to do about it, but the amount of hills on and around campus makes walking such a chore. I dread walking around a lot and get winded super easily but I know it's also super good for my health. Other than that, I really have no real complaints. I love it here," Driz Diaz said.
Leave a Comment
About the Writer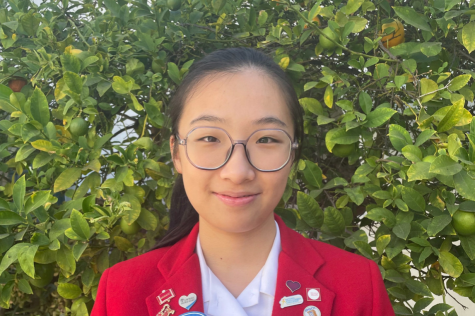 Wen Dian Wang, Staff Writer
Wendy Wang is a staff writer, and is new to Veritas Shield this year as a senior. Before, she worked in the school Yearbook and had many experiences with...