Mr. Pivovaroff's not-so-secret hobby
Anyone who has seen Mr. Eric Pivovaroff, FSH's Director of Facilities and Security, on campus recently may have noticed a certain item of clothing he frequently wears. What they may not know is that he made this beautiful dark green scarf himself. Over the past few months, Mr. Pivovaroff has become an enthusiastic partaker-in and advocate for crochet. 
"It's an unexpected hobby that I never thought I would see myself doing," Mr. Pivovaroff said. 
He was introduced to it by his wife, who started crocheting last year. Mr. Pivovaroff was interested, and soon he too picked up a crochet hook.
"It's a way for me to just calm down at night and be able to get a good night's rest," Mr. Pivovaroff said.
Mr. Pivovaroff credits crochet with improving his mental health and giving him an outlet for the stresses that come with ADHD. 
 "That's why I'm bringing it up because I know that we deal with a lot of mental health things, especially students. We have a lot of pressure, trying to go through high school and things like that, and having an outlet is really important," Mr. Pivovaroff said.
Along with relaxation, crochet helps his mental health by giving him access to a different part of himself, and supplying him with manageably stressful challenges.
"It's a lot of fun to be able to just try different things and explore your creative side, and know if you mess up it's okay, it's just always a learning experience," Mr. Pivovaroff said. 
One of Mr. Pivovaroff's favorite parts of the crocheting process is getting to give the finished project to an excited recipient. 
"Everybody wants a scarf and it's wintertime, so I've made everybody a bunch of scarves," Mr. Pivovaroff said. 
At a recent employee retreat, Mr. Pivovaroff had the opportunity to quickly crochet a scarf that was then raffled off. He's delighted to begin to share his creations with even more people, not just his immediate circle. 
"Eventually I'd like to be able to bank up some more scarves for next winter, and then be able to donate them to shelters," Mr. Pivovaroff said. 
Mr. Pivovaroff has also started teaching others to crochet, including his own children.
"They're really young, and they're just wanting to follow what we're doing, so they're enjoying it," Mr. Pivovaroff said. 
Not long ago, he led a crochet workshop hosted by Knitting With a View, the knitting and crochet club here on the Hill.
"My involvement with the crocheting club is just beginning. We have a lot of talented students who were at the crochet event that we had the other day," Mr. Pivovaroff said.
Mr. Pivovaroff hopes to get more advanced with his crocheting. His wife recently entered a sweater she created in the LA County Fair, but Mr. Pivovaroff says that's a little beyond him at the moment, though it may be a goal he'll set for the future. Currently, he's working on gathering more crochet essentials, in order to expand his range. 
"Right now I'm working on just doing a bunch of granny squares, so that I can do a sweater or something like that. Once you do granny squares you can stitch them together to do whatever," Mr. Pivovaroff said. 
No matter what his next steps are, one thing's for certain: Mr. Pivovaroff will always be grateful for crochet. 
"It's brought me joy," Mr. Pivovaroff said.
View Comments(1)
About the Writer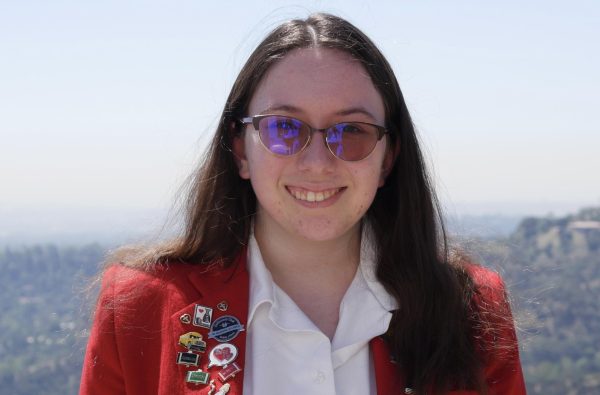 Claudia Lee, Managing Editor
Claudia is a senior and the Managing Editor of Veritas Shield. She joined journalism as a sophomore. In her free time, she enjoys spending time with her...