Round Square takes on Canada
Canada was one item I recently crossed off my bucket list. Traveling with Round Square from the warm weather of California to the chilly climate of Ottawa, the nation's capital, was an experience that I wouldn't trade for anything. 
The Winter Round Square 2023 Conference "Living in the North" brought together teenagers from around the world to learn about Indigenous tribes and communities with an emphasis on climate change. The conference's challenge was to step outside the comfort zone and experience a different climate to get a wider perspective on our Earth's biomes, and to meet fellow students from Round Square schools around the world. The conference was hosted at Ashbury College, and many students there participated in running the event. The conference showcased talks from a variety of speakers, as well as activities that helped participants learn about what it's like to live in the North — hence the conference's name. 
I loved the chance to meet an array of so many unique student delegates. In today's world where conflict is so widespread, making friends from other countries is crucial because they help us stay connected. At the conference, there were a total of 120 students from different countries, including Kenya, Australia, Romania, Colombia and more. It was interesting getting to meet friends who came from various cultural backgrounds than mine, and who offered fresh perspectives on life and insightful commentary on the lectures from guest speakers at the conference.  
One of my favorite lectures was an interview with Canadian water polo Olympian Waneek Horn-Miller that a student at Ashbury College conducted. It was empowering to hear Waneek recount how she, at the ripe age of 14, narrowly escaped being stabbed by a Canadian soldier's bayonet during the Oka standoff, as a Mohawk from the Kahnawake Mohawk Territory. She experienced a lot of racism as a child, but learned to redirect her frustration about this prejudice through sports and athletics.
Waneek practiced swimming for many years before deciding to try water polo in high school. She later became an Olympic water polo player, representing Canada as an Indigenous woman in the games. Waneek opened up to the audience about how when playing water polo, her coaches didn't care about her background and were only concerned with her ability to compete and play the sport. Representing Canada at the 2000 Summer Olympics, she claimed that she was told to be proud of being the only Indigenous woman on the Canadian team. She felt upset by those trying to control her emotions without understanding her full story, referring to herself as "a drop in a bucket of water" in comparison to the amount of Indigenous peoples who ought to be given the same athletic opportunities as her. Today, as an advocate for building Indigenous sport and establishing equity amongst Indigenous peoples, Waneek urges people to pursue their dreams and not let negativity stop them from doing so. 
In addition to learning more about Indigenous culture and life in Canada, we also had the chance to participate in the winter activities Canada is known for, such as dog-sledding, snowshoeing, curling and cross-country skiing. We also had the opportunity to make carrot muffins and pasta for the homeless. Being able to put my heart into preparing a meal while knowing that the people who would be eating it would appreciate all of my hard work was a truly fulfilling experience. While I was cooking, I enjoyed trying the flavors of various ingredients and talking to the other delegates.
In between the talks and outdoor activities, the other delegates and I had two different living experiences: at first, we stayed with host families. My first host family was fabulous; I was roommates with Tolog Siena Londono '24, and my host mom took us skiing on the second day we were with them. 
We skied at Camp Fortune, which had stunning views of Gatineau Park. At first, I felt a little intimidated by the skilled skiers hurtling down the slope in what appeared to be a rather technical, professional manner, but thankfully, my host mom was supportive of me as a beginner. She was a former ski instructor, which was helpful when addressing the safety of someone like me, who was having difficulty keeping my balance as I fearfully descended the bunny hill for the first time. Learning to ski for the first time was quite humbling for me. Anyone watching was probably laughing as they saw me struggle in a panicked effort to keep from falling off my skis and face-planting into nearby objects. While I did fall a few times, eventually I started to get the hang of it, which boosted both my skill level and confidence. In no time, I was flying down the blue slope feeling totally unstoppable. 
After a day of skiing, we came home and enjoyed a wonderful home-cooked meal. My host mom made me feel so welcomed to Canada, and I loved staying with her and her family. However, due to some unfortunate scheduling conflicts, we only stayed with her for two days; after, we moved to the Fairmont Le Château Montebello. Fun fact: it's the largest log structure ever built! During our two-night-stay, we had the chance to visit the Parc Omega safari park where we saw a variety of Canadian wildlife such as wolves, foxes, moose, elk, goats and more. We even got to feed some of them carrots through the bus window!
Finally, we transferred again to another host family for the last two days. With them, I got to watch my very first hockey game at the Canadian Tire Centre, where the Chicago Blackhawks and the Ottawaka Senators were playing. I've always heard that Canada was famous for ice hockey, and so I was stoked about going to this game. Once we were seated, the excitement in the arena was incredible; it was unlike anything I've ever encountered when watching football in the United States. Every few minutes, the arena would randomly play snippets of upbeat music to get the fans riled up and build anticipation. The most thrilling aspect of the game was when both teams entered overtime. It could've been anyone's game, really, but in the end, Andreas Athanasiou's goal at 2:52 of the five-minute overtime gave the Blackhawks the victory. I can now see why ice hockey is so big in Canada after watching an actual game there. I really enjoyed cheering along with my friends, getting food during breaks and embracing the lively energy in the arena. 
The conference ended with the Winter Ball, a beautiful dance at Ashbury College. Everyone looked great in their blue and white attire. Following dinner, there was music and dancing. It was so nice having such a fun time with all my friends from the conference, which made saying goodbye even harder than I anticipated. 
Click on the gallery below if you would like to see more photos of my trip (refer to captions below). I highly recommend any and all Tologs to go on a Round Square conference trip if they have the chance!
Leave a Comment
About the Writer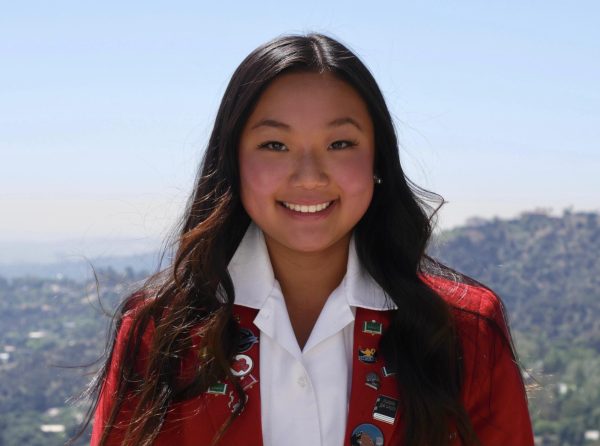 Madison Wuu, Editor-in-Chief
From her role as editor-in-chief to her creative pursuits on our YouTube channel, Madison Wuu is always exploring new ways to express herself and share...