One step at a time: Student choreographers on the Hill
With tickets sold out for all four shows, it is clear that Tologs are excited about the upcoming dance concert "Between Shadows and Light." Including dances from the dance elective students, Veritas Dance Project dancers and Urban Dance Crew dancers, the concert is sure to be an exciting and unforgettable creative event here on the Hill. However, perhaps the most exciting is the fact that this year, the dance concert will feature 11 student choreographers.
Among these student choreographers are dancing-duo Sophia Garcia '24 and Meghan Garrity '23. This year, the two choreographed "Breakaway."
"In the piece, there are six dancers. Four of them are wearing watercolor dresses and Sophia and I are wearing white. The watercolor represents emotions and mental health, and how it can be really difficult being a high school student with all these emotions. Our piece is just about perseverance and tackling high school years," Garrity said. 
Garcia had a similar creative vision as Garrity, which is perhaps why they worked so well together. 
"We would choreograph moves based on the lyrics and the feel of the song and I think that actually worked out really well for us," Garcia said. 
Despite Garcia and Garrity's experience, inspiration for student choreographers on the Hill does not only come from music. Sofia (Fifi) Joyner '24, who choreographed the piece "The Stars" has a unique story when it comes to the inspiration for her piece this year. 
"I originally thought [the piece] was gonna be super contemporary and modern but I just saw these sequin dresses in the costume shop and I felt really inspired by that," Joyner said. 
Just as inspiration for certain pieces shifts over time, so does the choreographic process. 
"It was interesting because inspiration would just come to me when I was just driving in the car alone or at other random moments in the day…it was a unique process," Garrity said. 
These student choreographers encountered all stages of the creative process — including times of creative stagnation. 
"I kept on choreographing moves, then I would do it and feel like it was stupid, so then I'd do it all over again," Garcia said. 
Joyner agrees that sometimes choreographing can be a difficult task. 
"You definitely have a part of the song that you want to dance to a lot, then there's everything else that's kind of a blur until you get to that favorite part. It's just about pushing yourself to finish the piece," Joyner said. 
No matter how daunting the choreographing process may be while it's starting up, student choreographers unanimously agree that the end product is gratifying. 
"Seeing it all come together, in the end, is really the best part about doing this. It's just beautiful. Absolutely beautiful," Garcia said. 
Leave a Comment
About the Writer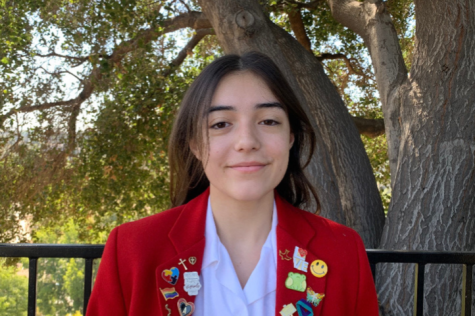 Sara Green, Social Media Manager
Sara Green is the social media manager at the Veritas Shield and a senior on the Hill this year. She started working for the paper as a junior, and enjoys...