Has Valentine's Day changed, or have we?
Nothing beats the excitement of celebrating Valentine's Day in school in the United States. There's something truly special about spending the entire day indulging in  sweets until your tongue turns bright red or green and exchanging notes in decorative paper bags with your classmates. When we were kids, the celebration was all about spreading love with our friends and family while also receiving a ton of candy, letters, and love hearts. Now that we are older, the purpose of this celebration still holds true, but in a different way.
"I would describe Valentine's Day as a day where people show the people they care for how much they mean to them," Jazmin Jones '23 said. 
Whether it's giving gifts or spending quality time with a partner, people may use various acts of service to show someone they care during this holiday. In elementary school, everyone was obligated to hand out Valentine's Day cards and candy to every student in the class, so it was a given that you would receive a bag full of swag at the end of the day.
"When I was younger, I thought Valentine's Day was the coolest thing ever, especially when I received candy grams with the words "You're Mine" from a crush or close friend," Jones said. "I remember trading candy with my friends and it was all so great."
Back then, when our parents came to pick us up from school, we felt like we were on top of the world. With a stash of candy tucked away for later, we were still grinning from ear to ear from the fun day we had, telling our parents about it all in the car.
"I remember being so happy when I got out of school since I felt validated and appreciated by my peers," Ava Barraza '24 said.
While we, as Tologs, may have grown out of the elementary school tradition of candy gram exchanges, receiving gifts from loved ones on Valentine's Day is still a joy. As we've gotten older, our perspective on the holiday's purpose has evolved. It has shifted from being thought of as an all-inclusive occasion for exchanging gifts with elementary school classmates to being celebrated more romantically with significant others.
Some Tologs will celebrate Valentine's Day with their significant others for the first time this year.
"I am very excited to spend my first Valentine's Day with my boyfriend," Colleen Traver '24 said. "This year will mean a lot to me since I am spending it with someone so special and someone who means a lot to me. I'm not quite sure what to get him yet or what we are doing, but whatever we do, I know how fun and important it will be." 
For other Tologs who have been in relationships with their partners for a longer period of time, this is not their first time celebrating Valentine's Day together. During this holiday, many couples simply enjoy each other's company. 
"My boyfriend is my best friend. We've been together for three years and I can count on him for anything," Ava Reyes '24 said. "I am very excited to celebrate Valentine's Day with him. It doesn't have to be anything fancy, just as long as we spend quality time together."
Overall, it's clear there has been a noticeable shift in the way Tologs celebrate Valentine's Day compared to when they were younger. 
"When I was younger, Valentine's Day was more of a general celebration that everyone took part in, but now that it feels a little more relationship type beat, I don't really participate as much in it," Jones said. 
Teenagers in today's generation experience tremendous pressure to date during the holidays as a result of witnessing idyllic relationships in novels and movies, causing them to develop FOMO. Consequently, single teenagers are more likely to feel insecure and lonely on Valentine's day, when they see other celebrities, friends and mutuals post their seemingly perfect romantic relationships online. 
"I think Valentine's Day can be a lonely thing because if you're not in a relationship, you feel excluded from this celebration when you see other people post their relationships on social media," Barraza '24 said.
That said, many Tologs interpret the holiday differently, proving that Valentine's Day isn't just about romance.
"I feel like when you're younger, you think that Valentine's Day is all about celebrating love with a partner, but now that I'm older, I realize that you can celebrate lots of different types of love such as familial and platonic love," Abbie Hardy '24 said. 
Some also see Valentine's Day as a time to prioritize self-love. By being kind to yourself, you can overcome any self-doubts or insecurities you may have and embrace the unique qualities that make you, you. 
"Something that's really important to remember, especially on Valentine's Day, is that you have to love yourself before you can love anyone else," Barraza said. "The relationship you're in shouldn't be dependent on that person making you a better person. It should be that internal work. You'll be rewarded by a relationship when the time is right, because you'll have someone that's with you while also being content with your own self." 
Even if you are not in a relationship, that shouldn't prevent you from celebrating Valentine's Day with your friends or family. 
"Don't forget, there are events like Galentine's Day where you can go out with your girlfriends and have a good time," Jones said. "[Valentine's Day] doesn't have to be super romantic."
Leave a Comment
About the Writer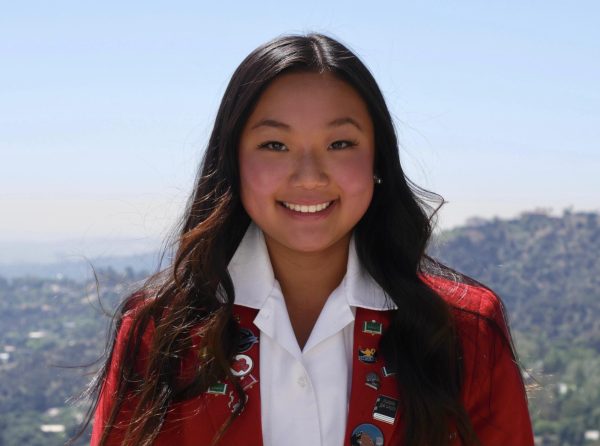 Madison Wuu, Editor-in-Chief
From her role as editor-in-chief to her creative pursuits on our YouTube channel, Madison Wuu is always exploring new ways to express herself and share...