New beginnings: Tologs on New Year's resolutions
The new year is a time for fresh starts. With a new semester for Tologs, January 1 is a natural time to renew personal, social and academic goals. The tradition of setting a New Year's resolution goes back decades. From eating better to exercising to learning a new hobby, these resolutions all center around improving one's lifestyle. 
So, what kinds of improvements do Tologs want to make in 2023? 
"My resolution is to read more books. I like dystopian action adventure books with a hint of romance," Kristen Lee '24 said. 
While Lee hopes to exercise her mind, Lena Hwang '23 wants to improve her physical well-being. 
"My New Year's resolution is to do yoga. I want to do the splits by December," Hwang said. 
Ava King '23 is centering her goals around the upcoming new chapter in her life: college. 
"I definitely want to be very confident in my college decision. I want to push myself to be brave in the college decision, so I want to finish senior year out in a good way and be satisfied. I also want to take risks in my first year of college," King said. 
Sae Zhang '23 has a similar mindset for this year. College can be intimidating for many, so Zhang is preparing herself for the looming transition. 
"My New Year's resolution is to be an adult, as I just turned 18. I feel like it's slowly time for me to set off to college and learn to become the adult that I'm going to be soon," Zhang said. 
In the spirit of starting new things, Emma Peralta '23 has vowed to take on the task that many teenagers fear: getting her driver's license. 
"I feel like the thing that frustrates me the most is that I just haven't had the time to be able to get [my driver's license]. It would make things a whole lot easier for both me and my parents, but I just want to get it so I can get more experience driving before college," Peralta said. 
In contrast with these other Tologs, Ellie McCarthy '23 has decided to make an anti-resolution this year. 
"My resolution is to have no expectations. Coming up with resolutions puts a lot of pressure on you to get something done. I feel like that actually stunts my progress. With no expectations, I feel like I can let myself actually move forward and do something productive that I can enjoy," McCarthy said. 
While it's fun to imagine what our lives would be like if we ate healthily, exercised every day, journaled, cooked every meal and finally reached the end of our 'to be read' book list, the reality is that New Year's resolutions are hard to stick to. 
"I think that nobody really keeps [their resolutions] up unless you make them really broad. Then, you can get more specific and say I kind of did it! at the end of the year. I always like to give myself a lot of room to move," Zhang said. 
A successful New Year's resolution always has one attribute: achievability. 
"If you want to have a resolution, that's perfectly fine. Just make sure that it's feasible for you. Otherwise, you make yourself susceptible to a lot of disappointment and it's frustrating when you don't complete your goal. So, just go easy on yourself and do what you feel like you can," McCarthy said. 
In order to avoid this disappointment, Tologs concluded that it's better to always aim for improvement each day, no matter what the calendar reads. 
"I feel like it's better to just have a mindset of wanting to improve and not necessarily make specific goals because you don't know what's going to happen in the year. It's better to just constantly strive for improvement," Peralta said.
Leave a Comment
About the Writer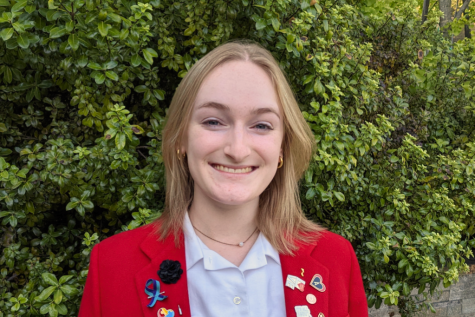 Julia Krider, Managing Editor
Julia Krider is a senior at Flintridge Sacred Heart, and is the Shield's managing editor this year. She has been part of the paper since sophomore year,...