The long, twisted journey of international student insurance
I paused as I filled out the mandatory medical forms before attending FSH. "Contact information of your family doctor." I sighed, leaving the section blank.
I don't have a private doctor in the United States, so who would I go to if I get sick? As an international student, I can't remember how many times I was told to "not get sick" in the United States. On one hand, I know it's important to take care of myself when studying abroad. On the other, without U.S. medical insurance covering my costs, the possibility of getting a huge bill from a doctor after seeing one makes me nervous. So how expensive is going to the doctor for international students?
After I arrived at FSH, I was given an insurance card, with "UnitedHealthcare" on the top. I didn't know how it worked. Fortunately, Ms. Samantha Herrick, the Associate Director of Residential Life, gave me a detailed explanation.
"When Res Life students get sick, we often take them to the Exer Urgent Care or PM Pediatric Hospital down the Hill because the costs can be covered by their international student insurance in these two hospitals. Teachers and staff check the UnitedHealthcare website before taking students to these hospitals," Ms. Sam said.
In fact, my first experience of going to the Exer Urgent Care for a TB skin test was surprisingly smooth. Ms. Sam and I made an online reservation before we went, showed the front desk my insurance card, and waited until we were called to go inside. The questions were brief and there were no complicated forms and no extra bills. In China, my parents took care of every step as soon as we walked into a hospital. I didn't even need to speak up when seeing a doctor. Now I'm going through all the steps mostly by myself. I feel confident due to the straightforward procedure and my reliable dorm parents.
The FSH Residential Life team takes care of students' health, from arranging monthly yoga sessions to taking new students to get vaccinated after they first arrive in the U.S..
"In the past, international students always preferred to go back to their home countries in the summer and see the doctors, but Covid-19 interrupted everything. The good thing is that we also learned more professional knowledge of international medical insurance by ourselves. We're making progress," Ms. Sam said.
This summer, I stayed in the States and was able to get another insurance card for my summer medical costs. It was the first time that an international student at FSH got another insurance card only for the summer. According to Ms. Sam, the Res Life office has also come up with a new medical acknowledgement form. It streamlines the permission process so students can take initiative with their health. This approach is more efficient because it has shorter turnaround time and students can take initiative with their own health.
But what about chronic diseases? Can FSH Res Life handle them as well? Ms. Sam indicated that it's a complicated process that would require careful discussion when admitting a student who has chronic diseases. "Res Life wants to make sure that every admitted student gets the care and attention she needs," Ms. Sam said. At the end of the day, it's all about an inclusive and a caring environment.
"The entire admission team will have meetings to discuss how best they can support this student, and before the student arrives, these questions [about health accommodations] must be answered," said Ms. Sam.
Cultural differences and language barriers can make certain moments of living abroad extremely hard, especially when going through medical or legal processes. but I'm lucky to live and study in an inclusive environment with teachers and staff members who sincerely care about students' health, even if it means they are learning as I am. Through research and experience, FSH Residential Life is adapting to make sure that girls who live on the Hill flourish in every aspect of their lives. 
Leave a Comment
About the Writer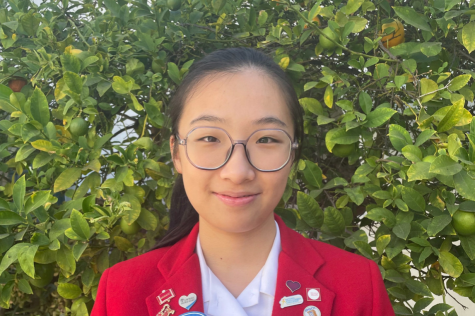 Wen Dian Wang, Staff Writer
Wendy Wang is a staff writer, and is new to Veritas Shield this year as a senior. Before, she worked in the school Yearbook and had many experiences with...