The favorite tools of FSHAthletes
In the gym's Health Center, athletes on the Hill have access to helpful athletic tools that help them stay on top of their game. These tools focus on muscle relaxation and injury recovery. 
One of the most widely used tools is simple: ice. For those times when icing isn't the most efficient way to relax muscles, however, athletes turn to BioFreeze. It is a topical, long-lasting, menthol-based pain reliever that comes in many forms. Biofreeze comes in gel, roller and spray-on. 
"I use it all the time for my back and side because I get bad pains when I work out. I use it on my legs especially [during basketball] when we run," Ella Rogers '23, varsity basketball player, said. 
The hydrocollator steam pack is a heating pack kept in hot water, then it's placed into a towel-material bag and applied to the desired area. Athletes use it before pactice and games because it helps with muscle soreness and cramps. 
Athletes and non-athletes alike use massage guns, which are high-intensity massagers that help relax muscles, and increase blood flow and mobility. The most widely used brand is called Theragun. 
"I will use my Theragun to work out the sore spots before a game," varsity volleyball player, Piper Scherbert '25, said.
Another product aimed at assisting muscle movement is kinesiology tape. It is a popular injury product among not only athletes but also day-to-day users. Many athletes use the brand KT Tape. It is believed that KT Tape reduces swelling and helps during injury recovery. Although kinesiology tape is widely used, there is no clear evidence that proves its functionality. There have even been lawsuits regarding it's effectiveness.
"There is no scientific research that KT Tape does what it claims to do. Many people see it on athletes and want to use it themselves. When used for bruising we can see the bruising that comes out as a result of the tape being removed," Ms. Kelly Borrego, Athletic Trainer/Assistant Athletic Director, said. "Scientific research has not been able to prove that by taping a knee or shoulder will prevent injury or help your injury." 
Despite  this medical fact, kinesiology tape is still often used in physical therapy office settings.
"I have seen good use of KT Tape as a reminder of how a body part is moving throughout the day," Borrego said. 
Sometimes, athletes find that the best preparation for games is practicing self-care.
"I normally wear those under-eye bag masks… Then I put on my chapstick, listen to my playlist and stand as tall as I possibly can while walking in there to intimidate the opponent," Scherbert said. 
Leave a Comment
About the Writer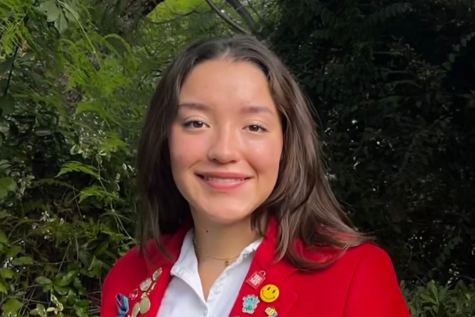 Siena Urquiza, Editor-in-Chief
Siena Urquiza, a senior, is the Editor-in-Chief of Veritas Shield. This year marks her third year with the Shield. Siena cannot wait to make her mark on...