Gratitude mindset: Fact or fiction?
I wouldn't consider myself a cynical person. However, senior year seems to really be bringing out that side of me. Whoever said senior year is easy was lying. Balancing more homework, harder classes and college apps that feel like they're determining the trajectory of my life is a lot of pressure. So, in my state of nerves and stress, I turned to the internet to find a solution. In all of my frantic Google searches, the word "mindfulness" kept popping up.
I'm no stranger to mindfulness. For my entire life  my mom has always encouraged me to "choose" how I feel and how I react, and my dad has encouraged me to live a grateful lifestyle. Some people claim mindfulness is good for you — to me it's always felt like a way of ignoring your problems or your feelings about them. Research, however, suggests otherwise.
In a study from UC Berkeley, three groups of people were created. One group of people was asked to write a gratitude letter once a week, the other group was told to write a letter explaining what hurt them this week, and the third was not asked to write anything at all. After the experiment ended, it was found that all the members of the first group had significantly better mental health than the other groups and also sustained this better mental health for 12 weeks. These results are telling of how powerful a gratitude mindset can be. However, is this mindset only helpful on paper or is it helpful in real life too?
Curious as to what would happen and desperate to find the answers, I set off on my journey of a week-long gratitude mindset, excited to see what the results would be.
My journey began on Sunday, September 30th. It was a good day to start because Sundays are the one day that I don't have rehearsal for the Fall Play or Ballet. On Sunday, I made a plan for the rest of the week, like when I would practice gratitude and how I would do it. I found making time for something as simple as this difficult, and I was a little annoyed that I got myself into an article that was going to be so time-consuming. However, I pushed my doubts aside, made my schedule for the rest of the week, finished up my homework, and called it a night.
Then came Monday, my first day of practicing gratitude. I decided to start off easy and try journaling at night for my first day. Monday also just so happened to be Halloween. I submitted my last two Early Action applications (yay!) and headed out to my friend's house, Little Bo Beep costume on and ready to watch cheesy, scary movies. My mental health significantly improved on Monday because I am a Halloween fan. Because of this, When I got home, I could list many things I was grateful for in my journal. I realized a lot of what came out was about the people I surround myself with: my friends, my parents, my sister. I wasn't grateful for material things, but rather experiences or people I had been able to see that day. With this revelation, I closed the journal and opened my Fall Play script, and started reviewing lines for rehearsal the next day.
Tuesday was hectic to say the least. Formal uniforms, meetings at break and all of lunch, Fall Play rehearsal until 6 p.m. and dance until 8:30 left me walking through my front door for the first time that day at nine p.m. By the time I had started homework and finished dinner, it was already 10:00. I was discouraged, and felt extremely overwhelmed. I put off doing my gratitude journal until I finished all of my homework at 1 a.m.-ish and was honestly just desperate to finish my journal and go to sleep. This led to under three sentences of journaling; however even in those quick couple of words, I felt like a weight was lifted off my shoulders before I went to sleep. Even those two minutes of a break from the day made me feel better than I had before.
Wednesday added a morning meditation to my daily routine. To be completely honest, I almost forgot. I woke up five minutes earlier, once again spiteful I had chosen to write an article that required so much effort to complete.  I unrolled my yoga mat and sat down, swallowing my pettiness, and began my meditation. I decided not to use a guided meditation video, but rather just sit for five minutes and reflect on what I was grateful for. I realized that in the morning, I am more grateful for things like waking up in the first place or my cozy bed sheets. Although missing five minutes of sleep was a big hit, my morning meditation put me in a good mindset for the beginning of my day. By lunch, however, while I was rushing between meetings, I began to forget the mindset I had forged for myself that morning. A long play rehearsal later, I finished up my homework and opened up my journal. It was hard to come up with things to be grateful for after the hard day, but I had begun to realize that after I started writing, even if it was just for a little, more and more things come rushing to memory. Before I knew it I had a full page.
Thursday was the final day in my exercise of mindfulness. I did my morning meditation, feeling more open to it about it since I had enjoyed it so much the previous day. The meditation was a success, and so was the rest of the day. Whether it was because I had no meetings at lunch or if it was because of the meditation, I headed into play rehearsal feeling good. After rehearsal, I went to dance class, and got home at nine again. However, I tackled my homework quickly and effectively, then sat with my journal open before 12:00. Success! I did my usual journaling, feeling good about myself and my ability to finish everything quickly.
Looking back at my experience, although I was hesitant to try it out at the beginning, gratitude and mindfulness are definitely worth it once you get into the habit of making time for them. Although it certainly isn't the ultimate answer for all the struggles I've ever faced, it helped me take things one step at a time. While keeping a weekly schedule is a little much for me, a little meditation or journaling once in a while will now be a staple in my life.
Leave a Comment
About the Writer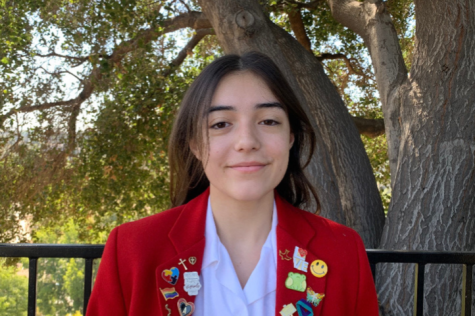 Sara Green, Social Media Manager
Sara Green is the social media manager at the Veritas Shield and a senior on the Hill this year. She started working for the paper as a junior, and enjoys...