Out of the blue, Sra. Cote sings
It's a sunny Tuesday morning, and Señora Amy Cote is getting ready for a day of teaching. As she mentally reviews her plan for the day, she stops on one event that makes her very happy. This evening, she will be practicing new songs with her band to prepare for their next gig. 
Though Tologs know her best as a Spanish teacher, Sra. Cote is also the lead singer in a cover band, Out of the Blue.
"The songs come from all different genres," Sra. Cote said. "We've done some Shania Twain, and Carrie Underwood, we've done Muse, Lady A, we've done the Neon Trees, we're doing something by The B-52's right now."
Out of the Blue was formed in 2017, when one of Sra. Cote's sons was taking music lessons at Pasadena Music Academy. The school had started a band program for anybody interested in joining. 
"My son's drum teacher mentioned that they were looking for a singer, and so I kind of jokingly said to him, "If you're looking for a singer– I might be interested," Sra. Cote said. 
Since then, the band has lost and gained a few members.
"We acquired other [members] just by word of mouth," Sra. Cote said. "People that we know, friends that we know, neighbors, so it's kind of now a mix."
Out of the Blue consists of six members: two guitar players, one bass player, a keyboardist, a drummer and one singer, Sra. Cote. Everyone in the band brings their own talents and interests, and they work as a democracy to pick songs.
"I wanted to propose to my band to sing something in Spanish, and not everybody was so excited about that idea. I was very excited about it, but not everybody was, but it doesn't mean that we won't do it, it doesn't mean that it isn't a conversation," Sra. Cote said. 
While she has always enjoyed singing, this is Sra. Cote's first time being the lead singer in any group. 
"When I was in school, I was painfully shy about singing, so I was in the chorus but I didn't have any solos or anything like that," Sra. Cote said.
Although they have not released any music, the band has had the chance to visit a recording studio and make a few recordings, and every year they perform in a concert organized by the  Pasadena Music Academy. 
"They come up with a lineup for all the different bands and performers, and it's held at Boston Court Theater, so it's a beautiful space with a stage and a sound system," Sra. Cote said. 
Sra. Cote is not the only connection FSH has to Out of the Blue. 
"My drummer's daughter, [Lara Repko '12] went to Sacred Heart," Sra. Cote said.
Sra. Cote touched on the joy of having a creative outlet, and how being in a band has enriched her life.
"It definitely helped me create new amazing friendships…I consider all of the other people in the band friends of mine," Sra. Cote said. 
Leave a Comment
About the Writer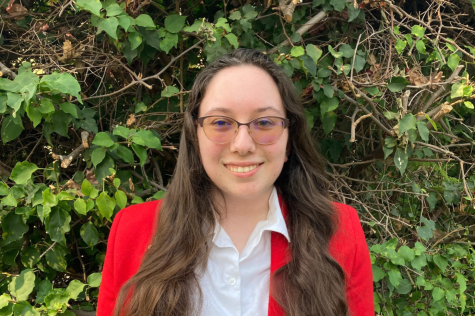 Claudia Lee, Associate Editor
Claudia Lee is an associate editor and a junior who started on the Veritas Shield in her sophomore year. Outside of writing for the paper, she enjoys reading,...