Tolog Pioneers: Ready, set, research
This summer, five Flintridge Sacred Heart seniors participated in Pioneer Academics (including me!). Pioneer is a reputable online research program for high school students. It places students with professors in certain academic areas to help foster their intellectual curiosity and research skills. Pioneers work with their professors for two to six months and each student finishes the program with a 17-page research paper on an original topic. 
Research areas, or concentrations, range from biology to art history. For the first half of the program, scholars met on Zoom with their professors and  about five other students within their concentration to discuss reading material, questions and possible paper topics. 
Emily Manookian '23, a Pioneer scholar in the Biology concentration, appreciated the relationship she had with her peers. 
"During Pioneer, I really liked the peer review process we did. Of course, I've worked with others before at school, but in that formal paper, I've never traded [papers to review] with someone. The person that I traded with also had a really similar topic to me, so we got to teach each other some stuff that maybe the other person missed," Manookian said. 
A scholar in the Anthropology in Science, Technology and Society concentration, Kana Park '23 appreciated how encouraging and positive her professor was throughout her time with Pioneer. 
"I was relieved because I thought it seriously was going to be the most serious, hard-working thing in the world. And we worked hard – it was serious in the way of writing a research paper – but my relationship with my professor made it so much more enjoyable," Park said. 
After the group sessions, students began the second part of the program: the research process. Scholars met individually with their professors, developed an original research topic within their concentration, read through other supporting papers and drafted and finalized their own original papers. 
For many scholars, this second half proved to be the most challenging. 
"Because I'm a big researcher, in that I love looking up things, I love summarizing, I love synthesizing, I love analyzing… but when it comes to my own unique writing and putting everything I'm thinking about into words, it's much more difficult," Park said. 
Michelle Houser '23, who studied within the Environmental Science and Ecology concentration, struggled with narrowing her paper's topic. Her paper focused on biofuel technology and its potential environmental consequences. 
"At first, I had gone through a couple different topics. I was like, hmm maybe something with plastic? Then, I kind of wanted to do something with planting trees. I was like, a lot of corporations are always like, 'We're going to plant a tree for every ten things you buy!' I was asking questions like, 'How do we even know they're planting those trees? Where are they planting those trees? What trees are they planting?'" Houser said. 
Wendy Wang '23 studied within the Communication, Culture and Anthropology concentration. 
"I wrote my paper on how immigrant workers communicate with each other in an ethnically-diverse workplace. Most of them are not fluent in English, so I was wondering how they communicate with each other during those daily situations," Wang said. 
While most other Pioneer students have an extensive literature review and research process, Wang used fieldwork as her primary source of evidence. 
"When you are doing fieldwork, you are interacting with people and asking them questions with a purpose… I feel like I can see the society they're in based on the stories I heard from them, that connection from the individual to a huge narrative. It's really amazing to me… I was also trying to understand them from multiple perspectives because I'm trying to be as objective as I can. It really improves my interaction with other people in a more comprehensive way," Wang said. 
In addition to the process of acquiring knowledge and insight into their topics, other scholars found satisfaction in sharing their findings with others. Park wrote her paper on disaster fatigue and the potential negative consequences of combating climate change. 
"In our final group session, we had to make PowerPoint presentations of our findings, and it would be ten minutes long and allow for five minutes of questioning. When I was presenting this information, not just my writing but my actual thought processes, I felt very fulfilled," Park said. 
Although Houser encountered roadblocks with having a specific topic or finding a wide range of sources, it was well worth it in the end. 
"Turning it in [was the most satisfying part]. Having that final read-through, and being like, "Okay, I'm all good, I can finally just submit it," Houser said. 
Manookian, whose professor was an expert on Covid-related science, wrote her paper on how Covid virus cells left the cell of living things. Her Pioneer experience consisted of wading through dense scientific reviews and experimental articles, though it was well worth it in the end. 
"In general, it raised my self-confidence. I had no idea how I would do it, and now I'm sure that if I had to do it again, I could," Manookian said. 
Wang appreciated the opportunity to explore her interest in Anthropology further through Pioneer. 
"I think Pioneer is very helpful to build my interest for my possible majors in the future. During the group sessions, we had reading materials. I got the chance to dig a little bit deeper into each field and see if I'm interested in that… In the group sessions, we had Linguistic Anthropology, Social Anthropology and Archaeology, a little bit. I got a taste of each of them. It's really good knowing that you are really interested in something, and articulating your interest in that," Wang said. 
Overall, each scholar found the Pioneer experience to be irreplaceable. 
"Because of the age I'm at, I'll never feel this again – the feeling of going above and beyond what I typically go on… I think Pioneer is unique in that it's college professors teaching high school students that are preparing for college. For me, it's the whole experience-and-age thing. This is an experience rather than for my final grade during college," Park said.
View Comments(1)
About the Writer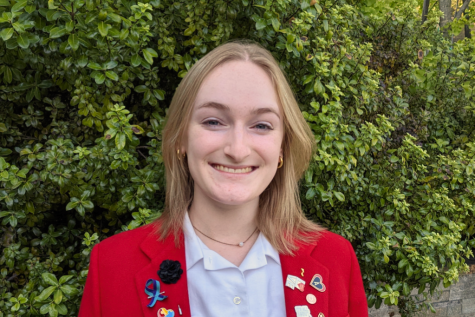 Julia Krider, Managing Editor
Julia Krider is a senior at Flintridge Sacred Heart, and is the Shield's managing editor this year. She has been part of the paper since sophomore year,...