Intertwining community and curriculum
It's a new school year– the freshman hallway is remodeled and once-empty faculty/staff positions are filled. Of these changes, the most notable one is a partnership that has formed between our community, led by Mrs. Rebecca Bostic, and curriculum, led by Mr. Daniel Rios. 
Mrs. Bostic, the new Assistant/Vice Principal of Student Affairs, has special insight into the responsibilities of her role. In past years, she served as a Religious Studies teacher and a highly involved co-curricular moderator for the Student Mission Committee. 
"The jobs feel similar– so much of what we try to do in Religious Studies is build community within our class and create safe spaces and [the new position] is, sort of, a scaling up of that," Mrs. Bostic said. 
In addition to a promotion for Mrs. Bostic, Mr. Rios has joined the FSH family as Assistant Principal of Curriculum. Mr. Rios has past experience at a religious school with a high-achieving student population. Mr. Rios feels as though his previous work will help him better understand life on the Hill. 
Mr. Rios' largest priority this year is to further incorporate equity and inclusion into the classroom curriculum.
"We have taken on reflecting on our own grading practices and how we operate in the classroom… There are simple matters that we can do to know our students, that we can identify and address them the way they want to be identified and addressed. That the lessons that we're pushing out to students are valuable and something they can see reflected in their own world. That it's not just this piece of information that seems detached from their daily lives," Mr. Rios said.
Both Mrs. Bostic and Mr. Rios agree that an inclusive classroom also connects to community life. For this reason, Mrs. Bostic wants to focus on using the post-lunch period effectively to ensure that clubs, co-curriculars and affinity groups have enough time to meet. She believes that giving these groups time and space to meet can drastically improve equity and inclusion on the Hill. 
"I think that for any student the academics are why we exist, but the programs [help] form who we become. Those two things being in partnership together are really important," Mrs. Bostic said. 
Both Mr. Rios and Mrs. Bostic are prioritizing collaboration this year in order to achieve that community within the curriculum. 
"It's been very lovely and it's been a very natural partnership. I think that when academics and student life all work together, it benefits the students. We both are naturally collaborative… we check in together every day with Sister Celeste and it's been a great start,"  Mrs. Bostic said.
Leave a Comment
About the Writer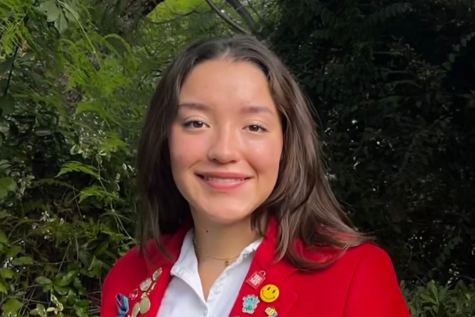 Siena Urquiza, Editor-in-Chief
Siena Urquiza, a senior, is the Editor-in-Chief of Veritas Shield. This year marks her third year with the Shield. Siena cannot wait to make her mark on...