Staying green on the Hill
With the windows open and the wind in her hair, a Tolog enjoys the scenic drive up the Hill. As she listens to birds chirping in the distance, she takes in the beauty of her school and the surrounding lush vegetation. As the wind rushes by, she thinks to herself, Who actually looks after these beautiful landscapes?
The Hill's leaders in combating this drought are Mr. Eric Pivovaroff, the Director of Facilities and Security, and our maintenance staff. The maintenance staff works approximately nine hours every weekday, tending to the landscapes while students and teachers are busy away in their classrooms. But when temperatures rise, it becomes more difficult than ever to take care of the green Hill. January, February and March were the driest months that California has experienced in 100 years. 
FSH's water utility supplier, Valley Water, is a key component in keeping nearly 41 acres of our campus green. This requires the addition of various irrigation systems in order to use the least amount of water possible.
"We use drip systems, low flow rotary nozzles and timers to control watering times… We adjust these timers year round to make sure we are using the right amount of water," Mr. Pivovaroff said.
Meters do more than irrigate our campus' vegetation. They provide water to almost all appliances at school.
"We use a wide range of practices to comply with water conservation guidelines– low flow toilets and hand washing stations," Mr. Pivovaroff said. "Hand washing stations use a sensor to turn on and off so that water is not wasted."
FSH continues to adapt to the drought and water conservation laws as circumstances evolve.
"We have begun evaluating spaces that we can convert from grass to a nice mulch bed. We most recently began with a significant patch of grass along Saint Katherine Drive… We will continue to look for opportunities like this that completely remove outdoor watering." Mr. Pivovaroff said.
The new drought restrictions have demonstrated the strong urgency for California residents to address its water supply. Students can participate in efforts to conserve water on campus in a variety of ways.
"We work closely with school administration and student clubs to encourage conservation across the campus," Mr. Pivovaroff said. "Sometime this year I will be putting together an email campaign that will address conservation across our campus so stay tuned!"
Mr. Pivovaroff hopes that everyone on campus will develop a motivated mindset to play their part in the effort to conserve water.
"I believe we all need to do our part even if it is gradual," Mr. Pivovaroff said. "We see in the Western United States the effects of climate change. We are experiencing extreme droughts. If we can all do just a little, it will make a big difference."
Leave a Comment
About the Writer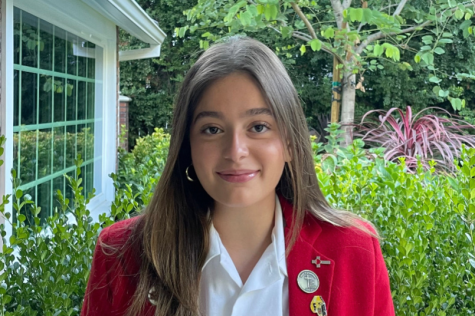 Maria Boutros, Staff Writer
Maria Boutros is a staff writer for the Veritas Shield and a junior at Flintridge Sacred Heart. Although this is her first year with the paper, she has...