BeReal or BeFake?
After an exhausting cross country practice in the sweltering heat, beads of sweat drip off your face as you board the yellow FSH bus home. Thoughts of the piles of homework waiting for you creep up in your mind, but you are eager to doze off to the familiar turns of the Hill and listen to Frank Ocean on repeat. You are just about to fall asleep when suddenly your phone vibrates. 
"Time to BeReal. 2 min left to capture a BeReal and see what your friends are up to!"
So, do you snap a crusty photo of your exhausted self and the boring bus seat in front of you or do you post later after feeling refreshed with a shower? 
With little evaluation, you pick the second option, turn off your phone and rest your head against the bus window. 
BeReal is a social media app that notifies its users at a random moment every day to snap an unfiltered photo of themselves and the scene around them with both their front-facing and rear-facing cameras. Users are expected to post once each day within two minutes of the time they're notified. They have the option to post later, though the app always indicates how long they delayed posting. 
"I think the good thing about it is that it is more authentic and is more genuine — there are no filters and it is very true to what you are doing. I think that the con though is that you have to literally stop exactly what you're doing to post," Ms. Davitt said. 
BeReal is different from other social media platforms in a variety of ways. 
"The dual camera feature is really unique compared to other social media apps," Siena Londono '24 said. 
You can also react to posts, see the number of screenshots someone took of your BeReal and the number of times someone retook their photo. 
"I'm a fan of BeReal because it's the type of social media where I know that I don't have to look good to present myself," Sophia Garcia '24 said. "You can't edit your photos or put a filter on them." 
Although the purpose of the app is for users to "be real" and show their followers what they are doing in real time, many users neglect this purpose and try to present their best selves.
"Sometimes when the notification to take my BeReal goes off, if I'm not in a good moment I will wait until it's the perfect moment to post," Garcia said. "Say, I'm hanging out with my friends, out somewhere, or if I look good — then I'll take my BeReal." 
Certain people only post when they are doing something eventful later in the day.
"I am openly fake with my BeReals," Grace Garrity '25 said. "If the notification to BeReal happens at a time when I am in my bed watching Netflix or something random and I know I'm going to be doing something exciting in a few hours, I will hold off until then to take it." 
Rather than being authentic, this app creates a curated version of reality for many. From a student-body survey conducted, 76 percent of the 50 respondents said that they are not punctual with their BeReals. 
"BeReal used to be a place for the people… and now it's a place for everybody to be fake," Isabelle Risha '24 said. "The whole point of the app was to be real and now everybody just posts a picture of the wall or a picture of some stuff that they're doing way after the actual notification went off — it's not authentic and it totally lost its sparkle."
There are some people who continue to use the app in the way it was designed.
"I try to be super real because everyone's being fake," Risha said. 
Those who post nonchalantly genuinely enjoy it. 
"I like to be real with my BeReals," Sara Gutierrez '23 said. "I think it's what the app is for. I like to show my friends what I am doing in the moment and not really fake it for later when I'm doing something fun. But when I am doing something fun it is cool to show people."
The hype of the app was at its peak at the start of this summer but is slowly fading. 
"I think it will go dead by the end of 2022. With Instagram and Snapchat you're able to communicate more intimately with people and so that's the reason why those apps are long-lasting, but with BeReal it's much more different," Garcia said.
Other Tologs have differing views.
"I think that if the app remained authentic then it wouldn't last because people are scared of that," Risha said. "But because it turned fake, I think that it's going to last for a long time – maybe a year and a half." 
For me, the app is already losing its appeal and I rarely post on it anymore. Why must I document each and every moment in my life when the notification appears and then post it for all of my friends to see? It was fun at first but now it's a hassle to keep posting daily. 
What I do like about the app is that it occasionally makes me laugh out loud, like when people ask strangers to take their BeReals or use the dual camera feature to pose with teachers or school mascots. It also keeps me updated about my friends' lives in different countries.
Despite its unique features, I believe the app will die soon. Gen Z will eventually ignore BeReal's notification and switch to whatever new social media platform emerges. Will BeReal become the new Twitter or Instagram? Let's wait and see. 
Leave a Comment
About the Writer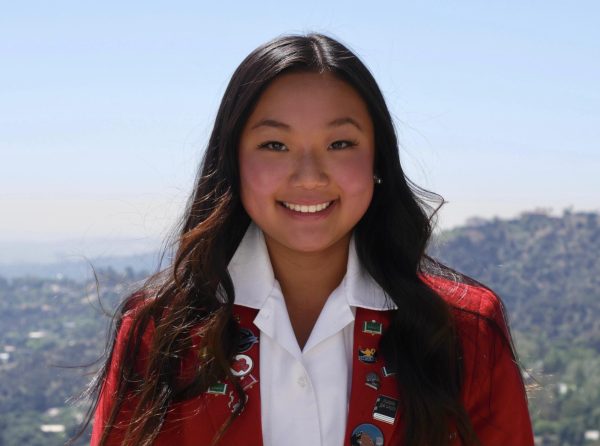 Madison Wuu, Editor-in-Chief
From her role as editor-in-chief to her creative pursuits on our YouTube channel, Madison Wuu is always exploring new ways to express herself and share...