What seniors will miss most about the Hill
On a normal morning at Flintridge Sacred Heart, Tologs all over campus are milling about before class, chatting with friends and frantically doing some last-minute studying. On Senior Patio, twelfth graders congregating know that soon they will be leaving this mayhem behind to find their own paths in college. However, this only encourages them to spend as much time as they can with the friends they have made at FSH during their four years here.
In light of the impending departure of graduation, many seniors find themselves newly appreciative of their favorite thing about the Hill: the people.
"[I'll miss] being around people who are so nice and welcoming," Chloe Obeyesekere '22 said.
Obeyesekere likened her time on the Hill to the last time she had before growing up.
"College you're on your own, but here you have such a good community of people just supporting you and you're not really alone," Obeyesekere said.
Elizabeth Wilson '22 also mentioned that she would miss the relationships she has that are unique to FSH, as well as the overall culture.
"I really am going to miss my friends and the sisterhood and the connections I made," Wilson said.
Maddie Jerman '22 reminisced about her community on the Hill as well as some of the legendary "get to know you" events from freshman year that led to friendships she knows she will always cherish.
"I went and sat down next to Alyn [Angelique '22], and that was how I met Alyn and how I got my first friend here," Jerman said.
Jerman said she will miss the simple, everyday interactions she has at FSH, from spending time in clubs and extracurriculars to eating lunch with friends and riding the bus to school.
"The bus is always a nice place to have that time to sit and talk and get to know people," Jerman said.
Obeyesekere, Wilson and Jerman all said they will miss the connections they've made on the Hill and the sisterhood they have found here.
"I love everyone here," Wilson said. 
When Wilson was interviewed, she said she would miss one particular person once she leaves the Hill. 
This person's name was met with an eruption of cheers from her fellow senior lunch-table mates, including Jerman, Anya Millard '22, and her sisters Victoria Wilson '22 and Katie Wilson '22.
"I'm really going to miss Mr. Thornton. One of a kind teacher. I feel like we need more Mr. Thorntons in the world," Wilson said.
Leave a Comment
About the Writer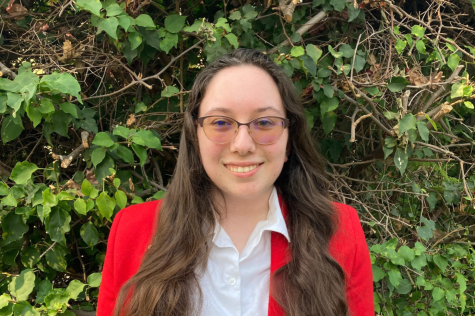 Claudia Lee, Associate Editor
Claudia Lee is an associate editor and a junior who started on the Veritas Shield in her sophomore year. Outside of writing for the paper, she enjoys reading,...