Seniors rewind on last four years
Ding-dong. The doorbell rings and with nerves and excitement you rush to the door to see if the long-awaited red admissions box has come to let you know if you have been accepted to Flintridge Sacred Heart. A grin from ear to ear appears on your face as you see it on the floor. Opening it up, you start to envision the world of possibilities that high school on the Hill has to offer: compelling classes, soon-to-be-best friends, overnight retreats, next-level sports, dances and so much more. You can't wait to see how the next four years will all pan out.
This thrilling moment described took place four years ago for this year's seniors. To say the least, the class of 2022 has gone through it all. They came in as 14-year-olds who'd never taken an AP, never driven a car and never heard of Covid. Now that they're about to leave, they're in a position to reflect on everything that they've gone through.
"Going in, I thought I was going to be met with this class of perfect girls that I could find this perfect friend group in, and the more I went to school, the more I found myself being friends with a lot of different people, and I found myself really enjoying not having one solidified group," Helena Locateli '22 said.
When talking with the current seniors, much of what they had to say about their time on the Hill had to do with the relationships formed with their fellow sisters.
"I wish I was more positive and outgoing the first three years because this year was the only year that I really came out of my shell and gave more chances to people outside of my friend group, which actually turned out to be a great decision," Lanna Megerdichian '22 said.
The seniors are taking their last few months to reflect on the last four years and the personal growth they have made as young individuals.
"I think my attitude could have been better in high school, but I wouldn't change anything. I'm for sure going to miss coming up here every day and seeing this group of girls. I truly don't think there was a better fit for me," Locateli said.
The class of 2022 had an unusual factor to get through given that they were one of the classes hit by a global pandemic. But even though Covid may have changed a lot about high school, the class of 2022 handled it with poise.
"I'm not that disappointed. Even though Covid did hit and prevented us from some traditional aspects of high school, it gave us a new perspective of our four years and gave us an experience that no other class would have," Isabella Cao '22 said. "I'm just grateful that we can come together for our last year on the Hill and still be able to make new friends, try new things and of course take part in the typical senior season of prom, Disneyland and privileges."
Out of everything Covid affected, the one thing seniors most regret missing is the grade-level retreats. "It was a bit sad that our class didn't partake in any of the big retreats, starting with the FSHlumber party, then the sophomore and junior year retreats and now the senior retreat, because I feel our class isn't as close as it could have been," Megerdichian said.
While the class of 2022 definitely had an out-of-the-ordinary high school experience, most of them would prefer the term "extraordinary."
"Yeah sure, we had our ups and downs, but I wouldn't trade it for anything; it made me the person I am today," Sara Park '22 said.
Leave a Comment
About the Writer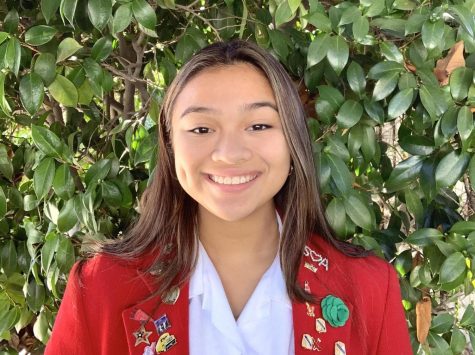 Caitlin Cruz, Editor-in-Chief
Caitlin Cruz is the editor-in-chief. She started freelance writing for the Shield her freshman year, became a staff writer her sophomore year and moved...