Athletes say goodbye to sports
As sports seasons end at Flintridge Sacred Heart, many senior athletes are beginning to process leaving behind their sports for the rest of their lives. Saying their final goodbyes has been both an emotional and a strange experience to deal with. After spending so much time training and playing, seniors have had to adjust to the shift from hardcore training to newfound free time. With the FSH soccer season ending recently, Allison Risha '22 has had a chance to feel the impact of this change in schedule. 
"It's been kind of weird," Risha said. "I go home, and I have all these hours to do things when usually I'd be getting ready for the next thing. I've never felt such a loss out of any activity; nothing compares to this sport and how not playing it has felt."
Risha, who was co-captain of the soccer team, has spent the majority of her life playing her sport, making its absence even more noticeable. Despite her high school soccer experience ending, she knows she can never truly leave the sport forever.
"I know that I can still incorporate it into my life, like in recreational things and stuff like that," Risha said. "I will miss it for sure, but I know it's never gonna be gone, which is comforting for me."
Along with saying goodbye to their sports, seniors are also saying goodbye to their teammates. The long periods of training and practicing have given team members the opportunity to form close bonds with each other.
"Through basketball, I have met some of my closest friends and have made connections with people from all grades," Faith Ellis '22 said. "This year's season especially, my teammates and I all became super close. Due to how long of a commitment the basketball season is, you see the girls on your team often, and this year we all meshed so well, which also helped enhance our chemistry on the court."
She not only finds herself missing the team but also the other elements of being involved in a group sport.
"I seem to miss the little things the most, like getting ready in the locker room and laughing with my teammates or even our cool-down circles at the end of practices," Ellis said.
Athletes develop a certain mindset while playing sports. Former tennis player MJ Von der Ahe '22 won't miss the pressure of competing in something so demanding. 
"I'm happy in the sense that, for me, tennis was always very competitive, and I'm happy that all that stress is off, and I don't have to worry about that anymore," Von der Ahe said. "I think I'll miss the whole team bonding aspect. As much as I complained, I thought it was kind of nice to practice with a bunch of amazing girls every day after school." 
With their newly free schedules, senior athletes are more available for new opportunities to socialize and try different things. 
"I think it's kind of comforting in a way to know that I have more freedom with my time," Risha said. "It is a big change for sure, but I'm excited to see what I do next."
Having more time for new experiences, while nice in one's personal life, is also useful for an incoming college student, who will have many things to explore. Because of this, Ella Venne '22 decided not to pursue track and field in college, despite her love for the sport.
"It's more that I didn't want to compete at the collegiate level and not that I am ready to be done with track," Venne said. "It just seems like that would be a level of intensity for the sport that I don't want to partake in."
Although she made the choice to stop  track, the sport has played a big part in her life for the past four years.
"Track has been such a big part of my life for as long as I can remember," Venne said. "I think it's best to keep it for high school, but I'm definitely going to miss the team, having a consistent workout plan every day and jumping." 
Leave a Comment
About the Writer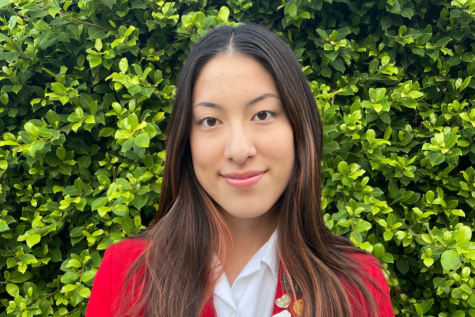 Graciela Tiu, Associate Editor
Graciela Tiu is a senior and an associate editor for the Veritas Shield. She began working for the paper in her junior year, and she plans to continue...