Alternative paths for life after FSH
There are many different options for the graduating class of 2022 after high school, and they aren't limited to four-year colleges. 
The majority of FSH alumnae attend a four-year college in the United States from FSH, and the graduating class of 2022 most likely will follow this pattern. There are, however, a number of alternatives, including attending universities abroad, going to community college or taking a gap year. These alternative paths show promising results and broaden the skills and abilities of Tolog graduates. These options provide a unique experience that can't be found while taking the traditional college path.
Going to College Abroad
Some college students spend a semester abroad during their four years at college, but what many may not know is that they can go to a university abroad for all four years.
Going abroad has many appeals. It immerses students in different cultural and political settings while allowing them to expand their worldview.
Very few Tolog alums choose to go abroad for college. They may want the typical college experience and not want to be too far away from home or be placed in a completely new, unusual setting.
Although going to a completely new country can be intimidating, one Tolog is ready to do so. Maddie Jerman '22 will be attending Anglo-American University in Prague in the fall and will be studying international relations.
"Nobody had ever mentioned to me [about universities abroad]," Jerman said. "I wish somebody had, though, I could have been more excited about college so much sooner."
Going abroad is not only a good opportunity for Jerman to expand her worldview and experience new cultures; it is also practical.
"I was very unenthusiastic about my options [for college in the U.S]… I started looking at schools in Europe, and they're way cheaper. The program I'm going into is three years [long], so I'll be done sooner," Jerman said.
Community College
Most Tologs do not consider community colleges. However, community colleges have advantages. Students can find their passion before going to a four-year college and save money while doing so.
Applying to a four-year college can also be less challenging than applying as a senior in high school.
"One of the big benefits for community college is actually being able to go to a four-year school of the student's choice. It's very difficult to get into highly competitive universities out of high school… We have found that getting admissions to, let's say, USC or UCLA – some of our local schools – is quite a bit easier through community college," Co-Director of College Counseling Mr. Roberto Dimas said.
Despite all of the benefits that community college has to offer, some students still doubt it as an option.
"If you think about it logically, it's so much better to go to a community college. But because of the perception of everybody else and their opinion about where you go… that's why I probably wouldn't go [to community college]," Lainee Irribarren '22 said.
College advisors also warn about the potential downfalls of going to a community college.
"If students aren't taking the classes they need to transfer, they kind of get stuck in that system. They get stuck taking classes that they don't necessarily need," Mr. Dimas said. "For someone who is looking for different opportunities and options, it's a good thing. What we want to prevent from happening is a student not necessarily having a plan."
Gap Year Programs
During a gap year, students take a year off between high school and college. Some students travel, some take time to stay home and take a break and others earn experience through jobs or internships while maintaining the intention of attending a university or community college the subsequent fall.
One alumna that is in the middle of a gap year is Emmie Barnard '21.
Barnard went through the college application process to four-year colleges along with the rest of her class but wanted to take more time to develop herself and her interests.
Barnard decided to take a gap year and reached out to the schools she was accepted into for fall admission in 2021 and asked for a deferral until the next fall.
"I felt that I needed more time to learn about myself before going to college, and I had some things I felt like I needed to learn before living on my own," Barnard said. "I've been living at home with the support of my parents. It's been a great way to have the space and time to learn about myself outside of school and that busy schedule."
Taking a gap year is less advertised than going to a four-university in part because schools like FSH are designed to get most of their students admitted to four-year colleges.
"It just wasn't an option that was shared and presented. My dad was the one who mentioned early on in my high school years that I should look into taking a gap year," Barnard said.
Barnard is attending Southern Methodist University in the fall. Taking a gap year helped her not only develop her interests but spend time with her family.
"I knew I wanted to keep myself as busy as possible. So, I reached out to the [head of alumnae association] here FSH and asked for contacts of people that I could reach out to in areas of interest to possibly find some internships or jobs," Barnard said.
Barnard found an internship that turned into a job with interior designer Clancy Simon. She plans on reaching out to alumnae involved in real estate as well.
Leave a Comment
About the Writer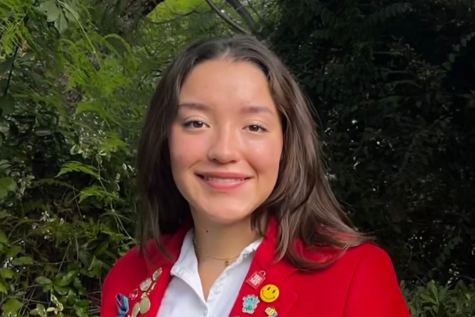 Siena Urquiza, Editor-in-Chief
Siena Urquiza, a senior, is the Editor-in-Chief of Veritas Shield. This year marks her third year with the Shield. Siena cannot wait to make her mark on...