Leaving the sisterhood – literally
Getting called the wrong name, wearing matching outfits and being asked if they can hear each other's thoughts are just a few things being a twin comes with. It may be tiresome when these inevitable moments do occur, but at the end of the day, they're a small price to pay to experience growing up with someone always there.
In the class of 2022, there is one set of twins and one set of triplets. These five students have had a unique experience on the Hill, and they will each have a unique experience when it comes time to say goodbye to both their Tolog and  biological sisters at graduation. 
I would know, since I'm one of them.
When I was in elementary school my twin Isabella and I played into the cliche of what a twin is presumed to be like. We had the same friend groups, wore matching Halloween costumes and even had the same haircut. 
Our parents thought we would look the same forever until one year Isabella got hit with a growth spurt that made it almost impossible to ever mix us up ever again. We were still part of the same classes and friend groups, but now people started to see us as individuals and our personalities grew to be different.
Always knowing that Isabella was in my class was comforting during middle school. 
Upon entering high school, however, we would never be in the same class again. Yes, it was sad to not always be with her, but the separation was also refreshing – for both of us.
"Although we do the same extracurriculars, we found different friends through sports and had friends outside of our group that we each were individually close to," Isabella said. "It's nice because my sister sometimes goes off with her friends from art class while I stick to my other friends; I like that we're both comfortable going off on our own."
As we grew up, we started doing more things on our own. With college coming up, we both made the decision that we wanted to go to different schools because it would give us the opportunity to branch out and meet new people without being known as a twin right away.
"My parents dislike the thought of us separating, as any parent would, but they do know that that's what we want and aren't adamant about making us go to the same school," Isabella said. "I am both excited and nervous to meet people on my own because I won't have my sister by my side."
Like my twin, Isabella, I of course think there will be an adjustment without the one person who's been with me since day one. 
That being said, I think it will be a new experience for people to get to know me as just Angelina Cao as opposed to one half of the Angelina/Isabella experience.
Isabella and I aren't the only ones who are going to miss a sister when we attend college. 
My classmates Katie, Victoria and Ellie Wilson are triplets who have never been apart from each other for more than a couple of days.
With the end of the year slowly approaching, they too are beginning to recognize the reality of leaving each other for college. 
"We've been going to the same school and in the same classes our whole lives," Katie Wilson '22 said. "I genuinely love it because I always have two people I can talk to during class and feel comfortable with."
The Wilson triplets have similar interests but are starting to get used to going off on their own.
"We're in the same friend group, but activity-wise, we all like to do different things," Ellie Wilson '22 said. "I love water polo while Victoria runs track. Katie is more of a theater person with  ComedySportz and the play, so even though we spend a lot of time together, we all have diverse interests and are different in many ways."
Besides the friend groups, the triplets share classes as well. Although some may see this as a detriment, the Wilson sisters see it as a huge benefit. 
"I feel like I'm better in class when I have one of my siblings with me. I feel more confident and comfortable because I know someone is always there cheering me on," Victoria Wilson '22 said.
Graduating high school will almost certainly be the last time the Wilsons will all be at the same school together. Katie Wilson is considering Smith College, Victoria Wilson is thinking about UCLA and Ellie Wilson is thinking about Penn State. 
Between Massachusetts, Pennsylvania and Southern California, the sisters most likely won't be near each other.
 The triplets are sad about this new and unfamiliar prospect, but each Wilson triplet has reached the maturity level where she doesn't fully rely on her sister for everything.
"I'm going to miss my sisters, but I'm at the stage of my life where I'm ready to leave them," Ellie Wilson said. "I'll always be there for Katie and Victoria, and I know I can rely on them even when we're separated."
With this in mind, the Wilson triplets aren't worried about being on their own. In fact, they are ready to separate and start the school year at different colleges. 
"I mean of course it would be nice to go to ones [colleges] near each other, but this is likely not to happen as our top schools as of now are not the same," Katie Wilson said. "Either way I know we will be just fine and do well wherever we go."
No matter how far the Wilson sisters end up from each other, their close-knit bond will never fade. 
"I'll just be more excited to meet up with them at home," Katie Wilson said. 
At the end of the day, I agree with Katie's sentiment. I'm sad that I won't have my sister by my side in college, but I think we're both ready to go off on our own and do things by ourselves. 
Even if we're on opposite ends of the country, we'll always still text each other and try to visit which will be super fun. 
It'll be weird not coming home and telling Isabella everything about my day or not seeing her during school.  
No matter what happens or where we choose to spend the next chapter of our lives, I know that we'll be there for each other no matter what. 
Leave a Comment
About the Writer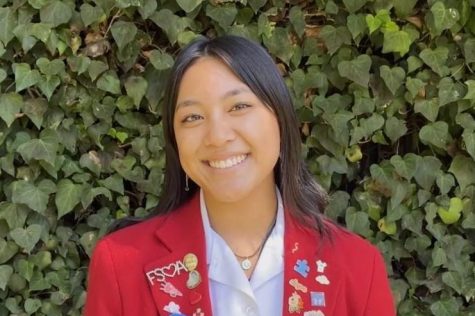 Angelina Cao, News Editor
Angelina Cao is a senior and the news editor for the Veritas Shield. She is obsessed with music and often can be found reorganizing her Spotify playlists....