FSHballers? More like FSHbesties
It's senior year, and I'm back on the court for the first day of practice of my fourth year of basketball. The sound of the buzzer blaring, signaling the start of my practice, is somewhat nostalgic to me. Even though I try to deny it, I'm excited for my final year of basketball, especially since I'm one of the captains.
I call the girls over to start warming up. I feel a little awkward. Many of their faces are new to me, but over the next couple of months, I would eventually gain 12 new best friends: Meghan Garrity '23, Jazmin Jones '23, Isabel Parker '23, Ava Nawrocki '25, Sofia Parker '22, Sophia Heredia '23, Isabelle Risha '24, Celina Maduka '23, Isabella Cao '22, Faith Ellis '22, Faith Blea '22 and Bella Fraley '22. 
This article is the story of how our basketball team became so close and is my tribute to my teammates and our season.
Flashback to our first team sleepover: Loud music blares from a speaker as I descend the steps towards Meghan's basement and open the door to see my whole basketball team dressed up like frat boys, dancing around and eating pizza. I was always close to the seniors in the previous years and wanted to get to know the underclassmen better instead of sticking with my same friends from the past season. This Friday night was the perfect opportunity to make that happen. 
As I settled into my seat, munching on my food, I felt like we needed to move on to our next activity, so I called some of my teammates over to sit in a circle and play the classic get-to-know-you game, Never Have I Ever. After a few rounds filled with giggles and forced laughter, the team started to ease up and get more comfortable with each other. 
As the night continued on, we became more and more crazed. We chatted about nonsense and sprinted around the basement. Deep conversations were happening in one corner of the room while others wildly danced on the couch. Loud screams and laughs erupted when Jazmin frantically ran on the treadmill and when Meghan kneeled on the ground to chug two cans of RedBull. Laughing so hard that I had to walk away from the juniors, I finally noticed that it was 3 a.m.. We had to go to sleep so that we wouldn't be exhausted for our game the next day. 
Waking up delirious from the night before, I slowly wipe the mascara from underneath my eyes and brush my teeth. Packing up my things and trying to at least look like I got a good night's sleep, I let my mind wander and reflect on our epic bonding experience. Ready to say our goodbyes and begin my journey home, I tug my bag over my shoulder when my sister proposes that we all get breakfast at IHop, which solidifies the fact that we can't get enough of each other.
Our team dynamic changed after that night. Gone were the days where I would aimlessly stroll around school hoping to be a little late to practice. Now these days were replaced with afternoons where I would sprint down to the gym ready to sit next to Isabelle to stretch and, more importantly, share our latest gossip. 
Our friendship was blossoming, and we tried to spend as much time with each other as we could. We all became super close on and off of the court. It didn't matter if we were running suicides or grabbing smoothies before a game; it was easy to spend time with them, and we could never seem to stop talking.
Practices became the place where I could catch up with my friends while shooting free throws and running plays. I do admit that I probably distracted a lot of the underclassmen, but I was dying to hear the latest gossip. As the months passed, I wanted to stop time and appreciate the moments when I was beside my closest friends. 
My Fridays were spent getting shushed by waiters for laughing too loudly at something Isabel or Sophia said and speeding up the Hill, trying to get Celina back in time for her curfew. We created shared photo albums so that we could always have access to the memories we made over the weekends. 
Our friendship expanded onto the court. Now even when we were losing by a lot, cheers would erupt from the bench whenever someone (most likely Ava) made a layup or free throw. 
Getting closer to each and every one of my teammates prompted another basketball sleepover. We were back to where it all started, but this time it was at my house. Acting even more unhinged and even louder than that first time, we danced the night away while screaming at the top of our lungs. Late-night get-togethers and dinners were spontaneously scheduled where our team of 13 would parade around town and blast music in the car as we drove around parking lots screaming into the night.
It felt like our season would go on forever, but after the third round of CIF at 7:30 p.m., the buzzer blared for the last time, signaling the end of my high school basketball career. Pushing myself off of my seat with tears pooling in my eyes, I led one final Tolog cheer before dragging my feet towards the locker room alongside my sister as we both stared at the floor.
I never thought this day would actually come, I thought to myself as I kicked off my scuffed shoes and wiped the tears from my face. Looking around I was met with the equally somber faces of my teammates and coaches as they allowed us to scream and let out all our pent-up emotions from the game. Leaving to go and sulk around the house didn't feel right to me at that moment. I didn't want to leave my friends so abruptly and yearned to spend more time with them. Stressing out and trying to come up with a plan, an idea suddenly hit me. 
Two phone calls later, I was on my way to CAVA with my teammates to get Mediterranean food.
We spent the night laughing at all the dumb things we did throughout the season, and all I could do was sit there and get sentimental by thinking about how these girls weren't just my teammates – they were some of my best friends. It doesn't matter that we're in different grades or that I only knew some of them for four months.  They all changed my life for the better, and I can't thank them enough for all the memories we created.  
Without practices and games to hang out with my team, I've learned to appreciate my teammates when I see them at school. A simple wave across the parking lot or bumping into them while I go down to get coffee leaves a smile on my face and fills me with delight. Although it makes me sad that the year is coming to an end, I am confident that we'll still hang out and that our friendship will be sustained. Trips to San Clemente and plans to go paintballing are in motion, and an abundance of sleepovers eagerly awaits us during spring break. 
My time playing basketball has come to an end. I don't know how much I grew as a player, but I definitely grew as a person, and I definitely gained 12 new best friends. I try not to think about leaving them too much because the underclassmen are like my children, but I know that nothing can ever break our bond. And who knows – maybe I'll fly them all out so we can have another basketball sleepover, college edition.
View Comments(1)
About the Writer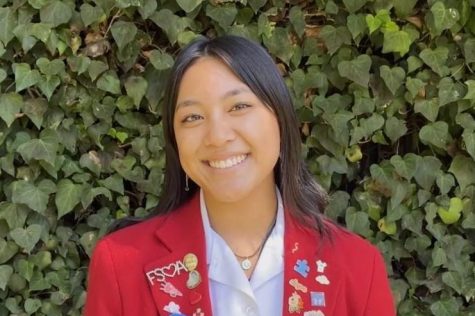 Angelina Cao, News Editor
Angelina Cao is a senior and the news editor for the Veritas Shield. She is obsessed with music and often can be found reorganizing her Spotify playlists....