The longlasting love of seventh-grade sweethearts
It was a normal day in gym class for a 13-year-old Mr. Roberto Dimas, the Hill's current co-director of college counseling. The air in the gymnasium was hot and stuffy. As a bead of sweat dripped down his forehead, he saw a girl named Sandra wearing a sweater. He noticed a "J" on her sweater and, overcome by curiosity, decided to ask her about the meaning of the emblem. 
Little did Mr. Dimas know that this conversation would become one of many and open the gates to a 33-years-and-counting relationship. 
It was pretty much love at first sight for Mr. Dimas after he saw her that day in the gym. The moment he met her, he was enamored. 
Sandra felt otherwise. 
"She said she never had a crush on me, but I think I'd had a crush on her since [I saw her in that gym]," Mr. Dimas said. 
Through their shared gym, home economics and drama classes, Mr. Dimas and Sandra continued to grow closer in their friendship. Although Mr. Dimas had feelings for her, he knew she didn't feel the same way, and he stayed respectfully in the "friend-zone."
After the whirlwind of middle school died down, Mr. Dimas, heartbroken, was separated from his friend-turned-crush when he decided to attend an all-boys Catholic high school. Although the distance presented a new challenge in their friendship, they continued to keep in contact with each other.
After years of nursing his feelings, Mr. Dimas decided to take a leap of faith halfway through college and asked her out on their first date. Their first date was not for only a couple hours or even a day. It was for the entire western leg of the Vans Warped Tour. For a few years, Mr. Dimas worked as a tour manager for the Vans Warped Tour, so he invited Sandra to join them on all concerts spanning from Los Angeles to San Francisco. 
After that trip, the rest was history. They attended separate colleges, but this only made their relationship stronger. 
"We only saw each other on the weekends, so we had to maximize our time together, focusing more on the quality over the quantity of the time," Mr. Dimas said. 
Soon after graduating, they got married. 
"I knew I wanted to marry her since maybe eighth grade," Mr. Dimas said. 
Twenty years later, they're still happily married with two kids, which has only strengthened their relationship
"It changed the dynamic, making it stronger in the sense of focusing on others," Mr. Dimas said. 
Their romance started on the road and they still love traveling for dates. Mr. Dimas remembers a last-minute trip to New York City in 2015 as one of his favorite memories together. The trip only lasted for a day, but it was truly memorable. They visited friends, went sightseeing and rode on a ferry where they saw the Statue of Liberty. 
While he prefers to stay structured in his plans, he admires Sandra's spontaneity. Mr. Dimas says that their differences are part of what makes them work.
"It's a nice balance between the two of us," Mr. Dimas said. 
Even more recently, they decided to go on another weekend getaway. This one, however, was planned and was to celebrate Sandra's birthday. 
"We just came back from one over the weekend, just to take a little trip to the San Luis Obispo area. We were there for a couple of days," Mr. Dimas said. 
Mr. Dimas attributes much of his relationship success to having friendship as the foundation. 
"Being friends is the most crucial, foundational thing in any kind of long-lasting relationship. Without having that friendship as the foundation, things can easily change," Mr. Dimas said. "If you're loving someone for their attributes, that kind of love is essentially impossible to maintain. When you love someone for their absolute totality, that's when you can have a relationship in which you truly value each other."
Leave a Comment
About the Writer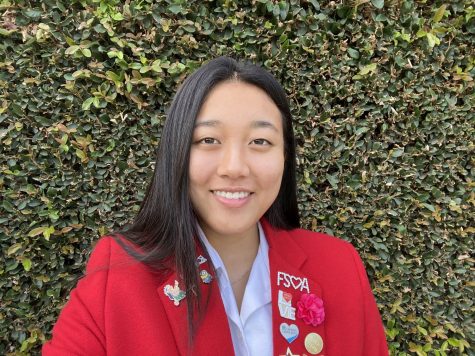 Lena Hwang, Associate Editor
Lena Hwang is a junior and a new staff writer for the Veritas Shield. In her free time, Lena adores cuddling her pets, spending time with friends, and...