Tologs spend their lunches in creative ways
"Today's special meal of the day is our school's popular penne pasta with garlic bread," ASB board member Emily Zhang '22 reports on morning announcements. 
A rush of excitement fills the classrooms, and as soon as the bell rings, Tologs can't wait to get to lunch. Hurriedly, they race out the door and down to the area outside the SAC to get their food. Everyone wants to be first in line to avoid the wait, so they can get their meal quickly, relax and enjoy their lunch at an oh-so-leisurely pace.
This year's typical lunch schedule is different from previous years', as lunch was only 40-minutes long last year. 
"I think that these hour-long lunches can be a productive use of your time, depending on how you spend them," Isabela Guerrero '24 said. "Usually I chat with my friends, but I will complete school work if I need to." 
Lunches allow Tologs to de-stress by playing card games with friends in the hallway, learning TikTok dances or roaming around campus with friends.
"Last week for English, we had a vocab quiz with 40 words to study, and I just kept doing the learn mode on Quizlet at lunch, and I got all of the terms correct on the quiz and understood them all," Madeline Barber '25 said. 
Lunches at FSH are not only beneficial to students, but they are also useful for club meetings. 
"On Thursdays, I have CMLT, which stands for Campus Ministry Leadership Team. If we have a mass or a retreat coming up, we'll usually organize beforehand and figure out groups and activities for that specific event, and then we'll just meet at that meeting block," Kaitlyn Huang '23 said. 
Long lunches for Tologs also have their downsides. 
"Sometimes I don't always like long lunches because they can become tedious and make me want to go home," Isabella Costanzo '24 said. 
Although they are lengthy, students can use long lunches to their benefit by seeking help and clarification on certain subjects from teachers.
"As a coach, I'm not really a fan of long lunches because that means we get to start practice later, but as a teacher I think that the long lunches are helpful because students get to come in and study more," math teacher Mr. Kirk Nishiyama (aka, Nish) said.
Although for Tologs it is important to be strong academically, socializing and being active are both important aspects of maintaining a healthy lifestyle balance. Freshmen, in particular, love going to the gym during lunch.
"Because I spend so much of my time in class or eating, going to the gym for lunch is a great way for me to release my energy, especially because I'm usually very hyper throughout the day," Serén Mah y Busch '25 said. 
Leave a Comment
About the Writer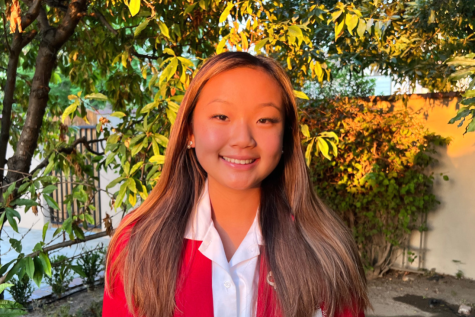 Madison Wuu, Associate Editor
Madison Wuu is an associate editor at the Veritas Shield. She began writing for the paper as a sophomore during her first year at Flintridge Sacred Heart....