FSH doubles down on DEI
Social justice has always been part of Catholic Social Teaching, but a focus on racial justice at FSH has gained momentum on campus in the wake of the Black Lives Matter, Stop AAPI Hate movements and Instagram feed called @dearfsha, an account run by a black FSH alumna that in the summer of 2020 started posting anonymous stories about students' encounters with discrimination and bias during their time at the school. 
After @dearfsha, Black Lives Matter and Stop AAPI Hate, the school put an increased emphasis on promoting diversity, equity and inclusion (DEI) on campus. The school reached out to alumnae of color to hear about their experiences, and FSH hired consultants to help the school take action to improve the campus experience for all Tologs. 
"When I first read the posts from the account [@dearfsha], I immediately felt for the students that encountered those incidents," Director of Adult Mission Formation Sister Colleen Mary Mallon said. "I, along with the other board of directors, agreed that we never wanted this to happen again, so we began to form a plan to ensure that that goal was met."
To begin this process, the school hired two diversity, equity and inclusion consultants, Christina Hale-Elliott and Elizabeth Denevi.
"I regularly meet with Christina and discuss ways the school can work towards more diversity," Sister Colleen said. "We are on a journey of cultural transformation and strive to make amends to any harm that was caused in the past." 
Once the school reviewed its current practices, FSH began working towards adopting practices to help all of its students feel like they belong. Both consultants have held a series of workshops for faculty in order to ensure that teachers are using best practices in the classroom.
"This process requires a lot of education and forensic work where we look at our past and what we need to change moving forward," Assistant Principal of Student Affairs Mrs. Rosemary Johnston said. "Faculty and staff are going through workshops and an examination of our past curriculum has been done to promote an inclusive space."
In the fall of 2020, the school formed the Dominican Justice Community (DJC) to help analyze past incidents and implement new rules at the school. The DJC has parents, alumnae, current students and faculty working towards an inclusive environment. 
"We usually meet once a month to plan out what needs to be done as we're working towards being an anti-bias, anti-racist community," Assistant Principal for Curriculum and Instruction Ms. Sherrie Singer, said. "One of the things that we've always done pretty well as an institution is the justice and action piece, but we never really honed in on helping students identify and honor their personal identities by celebrating diversity. Being part of the DJC allows me to partake in activities that promote that. We've started by planning meetings where we converse with our black alumnae and listen to how they've been hurt to make sure that we don't perpetuate those practices or choices."
The purpose of these DJC meetings is to facilitate conversations concerning DEI as well as to give suggestions about how to incorporate more diversity at the school. 
"During the meetings, we speak with different groups affiliated with FSHA. Parents, students, faculty and alumnae come together to speak of ways that our school can become more diverse, educated and unified. As students, we also talk about having a more diverse faculty and staff," Skye Price '23 said. 
Students on the committee also regularly meet individually with Sister Colleen to discuss their thoughts on diversity at the school. 
"As students, we get a lot of opportunities to voice our opinions, whether in small breakout rooms or the big group. The parents, alumnae and faculty always encourage us to speak out in a way that we feel comfortable in. We have been working with a chart that helps us identify where FSHA is currently at towards becoming a fully anti-racist community. Students also meet in their constituency to talk about changes or topics they would like to discuss in the next meeting," Emilie Zhang '22 said. 
When Tologs felt embarrassed and upset because teachers weren't pronouncing their names correctly, the DJC asked that all students record videos on how to correctly pronounce their names so that teachers could watch the videos and avoid future mix-ups in the classroom. 
 "For years we were kind of winging it and mispronouncing students' names, so we decided to do something about that since your name is one of the most important things to you," Ms. Singer said. "It's a huge part of your identity, so when teachers and peers are not getting it right, you just feel hurt. Having students record how to correctly pronounce their name seemed like the most baseline action that we could do to make sure that students feel like they belong."
With the goal of incorporating more diversity in school subjects, teachers have been including different voices in their classrooms. Religion classes have moved to cover more topics concerning diversity and inclusion while English teachers have moved to diversify their curricula.
"The library has also done a diversity audit of their collection where we looked at all the fiction books and evaluated them for 12 different diversity indicators," Director of Library Services and Research Programs Ms. Nora Murphy, said. "We recorded where we had gaps in our collection of people that weren't represented so we could work to fill those in."
Although the school is taking action to make the campus more diverse and inclusive, some students believe that more improvement is needed. 
"I feel like FSH needs to make the curriculum more diverse, specifically in classes such as history and English," said Black Student Union board member McKenzie Street '22. "The reading requirements in English classes should include more diverse authors and include people from all different cultures, regions and backgrounds. I have never read a book written by or on Asian, Native American or Latino people and can only recall three books about black people. I find that most of our books are European focused and feel like other cultures are being erased and not talked about enough."
While the school is doing its best to dismantle and handle discriminatory practices, it knows its work doesn't stop here. 
"We're not just working towards ethnic diversity, we also have to focus on other topics such as gender diversity, ableism and sexism; all of them are problematic in society and we have to do what we can to stop it," Ms. Singer said.
Leave a Comment
About the Writer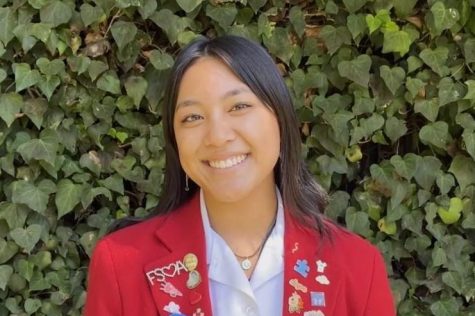 Angelina Cao, News Editor
Angelina Cao is a senior and the news editor for the Veritas Shield. She is obsessed with music and often can be found reorganizing her Spotify playlists....