Composting in the residence hall
A Tolog in the residential life hall serves herself a plate of freshly cooked dinner, eating until she is full. She stands up to discard her used napkin and food leftovers. This, however, is where her process deviates from that of most. Instead of heading to a landfill with the other 6 million tons of food and paper waste sent to California landfills annually, her food waste will soon be turned into a soil-like mixture known as compost.    
Composting is one viable answer to the pressing question of what we as a community can do to help reduce food waste that goes to a landfill while also increasing soil quality. Composting is a process of turning a mixture of organic waste – like eggshells, coffee grounds, vegetables and fruits – into a soil-like mixture that is rich in nutrients. Food waste is put into a compost pile, which includes different organic matter like barks and mosses to help break down the food waste. After about six to eight weeks, the organic matter will become compost. This can be used as fertilizer, which increases nutrients in the soil and the health of the food that is growing. 
This eco-friendly method of reducing landfill waste and increasing soil quality is also being implemented up on the Hill, especially in the residential life hall. 
"In the [residential life] dining hall, there are two different trash bins. The green one is our composting bin. Any food waste can go into the green bin. There's a poster on the wall that explains what can be composted," Ziling "Coco" Chen '23 said. 
From there, the organic waste is picked up by FSH's waste hauler, Athens Disposal, and is turned into compost at their facilities. Starting in spring, however, Tologs plan to start composting independently on the Hill alongside composting with Athens Disposal. 
"We have a garden at the res life hall where we plan to use the compost as fertilizer. From those gardens, we're planning to grow vegetables which the cooking staff will use to make meals in the future,"  Ella Li '23 said. 
Like all things, composting comes with its own challenges.
"For our program to be successful, it requires our community to place food waste in the appropriate containers. If plastic or other contaminants are placed in organic composting bins, the organic waste won't be able to make compost," Mr. Pivovaroff said. 
Chen is impressed by how minimal FSH has kept the contamination of compost bins on the Hill.
"It's hard for a school or an organization to do composting because there are so many people, but it's really good that at FSH, people actually value composting and make an effort to do it correctly," Chen said. 
Not only do FSH's composting efforts make a dent in the amount of food waste created on the Hill, but in all waste as well. 
"Our local partnerships with waste haulers diverts over 50% of waste generated on campus away from landfills," Mr. Eric Pivovaroff, Director of Facilities and Security, said. 
Overall, the Tologs in the residential life hall feel that the benefits of composting are worth the effort and time it requires. 
"Every time I compost, it makes me feel like I'm doing something for the environment. Even though it's super small, I know it's still helping," Li said.
Leave a Comment
About the Writer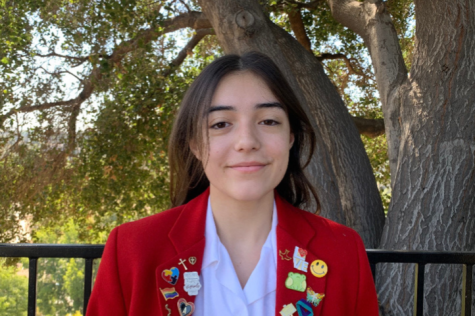 Sara Green, Social Media Manager
Sara Green is the social media manager at the Veritas Shield and a senior on the Hill this year. She started working for the paper as a junior, and enjoys...