Potterheads on the Hill
Expecto Patronum! Sound familiar? "Harry Potter" is a fan favorite for many people all around the world. The legendary movie and book series combines magic with a coming-of-age story that has students on the Hill especially hooked. 
Twenty years after the first "Harry Potter" film, "Harry Potter and the Sorcerer's Stone" premiered, the "Harry Potter 20th Anniversary: Return to Hogwarts" film came out on January 1, 2022. The film went behind the scenes and included many interviews with some of the fan-favorite actors, including Rupert Grint, Emma Watson, Tom Felton and Daniel Radcliffe.
"I liked how they talked about how great that time of their lives was and how much they miss it. I was pretty happy with the actors that were in it, but it's sad how many of them died," Lauren Kilpatrick '25 said. "I think being a child actor is a crazy life, so hearing about the connections they made with each other and the friendships they formed was really cool."
While there was a large time gap between the last "Harry Potter" movie and the reunion film, it was worth the wait. 
"I watched it on New Years' Day with my family, all 'Harry Potter' fans. I loved hearing the stories about how the actors grew up playing the characters in the movies," Meadow Mota '24 said. 
While the "Harry Potter" series still receives a lot of praise, the author of the acclaimed books, J.K. Rowling, holds some controversial views, causing some tension for people who love "Harry Potter" but disagree with her.
"I didn't watch the anniversary special, nor do I intend to watch it or any of the 'Harry Potter and Wizarding World'-associated movies and TV shows that are coming out for a very specific reason. As a Catholic and student at FSH, I have been taught to love and respect everyone, and I feel that the way J.K. Rowling is acting is contrary to that teaching. J.K. Rowling makes royalties every time 'Harry Potter' or an associated spin-off is shown or referenced, and so by watching the anniversary special I would be supporting her," Gabby Anich '22 said. 
While some fans decide to cut all future ties with 'Harry Potter,' others can get past Rowling's comments.
"I don't have a positive of J.K. Rowling's views, but I separate the art from the artist. I will continue to enjoy the 'Harry Potter' books and movies and not support her," Kilpatrick said. 
Despite some of the author's political views, Harry Potter remains an acclaimed and beloved franchise on the Hill and around the world.
"I think I enjoy it so much because it exists as a sort of escape, for me and for many others, into a fantastical world away from worries. It's really a world for the outcasts to find somewhere to belong, and it's where I've found myself," Mota said. 
Leave a Comment
About the Writer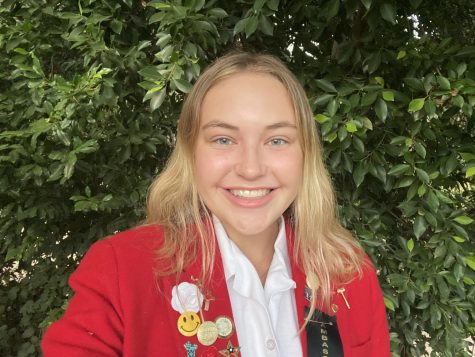 Jessie Mysza, Managing Editor
Jessie Mysza is the managing editor for the Vertias Shield. She started writing for the Shield her sophomore year and served as an associate editor her...