High school dances: What's the hype?
Nerves and excitement fill the air as Tologs gather supplies to create posters with catchy slogans in preparation to ask that special someone the big question. The high school dance season is finally upon us! 
Freshmen and sophomores at FSH are getting ready for winter formal on January 28, while juniors and seniors are looking forward to prom on April 30. After spending the past year online on Zoom, everyone is looking forward to FSH's high school dances.
"When I was a little girl, I used to watch all of the classic high school movies that involved school dances. They always looked so fun, so my expectations for winter formal are high this year," Julia Orue '24 said. 
The Sophomore Board chose a spin on Shakespeare's "A Midwinter's Night Dream," a mix of cottagecore and a winter fairytale, for this year's Winter Formal, a theme that has everyone eager for the day to come.
"Nearing Winter Formal, I am super excited to see everyone together and finally back at school dances. I feel like people are so relieved to get back out there and socialize," Isabelle Risha '24 said. 
While getting together with friends and catching up is nice, arriving in style is also a key component.
"Being a fashion-lover, one of my favorite parts of school dances is finding that perfect dress. It can take me a while to find the dress, but once you try it on, you just know it's the one. It took me a while to find a dress to wear for Winter Formal, and I even went to Newport to search for it," Elle Gilhooly '24 said. 
But all this beauty comes with pain.
"A struggle I have experienced is dancing in heels because the heels hurt enough already and on top of the dancing, your feet get stepped on. It's pretty awful. The memories made at school dances, on the other hand, are priceless and make the pain worthwhile," Emma Oakland '25 said. 
Even though some seniors weren't able to attend most of their high school dances, they still managed to make some memories. 
"The best high school dance I've gone to would probably be my freshman year Winter Formal dance at FSH because it was the most memorable. I've never been to a dance previous to that one, so I remember getting super nervous while getting ready for my date and overthinking if the dress I picked out was cute enough. The dance itself was the most memorable because it was the first time any boy came to my house, brought me flowers, took super awkward photos that my mom insisted on and danced the night away with my friends. It was super awkward but I wouldn't want it any other way," MJ Von der Ahe '22 said. 
Whether it's prom or winter formal, high school dances are more fun when the music is good and people are dancing.
"The high school dances I've been to have all been so fun. The energy is great and it's so exciting to dance with your friends," Gilhooly said.
Leave a Comment
About the Writer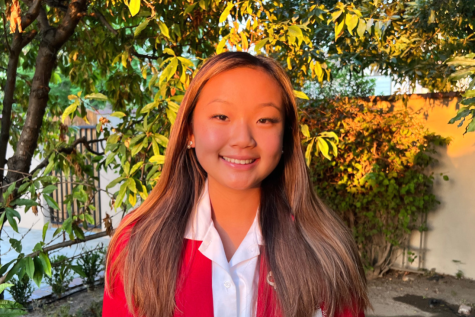 Madison Wuu, Associate Editor
Madison Wuu is an associate editor at the Veritas Shield. She began writing for the paper as a sophomore during her first year at Flintridge Sacred Heart....