To Christmas past and Christmas present
The three weeks between Thanksgiving break and Christmas break weren't all about the holiday season this year. As a high school student, the Christmas spirit was pushed aside and the shadow of final exams hung over my head, leaving little room for holiday activities. Instead of watching Christmas movies and drinking hot chocolate, my nights consisted of basketball practice and trying to study for five different final exams at the same time. 
Despite my parents trying to find a way to alleviate my stress — they cooked me special dinners and offered to quiz me on my material — finals week still wasn't something I got particularly excited about. 
While studying for my exam for precalculus, I couldn't help but let my mind wander to the classic Christmas of 2015, the year my sister Lina and I had an incredibly normal holiday, one that perfectly represents how Christmas was for us as children. 
***
December 24, 2015, Christmas Eve morning: I drowsily roll out of bed with tired eyes to hear a cheerful and high-pitched voice singing, "I'm Mister White Christmas. I'm Mister Snow, I'm Mister Icicle, I'm Mister ten below!" For about the fifth year in a row, I race to my living room and jump on the couch to watch "Rudolph the Red-nosed Reindeer and the Island of Misfit Toys" with my sister. 
After a lengthy Christmas movie marathon with my sister, I put on my new red dress, and my mom strategically places red and green clips in my hair to tame my unruly bangs. I eagerly sit bouncing my foot by the front door, waiting for the car to be loaded with gifts and food for the rest of my family. We finally leave our house with the radio blasting classic Christmas tunes as my sister and I scream-sing "Santa Claus is Coming to Town" by the Jackson 5 and my dad has to remind us to put on our seatbelts. The car ride to my aunt and uncle's house is about 30 minutes (or 10 songs) away.
Finally, we turn into the driveway. My sister and I race to the front steps of the house and hear laughter seep through the rustic wood door. We are welcomed inside with hugs and kisses from every family member, including the dogs. 
Chaos surrounds the table, from my sister and I arguing and giggling to the dogs barking to everyone simultaneously having 10 conversations.
We get home later, and there are already presents beneath the tree. In a sleepy haze, I am taken to my bed and immediately crash. The next morning, I tumble down the ladder on my bunk bed and rush to wake Lina and my parents up. We open our gifts, and Lina and I return to our room to put our new gifts away. Just like every Christmas Day, the smell of my mom's Colombian eggs and pandebonos rises through the air, and we sit down to have breakfast. 
We have two small Nativity scenes in our house, and every year when we decorate for Christmas, we hide a baby Jesus to find on Christmas Day. Lina and I have partaken in this tradition for as long as we can remember and hope that it will never fade away. Lina and I race to find the baby Jesus that we had hidden for each other earlier that month. I find the one she hid inside a decorative dish and scream, "I win! I found it first!"
Although nothing extraordinary happened during that Christmas of 2015, it was a classic Christmas for the Sanabria-Urquiza household and the type of Christmas I think of when I think of my childhood.
***
Back in finals week, the images in my head of my childhood Christmases start to fade away. At my desk, I start to regain focus only to see my glowing computer screen display that I've only completed 15 out of 60 questions on my Pearson lab practice problems. 
Due to a busy and demanding schedule, this holiday season I am feeling not only nostalgic about my childhood but hesitant about the future. This is because my sister and best friend, Lina, will be going to college and won't be with us next December during the run-up to Christmas to partake in our winter shenanigans. I will be a senior applying to colleges and studying for finals, making it hard for me to have that magical and carefree Christmas I had many years before. 
Perhaps the altered feeling of Christmas is just a part of growing up. There's no going back to being a kid. I know, though, that next year, as soon as I finish finals week, and as soon as Lina comes home from college and my family pulls out the Christmas decorations, my Christmas spirit will return. Even with a seemingly unending list of tasks, my love for the holiday season can still live.
Leave a Comment
About the Writer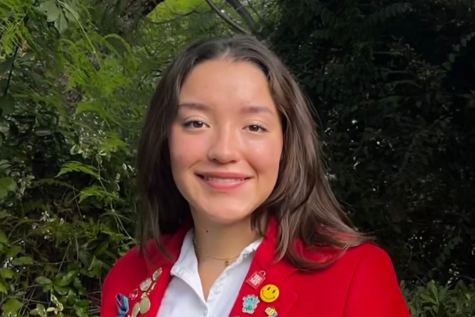 Siena Urquiza, Editor-in-Chief
Siena Urquiza, a senior, is the Editor-in-Chief of Veritas Shield. This year marks her third year with the Shield. Siena cannot wait to make her mark on...