Seniors spend their last holiday season at home
It's the time of the year when the weather gets colder and department stores are beginning to look like Santa's workshop. Tologs are in a frenzy, booking tickets to visit their extended families and stocking their carts with presents for all their loved ones. Jacqueline Fitzpatrick '22 is back to drinking peppermint mochas, and TVs are stuck on the Hallmark channel as families eagerly wait to watch their favorite Christmas classics.
For many seniors, this year will be the last Christmas season they'll fully spend at home. While most of them will certainly travel home for the holidays next year, many seniors will miss the buildup to Christmas such as watching neighbors string lights along roofs or making cookies with grandparents in family kitchens.  
"The biggest thing I'll miss is setting up the house for Christmas," Becket Knight '22 said. "I usually have family over and it's fun to see them during the holiday season because my house is all decorated and we just use the days leading up to Christmas to catch up with everyone." 
Although Knight's parents haven't brought up what the Christmas season will look like next year, she believes the conversation will eventually come, making her think about what she'll miss most next year when she's away.
"Putting ornaments on the tree and hanging garland around the house has been something we always do as a family, and it'll be strange when I come home next year just to see everything already done," Knight said.
Charlie Hardy '22 is also making sure to cherish the last full holiday season she has with her family before going off to college. 
"Since we've talked about this being my last full Christmas, I wanted to make this year even more special. I've already made plans to bike with my sister to look at the lights and go to Hastings Ranch to drive-by Christmas Tree Lane," Hardy said. 
Christmas is a family event for her, so Hardy is looking forward to spending time with them doing all the traditional Christmas activities. 
"The lead-up to Christmas is probably what I love the most about the holiday because there are just so many things to do that make me get into the spirit," Hardy said. "It's always fun to make gingerbread houses and watch movies with my parents on Christmas Day."
Hardy is set on coming back next December but is sad that she'll miss the days leading up to Christmas. 
"I'll miss small activities like decorating and looking at houses the most because it's a special time where I just hang out with my sister and admire other people's work," Hardy said. 
Another senior, Leah Boutros '22, is feeling a bit more nostalgic this season as she looks back on her favorite traditions and memories from the holiday.
Decorating the house is a big tradition for her family, and Boutros will miss the preparation of the holiday next year. 
"We always spend a few days decorating the house with wreaths, fake snow, the nativity scene and with our tree. It makes our home feel extra special, and I'm just remembering to enjoy it all this year," Boutros said. 
Leave a Comment
About the Writer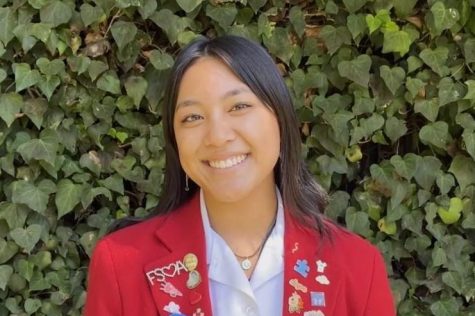 Angelina Cao, News Editor
Angelina Cao is a senior and the news editor for the Veritas Shield. She is obsessed with music and often can be found reorganizing her Spotify playlists....