What's on top of Tolog Christmas lists?
It's Christmas morning. For the first time this year, you're eager to wake up before 8 a.m. You rush to the Christmas tree and make sure the snacks you set up for Santa Claus have been devoured. Your attention immediately shifts to under the tree where you lunge for a present and begin your investigation. Carefully turning it over, you feel the smoothness of the wrapping paper under your fingertips. You shake it a little, still unable to identify the unknown object. Is it that new phone you wanted, or is it another pair of socks that will join its forgotten predecessors in the back of your dresser?
As we've matured, so have the items on our Christmas wish lists. From the generic Pillow Pets and Lego sets, our tastes have become more refined and reflect newfound interests. To broaden our horizons and encourage some unconventional gift-giving this year, we've asked Tologs what the most unique items on their Christmas wish lists are. And who knows? Maybe you'll even find some inspiration for your own wish lists. 
Julianna Zwart '23
I feel like a lot of what I want is pretty ordinary, but I do really want to take a 23andMe test. I want to take it just because I'm curious to see where I'm from and find out more about myself and my family's history. I've wanted it for a while because my mom got one as a gift from my sisters about three to five years ago, and I thought it was so interesting. Ever since my mom did it, I've been so curious about myself since I know this test can tell me a lot about my heritage. I also think the science behind it is really cool.
Celina Maduka '23
At the top of my list, I want to see ATEEZ in concert. I've been wanting to see them in concert since last year, but I've been a fan since 2018. My favorite album is "Zero: FEVER, Pt. 1," and I really want to see them perform "Inception" because it's my favorite of their songs. 
Zara Savadian '25
At the top of my wishlist is freeze-dried Jolly Ranchers. I've seen a bunch of TikToks about them, and I just want to taste the crunch. They're supposed to be sour and sweet and really good. I think I saw the first TikTok about them two years ago, so I've wanted to try them for a pretty long time now. 
Ally Sandino '23
I learned about the Venezuelan poodle moth [a Venezuelan poodle moth is a very rare insect that only has one confirmed sighting] a year ago and then saw the plush version in a YouTube video recently, and I've wanted one ever since. I would love a giant version, but realistically I should get a mini one because I already have way too many stuffed animals. Stuffed animals are just so comforting, and they make me so happy.
Kaz Maloney '24 
I want a very specific kind of striped sock because they have very thin stripes, and whenever I see someone with a pair of these socks, I always think to myself, "They must be the most comfortable person in the room right now." I also only have one, singular striped sock in my drawer, so I'd really like a complete set.
Ella Li '23 
I'd really like to see a professional performance of "The Nutcracker." I'm not sure if there's one specific show, but I'd definitely like to see it in New York. I did ballet for five years before switching to rhythmic dancing, so I really just love dance. Going to see the show was something that I randomly thought of a year ago, but it's just always stuck with me.
Remi Hayashi '22 
The most unique thing on my wish list is an Audemars Piguet Royal Oak Self-Winding Chronograph. It's like a purple watch with amethysts on it. I found the watch about a month ago while looking for accessories to go with rose gold jewelry that I already have. I think it would look nice with future nail designs that I would have.
Isabel Parker '23
I really want a Hawaiian Shaved Ice Machine. I've wanted it since Kona Ice came to FSH because I've wanted shaved ice every day since then. My favorite flavors are cherry, piña colada and blue raspberry mixed together. 
Caitlin Hubbs '22 
I already got the gift at the top of my wishlist, but it was a Moon Pal plush. It's like a weighted pillow that's supposed to feel like a hug. It's the perfect weight, and it's so cute, and I really love it. I think her name is Theodora, but I'm still working on it. With Covid, we can't really give each other hugs, so this feels like the perfect alternative.
Leave a Comment
About the Writer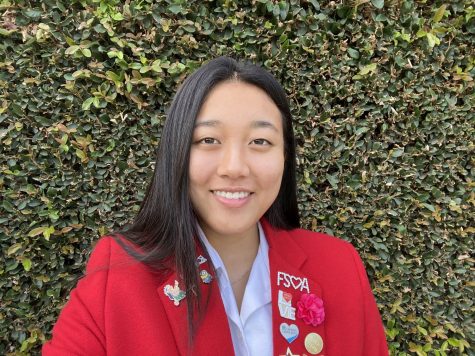 Lena Hwang, Associate Editor
Lena Hwang is a junior and a new staff writer for the Veritas Shield. In her free time, Lena adores cuddling her pets, spending time with friends, and...