What the junior ring means to Tologs
"Ringing in junior year." "Bling bling." "Junior ring szn." If you're in the FSH Instagram loop, these are the types of captions you'll find just below photos of the new upperclassmen who are excited to show off their junior rings, the time-honored symbol of their new status on campus.
Each fall, the juniors and their senior sisters put on their dress uniforms and come up with a mini-performance to show the school while the juniors receive their class rings. Faculty, staff and parents gather in the gym to witness this historic event.
This year was extra special, as it was a double ceremony for both juniors and seniors since Covid prevented the seniors from experiencing the normal event last year. 
"For me, receiving my junior ring symbolized the transition from an underclassman to an upperclassman. It signifies all the achievements I've made at Flintridge Sacred Heart and the stressful moments that I've been able to overcome with the help of my friends. My ring also symbolizes all the memories I've created up on the Hill with my classmates and the bond that we share with each other," Gaby Munguia '23 said. 
At the ceremony, popular tunes play in the background while the junior and senior partners line up and, one by one, do a handshake or little dance. 
"I've been looking forward to the ceremony ever since freshman year, and it was definitely one of my favorite memories to this day. I think it's especially exciting this year because it was a double ceremony and one of the first bigger events since Covid," Kaitlyn Huang '23 said. 
To many, the junior ring symbolizes a connection to the FSH community.
"We talked about the junior ring's significance during science because my teacher is an alumna, so she was talking about her experience getting her ring. I also talked about it with Ms. Davitt who is also an alumna when we were working on campus ministry, so she had explained the long-lasting tradition to me as well," Huang said. 
Now that they have their rings, many juniors don't ever want to take them off.
"I love wearing my junior ring every day, it's really special to me. I am so happy to be an upperclassman, and I am proud to wear my class ring," Munguia said. 
As Tologs grow up and leave high school, the ring will serve as something to always connect them back to their time on the Hill.
"The ring represents a forever sisterhood and bond that I will have with my classmates. I'm excited to wear my ring in college and beyond," Isabella Mehrabian '23 said. 
View Comments (1)
About the Writer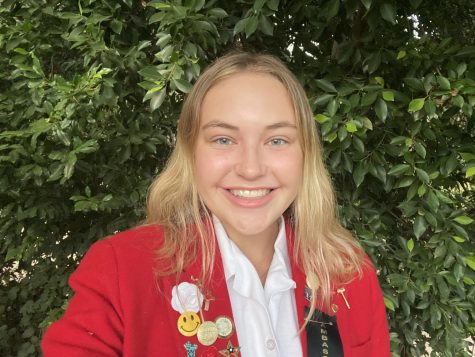 Jessie Mysza, Managing Editor
Jessie Mysza is the managing editor for the Vertias Shield. She started writing for the Shield her sophomore year and served as an associate editor her...