How FSH arrives at its tuition number
For the 2021-2022 school year, Flintridge Sacred Heart's tuition is set at $27,650. This figure covers a range of expenses, from employee salaries to campus maintenance and improvements to student programs.
The year-long project of arriving at a tuition figure is comprehensive.
"The process for annual tuition-setting includes an assessment of our planned program for the upcoming year and an analysis of the resources needed to deliver this program to our students. It also includes a market assessment, which considers local economic factors (such as changes to consumer pricing, median income and unemployment rates) as well as a survey of tuition and fees for schools that align with our geographic and demographic profile," Director of Finance and Operations Ms. Christine Mauer said.
The goal is for tuition to generate 80% of the annual revenue the school needs to cover the costs of the school's operation.
"Tuition-setting is not simply a calculation. It's a combination of looking at our expenses and the income needed to meet them," Ms. Mauer said.
The rest of the money needed to cover the school's annual expenses comes from other sources, including the Flintridge Fund, the endowment and other donations.
"We have a strong advancement team that's out there promoting the school and soliciting donations for the annual fund as well as scholarship funds and endowments," Ms. Mauer said.
Ms. Mauer works with the Finance Committee, a subcommittee of the Board of Directors, to arrive at a recommended tuition amount. Mauer compiles research, analysis and data to present to the Finance Committee, which makes a recommendation to the Board of Directors, who make the final decision on what tuition should be.
 "A balanced budget is our guiding principle and our goal," Ms. Mauer said.
Beyond balancing the budget, additional concerns include not raising the price too much from the previous year and setting the tuition at a level that families will perceive as a fair representation of the value of the education provided at FSH.
"The value of a Flintridge Sacred Heart education is its amazing academic program; its comprehensive athletic program; its vibrant, exciting arts programs and the variety of clubs and other opportunities to engage students in a caring community," Ms. Mauer said.
Leave a Comment
About the Writer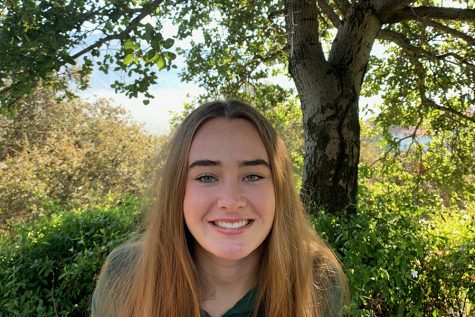 Jacqueline Fitzpatrick, News-in-Brief Editor
Jacqueline Fitzpatrick has been with the Shield for three years now and is the current news-in-brief editor. When she's not writing articles and seeking...