Eat, sleep, Jamba, repeat
The stress of senior year can be frustrating for many. The stress can be even more of a factor for students who have to put on uniforms, clock in and put on their biggest smiles and go to work after class.   
Such is the case for Aine McConville '22, who started working at Jamba Juice last March in Hastings Ranch. When she took the job, McConville thought that it would be easy to work during the school year. But this fall, as she has begun to feel the heat of college application season, McConville has started to experience the emotional and physical strain of being a working student.
From the moment McConville opens her eyes in the morning till the moment they close at night, she is stressed.
This was the reality on a typical Tuesday this October.
McConville woke up to sun rays peeking through her bedroom window. Right away, thoughts of the next 15 hours of both school and work flooded her mind.
Before even moving a muscle, she is physically and mentally drained.
"When I know I have to work after school, I usually wake up in a bad mood because I know it's going to be a really long day," McConville said. 
As McConville gets out of bed to get both her bags ready, one for school and one for work, she's fearful that she will forget something. She triple checks her work bag, which contains her shoes, visor, uniform and lunch: all things she needs to be on her feet for the hours to come.
Once she's out the door, McConville drives to pick up her carpool and heads up the Hill, bracing herself for the day ahead. When she meets her fellow Tologs, McConville blasts music and sings all the way to school, trying her best not to fall asleep.
Any free time in or outside of class during the school day McConville takes advantage of in order to finish homework. Before the bell rings, McConville sits in her car and finishes reading assignments. During break, McConville grabs her third cup of coffee for the day and continues on with some precalculus problems.
The school's new lunch schedule from 12:50 to 1:55 p.m. has helped.
"[During] the long lunches, I try to do all my homework because I know I probably won't have time later that night."
This year's new dismissal time of 3:10 p.m. causes anxiety for McConville, however, as she has to race to make it to work on time.
"After school there is always a big rush because we get out at 3:10, and I start work at 4. Since I have to bring my carpool home, I run to my car in the junior lot and get everyone in the car and drop off my carpool as quickly as possible. I usually get to work five to 10 minutes early, so that is when I'll eat my dinner or second lunch."
With those extra minutes, McConville stops by a nearby Ralphs to buy a tray of sushi.
She takes her lunch and heads into Jamba Juice's back room for staff with a desk and chairs.
When she gets to work, she changes into her Sketchers with a memory foam cushion that makes standing for hours a little more bearable.
"I wear Crocs to work and from work because I would just never wear [work shoes] out in public." 
Though McConville is stressed, she reminds herself why she's doing what she's doing.
"I need the paycheck, and our work is understaffed, so I can't cut back on hours since there's no one else to cover my shift. If I don't give them the hours they need then I won't have a job."
Every two weeks, McConville gets her paycheck through a direct deposit into her savings account. McConville's mother helps her figure out how to save her money.
"A portion of it goes into college savings, some goes into car insurance, some goes into my personal savings and then I always have to set aside around $75 for gas."
Any remainder is used as money for food or perhaps some new clothes.
"I'll drive to Zara or Urban Outfitters, and I'll buy the cheapest shirt I can find. I look at the clearance rack. My mom taught me how to shop well."
Driving home from work gives McConville time to reflect on these financial responsibilities she faces as a young student with a job.
"Jamba Juice doesn't seem like a hard job, but you are on your feet 24/7, and there are no chairs. You can't sit anywhere, so even when it's not busy, we still have stuff to do, and sometimes I bring my homework with me if I'm really stressed. Sometimes my managers are chill about it, but it depends who I'm working with that day."
Pulling into her driveway around 9:30 p.m, McConville goes back and forth between feelings of exhaustion and accomplishment.
"I feel a swell of pride whenever I use my own money because it makes me feel more responsible. I know a lot of kids my age don't have these responsibilities, and I'm glad that I'm starting early. On the other hand, it is really stressful and very tiring, not just on your body but also mentally. I am jealous of those who don't go through it."
She walks into her house, a sight she has not seen in hours, and she chats with her parents who help her digest the day.
"I like to catch up with my parents if I have time when I get home because I haven't seen them all day, and at night is the only time I can talk to them about my day and vice versa."
Having a job has helped McConville relate to the struggles of those working hard in an economy where prices are always rising.
"I definitely am more sympathetic for minimum wage workers and those who make less than that, especially because they are doing the best they can and everything is so expensive these days."
After showering and unpacking her school and work bag, McConville lies down on her bed and lets out a sigh of relief as she hugs her dog, Tucker.
"I'm never not tired. It's exhausting always being on the move."
Her eyes getting weary, she thinks about how teachers may question her dedication to her school work.
"I don't want teachers to think I'm making excuses. I try my hardest not to ask for extensions because I know what I was getting into when I got the job." 
Although she tries to remain optimistic, McConville can't help but wish that teachers considered these limitations for working students in the beginning of courses.
"I feel like it should be normalized where teachers ask students if they have a job or outside school commitment and know that they will need extensions."
Finishing her homework assignments for the night and seeming to have some spare time left before her body gives out, she indulges in an escape from her busy schedule.
"When I am lucky enough to have extra time, I usually watch "Greys Anatomy" or go on my phone to scroll through TikTok, two things I could do for hours."
McConville goes to sleep after she can no longer keep her eyes open. Looking around her room to make sure her work and school bags are in sight, she lets out one last sigh of relief. Her muscles relax and her breath slows even though she knows what's to come tomorrow.
"I close my eyes and prepare to do it all over again."
Leave a Comment
About the Writer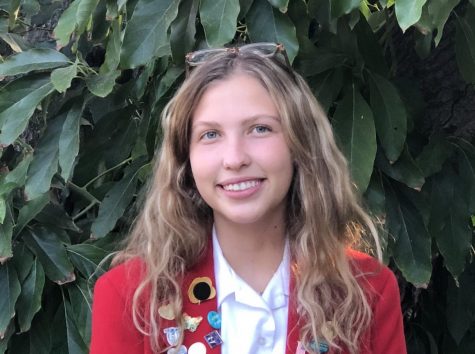 Michelle St. Denis, Podcast Editor
Michelle St. Denis joined the Veritas Shield her sophomore year as a staff writer. This year as a senior, she is the paper's podcast host and editor. Michelle...